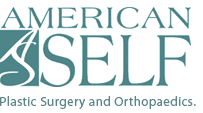 American Self Plastic Surgery and Orthopaedics
At American Self, our mission is to make life simpler and healthier. Aging and stress have adverse effects on your skin, muscles, bones and other connective tissues. Located in Richmond, VA, our team of industry leading specialists in Cosmetic and Aesthetics, Orthopaedics and Pain Management knows what it takes to ensure you look your best and live a long and healthy life.
The American Self Team
Dr. Ruth Hillelson– Director of Plastic Surgery and Aesthetics at American Self.
Dr. Terry L. Whipple– Director of Orthopaedics and Fitness at American Self.
Services & Procedures Offered
Face Procedures
Body Procedures
Skin Care (MediSpa) Services
Orthopaedic Services
Pain Management Services
9930 Independence Park Dr, Suite 101 | Richmond, VA 23233