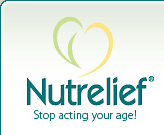 Nutrelief
Joint, Muscle & Arthritis Pain Relief by Nutrelief ™
Soothe away joint and muscle pain without costly drugs!
Watch as your skin becomes younger and smoother in as little as 3 weeks!
Welcome to Nutrelief ™. We are here to help you keep active and regain a youthful appearance.
Aging is inevitable, but you can delay the process by staying active and energetic, and that's where Nutrelief ™ products can help. It's hard to stay active and engaged when your joints hurt and your muscles won't respond. Nutrelief ™ products are specially formulated to help you reduce your joint discomfort, keep those muscles strong, and even help your skin remain youthful and elastic.
The best way to delay the aging process is to get up, get out and get active, and that's what we aim to help you do. Our products contain nutrients that help your muscles stay strong, your joints to remain flexible, comfortable and supple, and your skin to stay elastic and young looking.
You can't stay young forever, but you can feel and look as if you are!
What our customers are saying about their joint, muscle & arthritis pain now:
"What a difference it has made. I no longer have tight, stiff muscles or joints."
"I highly recommend this product for people with joint and skin problems of any nature."
"Thank you for HyCel…..it is truly grand!"
"Arthritis sufferer almost pain-free now even after a day of working in the yard."
"Miracle Mix and Hycel has increased my energy level one hundredfold."
"My knees are pain free after hard walk. I am so excited about this. I'm a believer!"
"This is wonderful stuff! I am able to run again plus my skin is looking great, smooth, supple and younger."
"HyCel makes me feel 16 again!"
"Miracle Mix has made my pain disappear"
"Arthritis runs in my family, and so I too, have it. I ordered a HyCel bottle and after 3 weeks I discovered the pain was gone. WOW !!"
2400 Stuarts Draft Hwy Stuarts Draft, Virginia