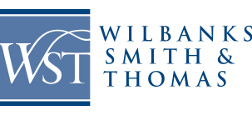 Wilbanks Smith & Thomas Asset Management, LLC – Paul A. Ferwerda, CFA
You have dreams. We have plans. At Wilbanks Smith & Thomas, we believe in the power of smart wealth management. We believe in championing objectivity, in rewarding innovation, in helping you achieve your long-term goals.
As an independent registered investment advisory firm managing more than $2 billion in assets, we're able to provide sophisticated, well-researched investments as well as an extraordinary level of personal service. Because let's face it—money is personal. We want you to realize your dreams. And you are why we're here, putting our expertise to work every single day.
150 West Main Street, Suite 1700 Norfolk, VA 23510