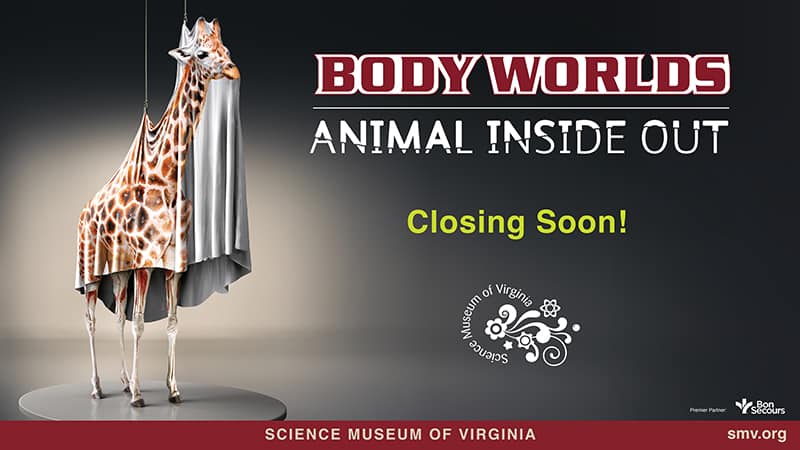 We see animals almost every day – from playing with our family dog at home to watching beautiful giraffes at the zoo. We're familiar with the outer appearance of our animal neighbors, but most of us know little about the intricate biology, zoology and physiology that makes them so special.
Earlier this year, the Science Museum of Virginia premiered a fascinating new exhibition, BODY WORLDS: ANIMAL INSIDE OUT, that gives guests the unique opportunity to see what lies beneath the surface of some of the world's most spectacular creatures.
Highlights of this one-of-a-kind exhibition include the world's tallest mammal, the giraffe, the feathered ostrich, a magnificent bull, giant squid, camel and more!
Featuring over 100 real specimens, ANIMAL INSDE OUT is made possible using the amazing science of Plastination, invented by BODY WORLDS' creator and anatomist, Dr. Gunther Von Hagens. The entire process to preserve a single large specimen can take thousands of hours over the course of years to complete. Standing at over 18 feet tall, the giraffe alone took over two years and 20,000 hours to complete.
This amazing technique allows visitors to get an in-depth look at animals, both exotic and familiar, from land, sea and sky, and truly appreciate the power and wonder of the animal kingdom. Guests leave the exhibition with a new understanding and appreciation for animals and just how similar humans are to other animals.
The Museum is currently the only venue in the Southeast scheduled to host this exhibit, so plan your anatomical safari today! ANIMAL INSIDE OUT will only be at the Museum through Monday, Sept. 3.
To give guests an extra opportunity to see ANIMAL INSIDE OUT, the Museum is currently offering extended hours each Friday from 5-8 p.m. and is offering a $10 exhibition-only ticket during this time. Beginning Aug. 30 through Sept. 2, the Museum will offer these evening hours daily.
For ticket pricing and additional details, visit smv.org.