10 Tips for Preparing Your House and Your Spirit for Spring
March 11th, 2019
Oh, the anticipation!
---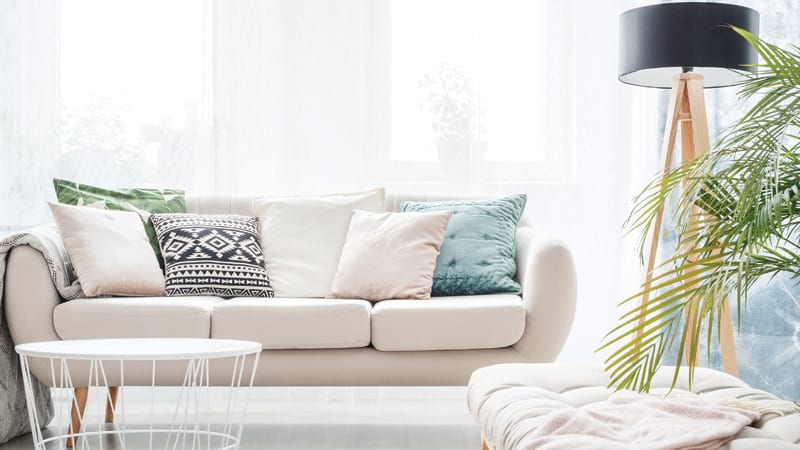 It's a dark, cold evening, and you're settled in at home. Wintertime chill still permeates the air, though hints of spring have occasionally graced Central Virginia with promise. To help combat the winter doldrums, use this annual downtime to make immediate home improvements or to plan for the months ahead – and lift your spirits today.
Bring in the sunlight.
Add a skylight or solar light tube to usher in more natural outdoor lighting. Add a new window or expand an existing window to accommodate a generous bay or bow window. Replace a solid exterior door with a partial-glass or frosted-glass door.
Budget option: Open curtains and blinds during daylight hours so they don't rob you of natural light. Rearrange furniture so you'll be closer to and facing windows.
Let there be more light.
Smart bulbs offer mood-boosting features (and they conserve energy, so you can turn them on with a clear conscience). Bulbs and light strips morph from energizing white light to warm, relaxing golden tones and across the spectrum of colors – choose the hue that boosts your mood. Bring in an electrician to add lights to dark areas of the house. 
Budget option: Sprinkle lamps generously around your house, using full-spectrum, sunlight-simulating bulbs, now quite affordable.
Declutter.
Clutter can negatively affect mood, so spending more time in a cluttered home can exacerbate the problem. To get rid of extraneous stuff and better organize the keepers, hire a professional organizer to do the heavy lifting – literally and figuratively.
Budget option: Draw inspiration and guidance from a how-to book like Marie Kondo's The Life-Changing Magic of Tidying Up or Joshua Becker's The Minimalist Home.
Introduce plants to your space.
Indoor plants make beneficial companions. They release oxygen into the air, increase humidity (which helps ward off dry skin, sore throats and dry coughs), encourage healing and even clean the air!
Budget option: Find a friend with a spider plant or other easy-to-propagate plant and start your new plant using the "spiderette" or other cutting.
Brighten your space.
Simple improvements can perk up your home and boost your spirits: new paint or wall coverings, draperies, furniture, decorations and other accessories. Consider wall murals or faux finishes for extra pizzazz.
Budget option: Simply rearrange your furniture and artwork for a new look, or shop consignment stores for new-to-you décor.
Create a new "me" space.
Throw decorating rules out the window and highlight whatever makes you happy: think home bar, hobby room, home-brew shed, fitness room or work space. Besides practical essentials, throw in pictures and accents that celebrate your passions.
Budget option: With a little rearranging and no new purchases, you might be able to consolidate your hobby needs in one area – to better celebrate you!
Add spa elements to your bathroom.
Upgrade your bathroom with luxurious, relaxation-inducing elements: a jetted hot tub, rainfall shower, multi-jet shower with spray tiles, heated flooring and towel racks, water-resistant stereo system, aroma-infused shower head and steam-free mirror.
Budget option: Pamper yourself regularly with a warm bath, relaxing music, candles and scented bath salts. Add simple upgrades like fluffy towels, a bathtub pillow and bathtub caddy, so you can read or watch a streaming video while sipping wine and soaking in the suds.
Make planting plans for spring.
If you don't absolutely love your yard, a qualified landscape designer can help you craft an outdoors that puts a smile on your face each time you pull into your driveway: rock and water features, meditation areas, Zen gardens and native pollinator-friendly plants. Plan now to be ready to plant when spring finally arrives.
Budget option: Plan your ideal yard yourself! Local libraries, online resources and garden center experts can guide you as you spend cold winter evenings planning for spring planting and summer beauty.
Add a deck, porch or patio that you can use on the first warm day.
Contractors often have a lull during the winter months, possibly offering discounts and more scheduling flexibility (but be patient, knowing that weather will probably interfere with timetables). Hire a contractor now to build or improve your outdoor space, so that dream deck will be ready for enjoyment when the azaleas and dogwoods bloom.
Budget option: To create a new patio area, spread pea gravel over landscaping cloth rimmed by groundcover. Paint a faux rug on a screened-porch floor. Add small accessories to existing outdoor areas to make them more inviting: a tiny fountain, DIY firepit, lights, salvaged items and wind chimes.
Get a pet!
No matter what time of year, animals can provide physical and mental benefits, decreasing blood pressure and stress and boosting mood. Taking a dog for a walk guarantees extra exercise. Toting your furry friend along to public spaces opens dialogue and provides socialization for you both – after all, everyone loves a furry face with big eyes and nose. Oh, and they'll like your dog, too!
Budget option: Well, pets aren't cheap, but if you adopt from a shelter, you're not only saving money initially, you're giving a home to a homeless pet. Or volunteer to walk someone else's dog!