March History Month and Other Richmond Events
March 10th, 2023
Pull out your calendar for these events ... and a few day trips
---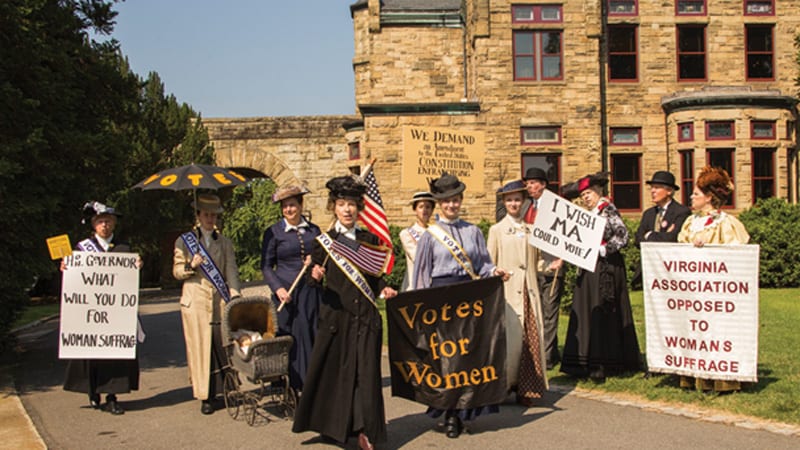 If you like having something to look forward to, this regularly updated Richmond events list is for you! This month, we include some Women's History Month events as well as some of the biggest events in and around Central Virginia.
Updated March 15, 2023
---
Click for What's Booming Top 5 Picks: Honor Service Dogs and the Earth
Or click for more Richmond events, March 9 to 16.
Women's History Month
Library of Virginia, Richmond
A Woman's Place is in the House … of Delegates. In 1923, the first women won election to the Virginia House of Delegates. In the century since, 109 women have served. How have women battled Virginia's "old boys' network"? House members Del. Betsy Carr, Del. Carrie Coyner, Del. Charniele Herring, and Del. Vivian Watts will discuss the challenges, opportunities, and changes they have experienced. FREE, registration required. March 29, 6 to 7:30 p.m., at the Library of Virginia, Richmond.
At the Virginia Museum of Fine Arts
Women's History Month at VMFA. VMFA's growing collection includes the voices and stories of women artists across time and cultures. Throughout March, the museum highlights women artists featured in its collections, programs, and exhibitions.
Special events include:
First Fridays: The Words of Women. FREE March 3, 6 to 8 p.m., at the Virginia Museum of Fine Arts, Richmond.
3 in 30: Recently Acquired Works by Historic American Women Artists. FREE. March 7 and 9, 11 to 11:30 a.m., at the Virginia Museum of Fine Arts, Richmond, and on Zoom.
At the Poe Museum
The Illumination Series, on Lydia Maria Child. The Poe Museum presents a lecture on the author, abolitionist, and women's rights activist by Dr. Les Harrison, chair of the VCU English Department. While Edgar Allan Poe was a merciless critic, he gave her high praise. Why? March 22, 6 to 7:30 p.m., at the Poe Museum, Richmond.
Virtual
Women Make Movies Virtual Film Festival. Catch powerful films celebrating Women's History Month, including Storming Caesars Palace, which chronicles real-life superhero, Ruby Duncan, as she fights the welfare system; Without a Whisper, about the influence of Indigenous women on the early women's rights movement, and Fannie Lou Hamer's America, a portrait of Mississippi sharecropper-turned-human-rights-activist. Every Friday in March, virtual.
At Colonial Williamsburg
Women's History Month at Colonial Williamsburg. Highlights include:
Wednesdays (March 1, 8, 15, 22, 29):
Excavation to Programming – A Colonial Williamsburg archaeologist and a Nation Builder discuss what recent archeological findings reveal about women in the 18th century. Hennage Auditorium, 1:30 p.m.
Thursdays (March 2 and 9):
She Had on When She Went Away – A collaboration between actor interpreters and the Miliner and Mantua-maker who used runaway ads from 18th-century newspapers to explore the material culture and lives of self-liberated Black women. Hennage Auditorium, 1:30 p.m.
Fridays (March 3 and 10):
Saturdays (March 4, 11, 18, 25):
Tour: Women in the Trades – A walking tour in the Historic Area focused on women's labor, skills, and rights in 18th-century Williamsburg and beyond. Historic Area, 11 a.m. (additional ticket required).
From Freedom to Slavery (March 4, 11 only) – A museum theater piece exploring the story of Methotaskee, an adopted Shawnee Indian who is brought back into slavery. Hennage Auditorium, 1:30 p.m.
Top Richmond events down the road … 
March
Making Treason Odious Again? Perspectives from the Congressional Naming Commission and the Army's War on the Lost Cause. Discussion with Connor Williams, a member of the Naming Commission. March 16 at noon, online and at the Virginia Museum of History & Culture, Richmond.
Dancin' Cat Line Dancing. Country line dancing for beginners and experienced dancers. Family friendly and FREE. March 16, 6:30 to 8:30 p.m., at Hardywood West Creek, Goochland.
Shamrock Showdown. Celebrate St. Patrick's Day with fun for all ages. Games, prizes, music and dance. Leprechaun Challenge winner gets a Nintendo Switch Lite. March 17, 5:30 to 7:30 p.m. at Deep Run Park, Henrico.
Murder Mystery Masquerade. Gather seven of your most clever friends for a glamorous evening of mystery and intrigue, where you help solve a murder, with dinner as you go. March 17, 6 to 10 p.m., at Dover Hall, Manakin-Sabot.
War in Pieces. Four one-act plays written by Virginia veterans come to the stage with the support of The Might Pen Project, Virginia Repertory Theatre, The Carpenter Foundation, and The Virginia War Memorial. March 17 to 26 at VMI Alumni Hall at the Virginia War Memorial, Richmond.
Wedding Expo and Boutique. Showcasing local wedding vendors, from bakeries, catering, photographers, salons and spas, transportation, florists, music, makeup, and more – including boutique wedding items to try on. March 18, 10 a.m. to 2 p.m. (March 19 as rain date), at Virginia Cliffe Inn, Glen Allen.
"Apollo: When We Went to the Moon." Virginia Museum of History & Culture presents a new interactive and immersive exhibition exploring Virginia's role in the U.S. space program. The 7,000-square-foot exhibition organized by the U.S Space & Rocket Center will immerse visitors in the epic story of manned space flight through the eyes of the astronauts, and the 400,000 scientists, engineers, and contractors who made our landings on the Moon possible 50 years ago. Launching March 18 at the Virginia Museum of History & Culture, Richmond.
St. Patrick's Day Celebration. Releasing a classic Irish Red Ale in honor of the day, paired with music all day, traditional Irish dancing at 1 p.m., a Brat Haus pop-up, and more. March 18, Hardywood West Creek, Goochland.
Common Ground Virginia Virtual Book Group: "Grain and Fire: A History of Baking in the American South." Read the book to whet your appetite, and then discuss – with the author joining for a Q&A at the end. Space limited, advance registration required. March 20, 6 to 7:30 p.m., online.
"Les Misérables." The classic tale of broken dreams, unrequited love, and redemption, and a timeless testament to the survival of the human spirit – the wildly popular musical, "Les Misérables," stirs the soul. March 22 to 26, 2023, at Altria Theatre, Richmond.
Classic Meets Cool. Barron Ryan presents his unique style of piano performance. March 24, 7:30 p.m., at Perkinson Center, Chester.
There's Always Time for a Cocktail. RuPaul's Drag Race star Mrs. Kasha Davis brings her theatrical training and fabulous performance skills to stage with motivating stories of her life. March 24 and 25, 8 p.m., at Richmond Triangle Players, Richmond.
Dog Jog, 5k and Block Party. A 5k race for people, kids' run, 1-mile dog jog and party with music, performances and more. Virtual option, too. March 25, 10 a.m. to 5 p.m. at the Richmond SPCA, Richmond.
Black Heath Meadery Celebrate Eight. Raise a toast to eight years with vintage meads, guest taps, and Banh Mi sandwiches. March 25, 1 to 9 p.m., at Black Heath Meadery, Richmond.
Bienvenue. Elevé Ballet Company, Virginia's newest ballet company, premiers with excerpts from Swan Lake, Paquita, Pas de Quatre, celebrating the beauty and timelessness of classical ballet. March 25, 6 p.m., at Jimmy Dean Theater at Perkinson Center for the Arts, Chester.
The Irish Festival. The annual festival has been celebrating Irish heritage for more than 35 years, with music, food, vendors, games, dance, and more. March 25 to 26 at St. Patrick's Catholic Church in Church Hill, Richmond.
Women Take the Stage: Featuring Sarah Schaefer. The comedian, writer, author, and Maggie Walker Governor's School alum speaks, joining a lineup of panelists. Proceeds benefit RPAA's BrightLights Education Initiatives. March 27, 4 p.m., at Carpenter Theatre at Dominion Energy Center, Richmond.
Burt Bacharach Tribute Show. Butter Bean Jazz Quartet featured artists Charles Arthur and Laura Anne Singh present music of the talented late composer. March 29, 6 to 9 p.m., at Hardywood, Richmond.
Slavery, the Founders, and the Constitution. Dr. James Oakes of the City University of New York looks at the Constitution as a pro-slavery or antislavery document. March 30, 6:30 to 8 p.m. at the American Civil War Museum, Richmond.
April
2023 Civil War & Emancipation Day. A day of music, dance, storytelling and poetry, using arts to explore the Civil War, slavery, and emancipation. With the Shenandoah Valley Civil War Dancers; living historian and storytelling Dylan Pritchett examining slavery and emancipation; Sacred Nine Project, a musical program exploring the experience of Union soldiers at Libby Prison; and The Names & The Faceless Women of the Civil War. April 1, 10 a.m. to 5 p.m. at the American Civil War Museum at Tredegar, Richmond.
Kick-Off Celebration of the 50th Anniversary of Secretariat's Triple Crown. As the birthplace of the record-breaking stallion, Ashland is hosting the multi-state anniversary celebration, including the unveiling of the 3,500-pound, 21-foot-long bronze sculpture. April 1 in Downtown Ashland.
11 a.m.: Showing of the Disney film, "Secretariat," at the Ashland Theatre.
2 p.m.: Monument unveiling and ceremony at Ashland Town Hall Pavilion.
2:30 to 5 p.m.: Meet and greet with a Secretariat lookalike, displays, kids' activities and craft, sculptor presentation, tours of the Ashland Museum and its Meadow Stable Display and more.
Poe's Enchanted Garden. Celebrate National Poetry Month with poetry writing, gardening workshop, storytime, and more. April 1, noon to 2 p.m., at the Poe Museum, Richmond.
Riverfront Canal Cruises Season Opens. Narrated historic tours begin for the season on April 1. Tours depart on the hour from the Canal's Turning Basin at 139 Virginia St., Richmond.
Family Easter at Maymont. Food, fun, crafts, and games, including Easter Bunny photos, a Hop-stacle course, life-size Candy Adventure Game, egg hunt, and more. April 8, 9 a.m. to 3 p.m. at Maymont, Richmond.
Hamilton. Featuring a musical score that blends hip-hop, jazz, R&B, and Broadway, has created somewhat of a revolution, itself. Catch it when it returns to Richmond on April 11 through 23, 2023, at the Altria Theater, Richmond.
Ginter Park Garden Club's Spring Market. Juried local artisans and vendors present a variety of items, ranging from garden-related – plants, herbs, tools, décor, etc. – to handmade jewelry, clothing, soaps and lotions, baked goods, white elephant sale, and more. Benefiting local causes. April 15, 10 a.m. to 3 p.m. at Ginter Park Presbyterian Church, Richmond.
"Chasing Space: A Virginia Astronaut's Journey." Retired NASA astronaut Leland D. Melvin was an NFL wide receiver and is an author, Lynchburg native, and University of Richmond and University of Virginia graduate. He will join the VMHC for special public events throughout the year, including this interactive program focused on his inspirational memoir. April 15, 3 p.m., at the Virginia Museum of History & Culture, Richmond.
Eternal Tango. Beguiling, seductive, captivating, and intoxicating music and dance, with the Richmond Symphony and April 15, 8 p.m., at Dominion Energy Center at Carpenter Theatre, Richmond.
Hermitage High School Reunion for Classes 1960 through 1969. A Decade of the '6Os Reunion for all alumni of Hermitage High School, classes 1960 to 1969. Music, food, plenty of tables and chairs, memories, and old friends! Casual attire. Cash bar. Limited to 400 attendees. Cost $25 per person. To reserve your spot, make out your check to HHS 60's Reunion, 7330 Staples Mill Rd., #249, Henrico, Virginia 23228 and identify in which class you graduated. Email https://suecox3@yahoo.com for more information. April 15, 4 to 9 p.m., at Richmond East Moose Lodge Ballroom, 7167 Flag Lane, Mechanicsville.
Swing for the Symphony. Golf and tennis to benefit the Richmond Symphony. April 17, 10:30 a.m. to 8 p.m., at Richmond Country Club, Richmond.
Twelfth Richmond Bluegrass Jam Set to Benefit Military Veterans and Families. Enjoy 20 of the region's best bluegrass and Americana bands: Tara Mills Band, Cary Street Ramblers, Josh Grigsby and County Line, Cook County Bluegrass, Slack Family Bluegrass Band, and more. All raising money for the Richmond Fisher House and Liberation Veteran Services. Plus local craft beverages and food trucks. April 22, 11 a.m. to 8 p.m. at American Legion Post 354, Midlothian. FREE.
"Bluey's Big Play" Stage Show. The adorable, whimsical Australian show, featuring a friendly dog family, entertains both kids and adults. April 25, 2023 at 6 p.m. at Altria Theater, Richmond.
UnHappy Hour. The festive event returns for the 2023 season on April 27 at the Poe Museum, Richmond.
The Dred Scott Decision. Dr. Martha Jones of The Johns Hopkins University discusses this controversial Supreme Court case. April 27, 6:30 to 8 p.m., at the American Civil War Museum, Richmond.
MerleFest Celebrates 35 Years of Music, Moments, and Memories. This year's festival will honor Doc Watson's 100th birthday and 35 years of fundraising through music. Bringing musicians from across genres, fans from across the world, Acoustic Kids, and one-of-a-kind artist collaborations to the Blue Ridge Mountains. April 27-30 at Wilkes Community College, Wilkesboro, NC.
Burning Man Artist Kate Raudenbush Exhibit Coming to Richmond. The Burning Man artist will premiere her enchanting and evocative new exhibit, "Incanto: An Oasis of Lyrical Sculpture," in collaboration with poet Sha Michele, the show will feature five monumental sculptures and run from April 28 through Oct. 29, 2023, at Lewis Ginter Botanical Garden, Richmond.
Herbs Galore. Spice up your garden with a vast variety of plants from dozens of nurseries and vendors of garden-inspired goodies. Plus live music, food trucks, and kids' activities. April 29, 8 a.m. to 3 p.m. at Maymont, Richmond.
Ashland Train Day. Train-related exhibits and activities, including freight and passenger trains, model trains, and railroad history, plus trucks, live music, kiddie rides, food, dance music, and shopping. April 29, 10 a.m. to 4 p.m., in Downtown Ashland.
May
The Bizarre Bazaar 31st Spring Market. More than 250 juried exhibitors from all over the country bring unique offerings, from gourmet food, jewelry, designer clothing, fine arts, home and garden accessories, and more. May 5 to 7 at Richmond Raceway Complex, Richmond.
Friday Cheers 2023. Richmond's longest-running concert series announces its lineup for this year's concerts.
May 5 – Snail Mail (8:00pm) with Water From Your Eyes (7:00pm) and Dazy (6:15pm)
May 26 – RVA Music Night: Butcher Brown (8:20pm), Celler Dwellers  (7:15pm) and Cassidy Snider & the Wranglers (6:15pm)
June 2 – Sampa The Great (8:00pm) with Kenneka Cook (6:30pm)
June 9 – Watchhouse (8:00pm) with Palmyra (6:30pm)
June 16 – Tank and the Bangas (8:00pm) with Piranha Rama (6:30pm)
June 23 – The Vegabonds (8:00pm) with Kind Hearted Strangers (6:30pm)
June 30 – Flipturn (8:00pm) with Holy Roller (6:30pm)
Star Wars: The Return of the Jedi – In Concert – Matinee and Evening Performances. Presenting the final episode of the original Star Wars trilogy, with the John Williams' score performed live beside the film on the giant screen. Optional ticket add-ons with a themed party. May 6, 2 p.m. and 8 p.m., at Altria Theater, Richmond.
Cadence Theatre 13th Season 13 Continues. The season features two world premieres from Cadence's Pipeline New Works Fellowship, led by Chris and David Lindsay-Abaire.
How to Bruise Gracefully, May 11-21, 2023, Libby S. Gottwald Playhouse.
Native Gardens, June 21-26, 2023, Back lawn of Wilton House Museum.
18th Annual Cap2Cap. One of the region's biggest cycling events, along the scenic Virginia Capital Trail, offers several distance options: 7, 25, 50, and 100 miles, plus a 2-day challenge. Proceeds support the work of the Virginia Capital Trail Foundation. Other features include rest stops and support, party zones, and virtual options. Post-ride celebrations will be held at Chickahominy Riverfront Park (Williamsburg, May 12) and Dorey Park (Henrico, May 13). Cyclists can customize their ride by selecting their own starting and ending locations, route, and ride day. New features include a shuttle package for half century riders and group ride information with local cycling organizations. May 12 and 13, along the Virginia Capital Trail from Richmond to Williamsburg.
The Be Funny Tour with Nate Gargatze. May 14, 2 and 7 p.m., at Altria Theater, Richmond.
2nd Annual Inclusion Day at The Diamond. Friendship Circle of Virginia hosts a day highlighting disability inclusion and mental health. The day includes a sensory area, kids' field activities, ASL services, closed captioning, and more. Sunday, May 21, beginning at 1:35 p.m. at The Diamond, Richmond.
The Union War. Dr. Gary Gallagher of the University of Virginia discusses the motivations of Union soldiers and civilians. May 25, 6:30 to 7:30 p.m. at the American Civil War Museum, Richmond.
Boz Scaggs – Summer 23 Tour. May 30, 8 p.m., at Dominion Energy Center, Richmond.
June
Harry Potter and the Goblet of Fire in Concert. Accompanied by a live symphony orchestra performing Patrick Doyle's score. June 10, 2 p.m. and 8 p.m., at Altria Theater, Richmond.
Williamsburg Live. The Virginia Arts Festival has announced headliners, including The Wood Brothers, Shovels & Rope, Kenny Loggins, Yacht Rock Revue, and Keb' Mo'. June 16 to 18 on The Lawn of the Art Museums of Colonial Williamsburg.
And Richmond events beyond …
"Ain't Too Proud: The Life and Times of the Temptations." The new musical that follows The Temptations' extraordinary journey from the streets of Detroit to the Rock & Roll Hall of Fame. July 11 to 16 at Altria Theater, Richmond.
JamPacked Festival 2023. Craft beer and musical festival Aug. 12, on Brown's Island, Richmond.
Little Feat's Boogie Your Summer Away Tour. Aug. 18, 8 p.m., at Altria Theater, Richmond.
Tommy Emmanuel, CGP. With special guests Larry Campbell & Teresa Williams. Sept. 7, 8 p.m., at Dominion Energy Center, Richmond.
RSOL Designer House, 2023. The Richmond Symphony Orchestra League has announced its 19th designer house: the Taylor Estate, located on Monument Avenue. Save the date for Sept. 11, 2023.
Trevor Noah. The comedian and social commentator brings his humor and insights to Richmond. Oct. 6 and 7, 2023, at Altria Theater, Richmond.
Steve Martin and Martin Short. Two wild and crazy comedians are joined by plus Jeff Babko and The Steep Canyon Rangers Presents: You Won't Believe What They Look Like Today! Oct. 29, 8 p.m., at Altria Theater, Richmond.
Ongoing Richmond Events
Installation: RVA Community Makers. An annual community-activated public art project led by artist Hamilton Glass to honor African American leaders from a variety of fields. FREE. Exhibition runs through March 17.
JAZZ: February/March All Media Juried Exhibition. Through March 18 at Artspace, Richmond.
"Storied Strings." A new exhibition premiering at the VMFA explores the guitar's symbolism in American art and its story, through a variety of artistic and musical media. Through March 19 at the Virginia Museum of Fine Arts, Richmond.
"Cross Stitch Bandits" World Premiere. For the past 27 years, David has dutifully climbed the ranks at the same engineering firm and placed his family on a trajectory for success, but his retirement party soon divulges into him scrambling to get everyone's lives back on track. From Cadence's Pipeline New Works Fellowship. Through March 19, at Libby S. Gottwald Playhouse, Dominion Energy Center, Richmond.
13th Annual RVA Environmental Film Festival.  The festival continues through March 21 at venues throughout the community. The lineup includes films for all ages and covers environmental topics such as forest conservation, climate change, sea life, pollinator decline, and more. All films are FREE. See website for a complete list of films and venues.
"After December." A mysterious woman appears after a subterranean particle collider malfunctions. Is she a threat? Through March 26 at The November Theatre, Richmond.
Knitorious M.E.G. on Lover's Lane. Vibrant yarn creations adorn the winter garden with color and love. Through March 31 at Lewis Ginter Botanical Garden, Richmond.
Impressions of Spring. Art exhibition from the Chester Artists Association. Through April 1 at Perkinson Center, Chester.
"Time Machines." An exhibition of work by the Visual Arts Center of Richmond's 2022-23 Annual Resident artists Ayana Zaire Cotton, Curtis Newkirk Jr., Hien Kat Nguyen, and Emily Okamoto-Green. Exhibition through April 23, at the Visual Arts Center, Richmond.
Forging Freedom, Justice and Equality. An exhibition covering important themes of Black history across Virginia, from commerce to military, education, sports, entertainment, and more. Through April 29 at the Black History Museum and Cultural Center of Virginia.
"A Powerful Influence: Early Photographs of African Americans from the Collection of Dennis O. Williams."View 25 portraits of Black Americans, enslaved and free, to explore the complicated histories of identity, family, citizenship, and race. The installation includes daguerreotypes, ambrotypes, tintypes, and early works on paper made from the 1840s through the 1880s. FREE. Through May 8 at the Virginia Museum of Fine Arts, Richmond.
"Isaac Julien: Lessons of the Hour – Frederick Douglass." The poignant 10-screen film installation collapses time and space to bridge persistent historical and contemporary challenges, honoring the great 19th-century abolitionist. FREE. Through July 9 at the Virginia Museum of Fine Arts, Richmond.
Playing with Light. Using basic physics principles, interactive experiences, and fun, the exhibition explores light using 22 exhibits, encouraging engagement with light, laser, and lens-based experiences. Through Aug. 20 at the Science Museum of Virginia, Richmond.
Barbara Earl Thomas: The Illuminated Body Exhibition. New works by the artist, writer, and thinker meditate on the visual experience of the body within a physical and metaphorical world of light and shadow. In addition to two-dimensional artworks that give an illusion of illumination, the exhibition includes three-dimensional works in other media with the same aesthetic results. Through Aug. 20 at Chrysler Museum of Art, Norfolk.
Virginia State Park Adventure Series. The series consists of 25 competitions, including bike races, marathons, and triathlons. Through Oct. 7, at Virginia State Parks around the state, including Pocahontas (Chesterfield) and Powhatan (Powhatan County).
200 Years, 200 Stories. The Library of Virginia marks its bicentennial with a free exhibition and multimedia experience celebrating 200 Virginians whose narratives reflect the stories of Virginia: heroes and villains, famous and infamous, powerful and powerless. Through Oct. 28 at the Library of Virginia, Richmond.
"'I made this…': The Work of Black American Artists and Artisans." The first exhibition looking solely at the work of diverse Black artists and artisans from three centuries opens at the Art Museums of Colonial Williamsburg. Through Dec. 31, 2025, at the DeWitt Wallace Decorative Arts Museum, Williamsburg.