4 Hidden Destinations for Kayaking
| April 17th, 2020
Beautiful paddling opportunities in Virginia's Middle Peninsula and Northern Neck
---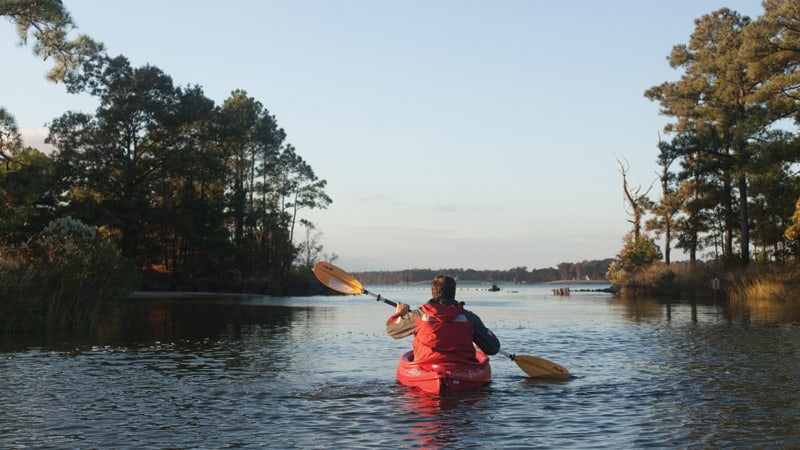 Did you know the Middle Peninsula and Northern Neck offer some of the most pristine and ecologically varied kayaking experiences in Virginia? At its best, the region's remoteness, abundant protected lands and diverse range of ecosystems bring float trips akin to passing through wild and spectacular gardens.
From hidden beaches and meandering salt marshes along the Chesapeake Bay, to major rivers like the York, Rappahannock and Potomac, and one of the most immaculate bald cypress swamps in the Mid-Atlantic, the area brims with paddling treasures.
But there's a catch. Until recently, few beyond local enthusiasts knew of them.
Environmental scientist and paddling guru Shannon Alexander sought to change that when she founded Bay Country Kayaking in 2012. The company now offers guided ecotours throughout both peninsulas.
"There are so many incredible ecosystems, many of which are only accessible by canoe and kayak," says Alexander. "My goal is to help visitors experience these amazing locations firsthand."
Alexander shares four of her favorite hidden gems.
Greenvale Creek to the Rappahannock River, Mollusk
While Belle Isle State Park offers easy access to the Rappahannock, a trip down Greenvale Creek in nearby Mollusk brings similar ecosystems and fewer people.
Starting at the secluded Thomas Landing, a mile-long paddle carries visitors down a give-or-take 200-foot-wide waterway lined with reedy grasses, occasional homes and thick forests of loblolly pine, Atlantic White cedar, shadbush, sassafras, sugar maple and more. Waterfowl are abundant in the spring and early summer.
Toward the end of the creek is a small, old-timey commercial marina. Beyond the narrow 50-foot inlet at Rocky Point flows the Rappahannock, here about 3 miles wide. Head downstream while hugging a beachy shoreline backed by patches of scrub-brush and maritime forest. On a good day, crystalline waters offer views of sandy bottoms and submerged aquatic vegetation beds, where juvenile fish and crustaceans feed and hide from predators.
About 1,000 feet downstream is Onda Creek. Its mouth opens on a forested island tipped with white, sandy beaches. The latter serves as a seasonal nesting ground for migratory songbirds and coastal species like snowy egret, great blue herons and black-and-white warblers.
Dragon Run Wilderness Area, Middle Peninsula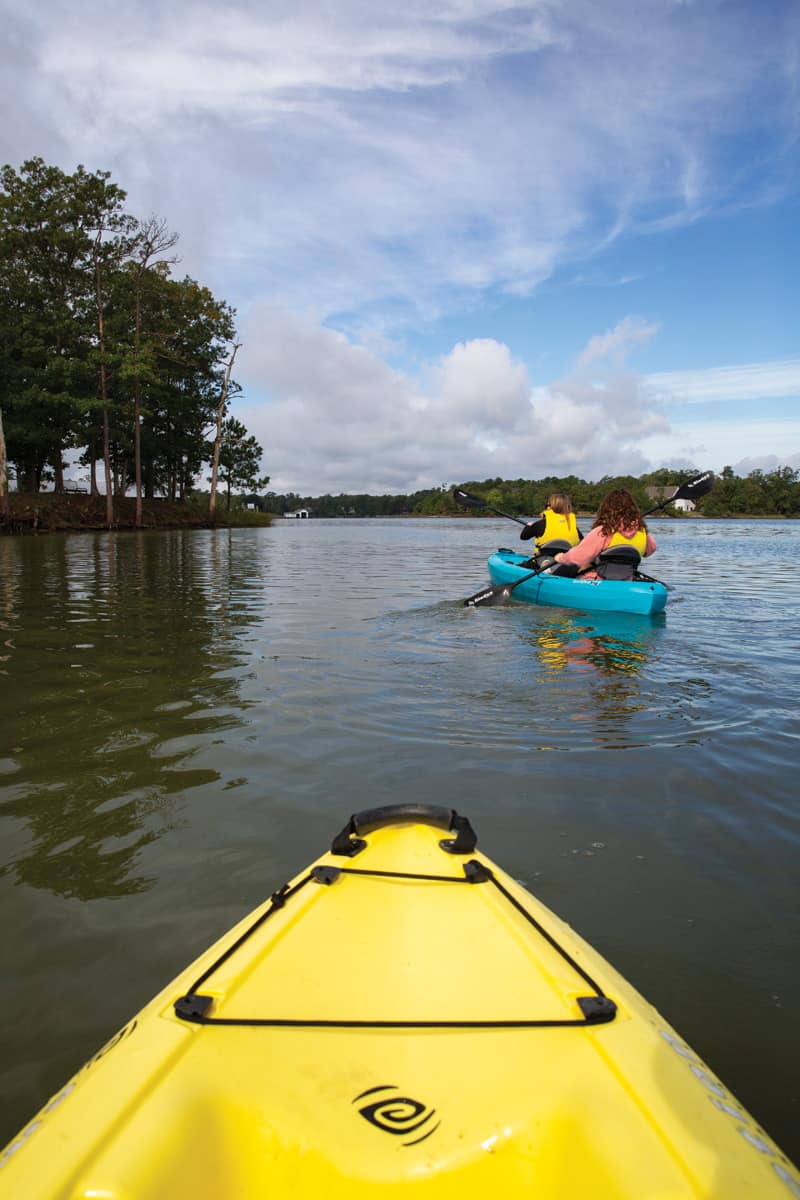 Beginning in Essex County and passing 40 miles through King and Queen, Middlesex and Gloucester counties, Dragon Run Swamp is one of the most isolated and ecologically interesting waterways in Virginia.
Located amid more than 21,000 acres of protected lands, most paddling accesses require hiking. But the experience is worth the effort: Alexander says the protections and remoteness have made Dragon Run one of the most immaculate blackwater streams in the Mid-Atlantic. The northernmost example of a bald cypress and tupelo swamp, it is home to five rare ecological communities – including 25 unique species of flora and fauna.
"I've kayaked at hotspots throughout the world," says Alexander, "and this is one of the most awe-inspiring places I've ever been."
Paddlers navigate twisting, turning channels that vary from 20 to just a few feet wide. Routes are lined with a profundity of greenery. This includes swamp grasses, cattails, waterlilies, arrow arum, swamp rose, purple-blossomed pickerel weed, resurrection ferns, spindly featherfoil and more. River birch and mature, 20-foot-wide bald cypress trees tower overhead. Iridescent dragonflies zip through the foliage. And nearly 200 species of birds have been spotted in the swamp – including rare bright-yellow prothonotary warblers, which nest in treetops.
Pamunkey, Mattaponi and York rivers, West Point
The town occupies the peninsular confluence of the Pamunkey and Mattaponi rivers, where they merge to form the York. New public boat ramps, boardwalks and parks bring convenient access to each. They help transform the area into a paddling haven.
"Here you'll find unique transitional habitats between salt and freshwater ecosystems," says Alexander. Wetlands and marshes abound.
Exemplary specimens can be found on the Pamunkey at the 1,193-acre Cumberland Marsh Natural Area Preserve; also in the Chesapeake Bay National Estuarine Research Reserve's 1,094-acre Sweet Hall Marsh area. In both you'll find an astounding array of marsh plants: like coontail, Brazilian pondweed, yellow-blossomed water stargrass, wild rice and celery, environmentally threatened joint-vetch, sweetbay magnolia and more. And did we mention the birds? More than 175 species have been identified in the Cumberland Marsh alone.
Monday Creek to Big Island, Guinea Neck
Home to one of the state's oldest and most isolated historical watermen communities, the area is located south of Mobjack Bay. It's buffered from the Chesapeake Bay by tidal creeks and dense salt marshes filled with oyster and mussel beds.
Put in at the end of Maryus Road at high tide and follow the meandering creek through tall, reedy grasses for about a mile to reach Big Island: once the site of an off-the-grid fishing village. It's now partially owned by The Nature Conservancy and is a prominent nesting area for seabirds like cormorant. A 2.4-mile circumnavigation reveals white, sandy shores along the bay; additionally, there are views of the New Point Comfort Lighthouse to the northeast and the Goodwin Islands to the south.
Clear waters bring glimpses of periwinkle snails, blue and fiddler crab, turtles, and many fish; even the occasional dolphin. The interior boasts one of the most pristine examples of maritime forest in the Tidewater and the ruins of a few old homes.
ADDITIONAL RESOURCES
Bay Country Kayaking offers guided eco-tours to more than a dozen regional locations. BayCountryKayaking.com
Friends of Dragon Run seeks to protect and keep the swamp pristine. To raise awareness, the nonprofit offers annual spring paddling tours. DragonRun.org
Virginia Water Trails, led by Shannon Alexander, has compiled digital maps of many Middle Peninsula and Northern Neck water trails. Virginiawatertrails.org
---
Eric J. Wallace is a career journalist whose writing has appeared in more than 40 media outlets, including Backpacker, Gastro Obscura, Virginia Living and Modern Farmer.