6 Clever Cleaning Hacks for a Spotlessly Sparkling House
April 11th, 2022
---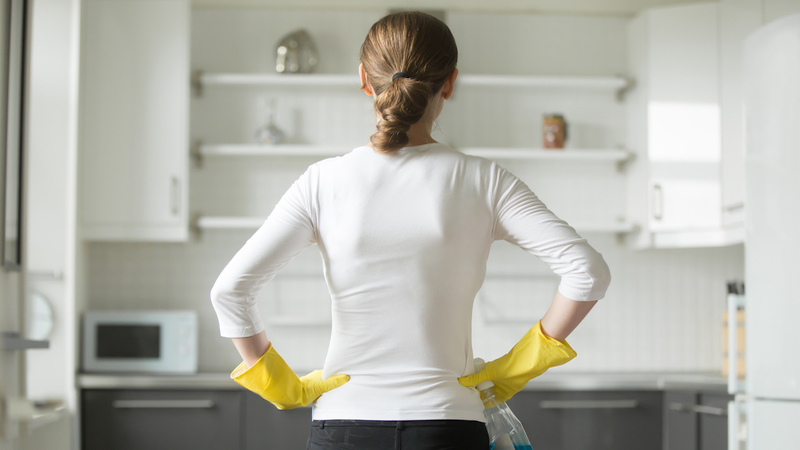 Cleaning is often a dreaded task for those with no help. It is easily the most procrastinated task by far. Even then those cleaning and organizing videos look so satisfying because someone else is doing it. It is hard work but that does not mean you cannot be smart about it. There are so many hacks to make cleaning a breeze. Read on to know these quick cleaning hacks.
These Cleaning Hacks Will Blow Your Mind
Baking Soda and Vinegar
Just buy a big bottle of white vinegar and baking soda powder. Whenever you need to clean something, mix a little of it in a spray bottle. You can use this on most surfaces around the house. It is an organic cleaning agent which also takes care of leaving no toxic residue either in water or air in your house. You can use it to wipe your table, chairs, stoves, faucets, bedposts, drawers – in short just about everything. You can use it as a disinfectant on the toilet seat as well. Since this is skin-friendly, you don't have to worry about touching these surfaces or if there are children in the house who could consume it through licking or inhaling.
Blotting Paper
This blotting paper is your cleaning friend for all upholstery and carpets around the house. As we know, any stains on fabrics, tend to spread if rubbed to clean. Instead, you can use blotting paper and baking powder to remove any stains from your carpet, bed sheets, sofas, curtains as these are fabrics that cannot be washed often in a commercial washing machine. Dry cleaning costs a lot of money. Blotting paper is great for oil stains as it absorbs moisture from fabrics. You could even use drying sheets for water spills as it prevents watermarks from forming on light-coloured fabrics and carpets. Carpet cleaning products are also a practical option since it minimizes time spent on vacuuming carpets every day. Click to read more.
Toilet Cleaner for Faucets and Shower Heads
The calcium build up is very common in most washrooms. It is responsible for slowing down the speed of water as it clogs the small pores in your shower head and other water outlets. You can effectively get rid of this by applying any regular toilet cleaner on it and leaving it for 10-15 minutes. Wipe it clean with tissue paper to reveal it as clean as new faucets!
Toothpaste
Toothpaste is a great cleaning agent for a lot of common things which you use every day. Dirty sneakers can shine anew by rubbing some toothpaste on them. Clean your rings and jewellery with toothpaste to remove dullness from regular wear.
Cupboard Organizers
Everything stacked in boxes looks neat and saves your time every day without having to balance things on top of each other. Get some compartment boxes to keep your clothes in place and regularly keep your cupboard organized. This is the easiest way to find anything in your wardrobe easily. Socks, ties, scarves are some things that do not take up much space.
Lemon and Rock Salt
Lemon is acidic which makes it a strong cleaning agent when applied with rock salt on a cutting board, rings on wooden desks, watermarks on sinks or mirrors. It removes gunk easily without the use of harsh chemicals.
Conclusion
Most of the cleaning agents are already present in your kitchen. You can make smart use of the above-listed hacks to quickly and efficiently clean your bathrooms, kitchen sink, metal knobs on doors and utensils. Cleaning is also a great form of therapy so blast off your playlist and enjoy the process.
---