10 Tips for Accessible Long-Haul Travel
| May 9th, 2018
Slow down and smell the roses – but plan, plan, plan
---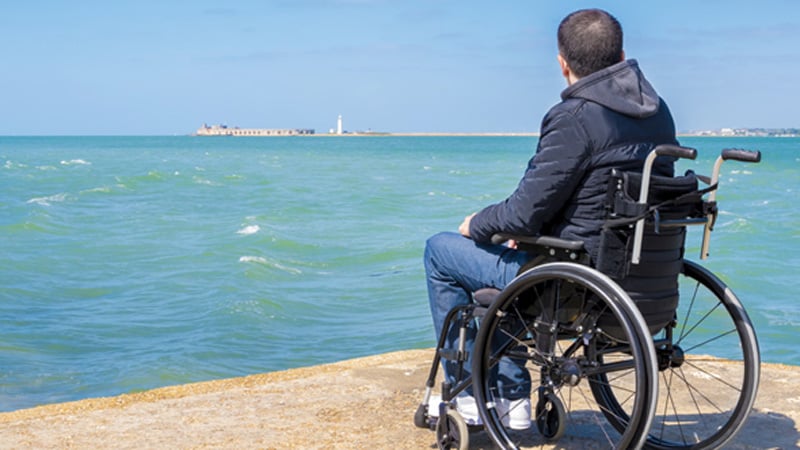 "Most of our travel now revolves around health issues," says Charlie Bryan. Because of Parkinson's disease, Bryan retired early a decade ago after 20 years as the president and CEO at the Virginia Historical Society, now the Virginia Museum of History and Culture, and does consulting for nonprofits. He uses a transport chair and stresses the need to "think and plan in advance" for any trip.
Accessibility issues bring inspiration along with physical challenges. My husband, Tom, also uses a transport chair because of Parkinson's. He and I can no longer get up-close and personal with sights such as the cliff dwellings in Colorado's Mesa Verde National Park; but having to move more slowly makes us more aware of such sights as small, seeping waterfalls and sagebrush along trails en route.
It's a conundrum worth pondering. Bryan says with a chuckle, "Parkinson's causes you to lose some of your sense of smell, but you do have more time to 'stop and smell the roses.'"
To prepare for a two-week western U.S. trip last summer, I doubled-down in early spring on Wyoming and Colorado websites and phone calls regarding accessibility details for transportation services, sightseeing venues and accommodations. Below are tips garnered from what I've learned over almost a decade of travel after Tom was diagnosed with PD.
1) Be flexible, before and during a trip. Even with detailed planning, unpredictable things happen, demanding adjustment.
2) Book as early as possible for accessibility in transportation and lodging. Depending on the need to sit in a wheelchair on trains, space might be more limited than for regular seating. For overnight travel, Amtrak has a limited number of accessible roomettes on Superliners – at no extra charge above that of regular roomettes, which include private baths. Check schedules carefully: regional sightseeing trains, such as Colorado's Durango-Silverton narrow-gauge steam railroad, run handicapped-accessible cars on a limited schedule.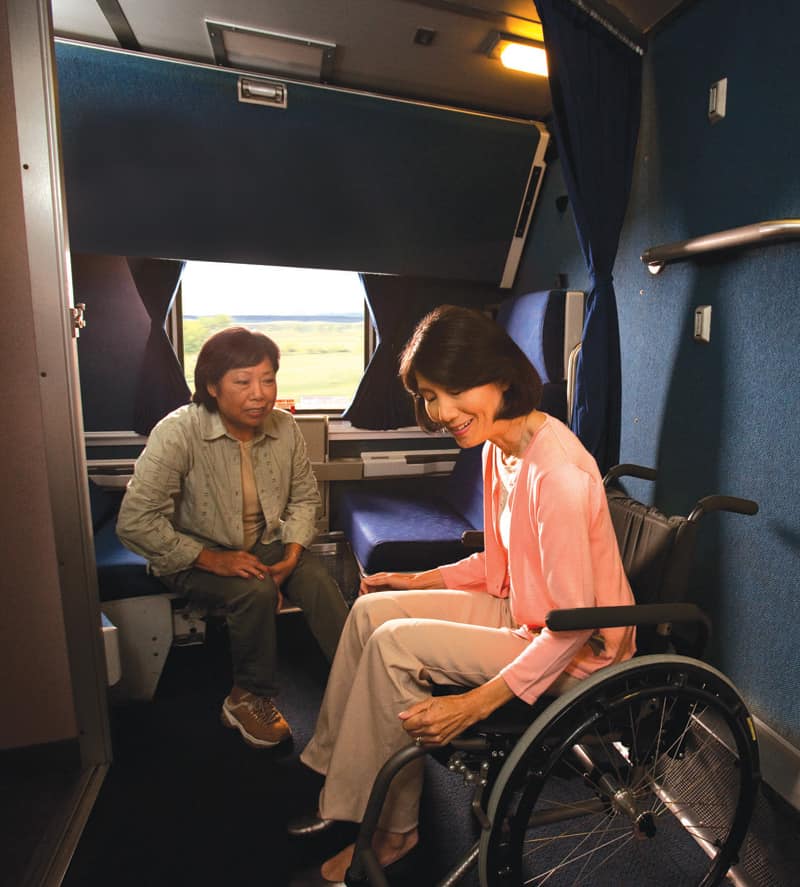 3) If a lift is needed to step up into a train car, make that known ahead of time. The agent will ensure reservations for a lift for your chair. (We tipped our conductor well for help with bags and transport chair.)
4) Know your patience-level for transfers and connections. We returned to Richmond from Denver via an accessible Amtrak roomette last summer, but another couple opted to fly home from Denver rather than transfer trains in Chicago for a second overnight before the final transfer.
5) Rent the best-size automobile for your needs as soon as possible. Smaller airports have fewer rental cars available.
Keep in mind that accessibility makes having roadside assistance coverage even more important. Make sure your policy covers you easily wherever you go.
6) Don't eliminate unique lodgings such as dude ranches and historical properties. Look at each on an individual basis. Some have accessible rooms and cabins but have other limitations. Ask about special services, such as golf carts, which help overcome restrictions in getting around rugged terrain.
7) Ask in advance how far accessible rooms are from hotel entrances and elevators. For example, at Fort Collins Marriott, accessible rooms are located a great distance from the entrance and elevators (ours was 300 feet). Far View Lodge at Mesa Verde National Park, on the other hand, has economical accessible rooms closer to its entrance.
8) Check on the availability of accommodations' accessible sightseeing shuttle. Many hotel chains have shuttles with lifts for chairs. You can eliminate a rental car if a free shuttle meets your needs.
9) The budget also has to be "accessible," even when a destination is easy on disabilities. With our granddaughter-violinist's performing at the Aspen Institute – an expensive destination, even for gasoline – I had found an accessible room, with chamber-of-commerce assistance, a half-hour from downtown, at Wildwood Hotel in Snowmass Village for about $129. Also easy-on-the-budget was the to-go food for breakfast, lunch and dinner within an easy stroll in the village.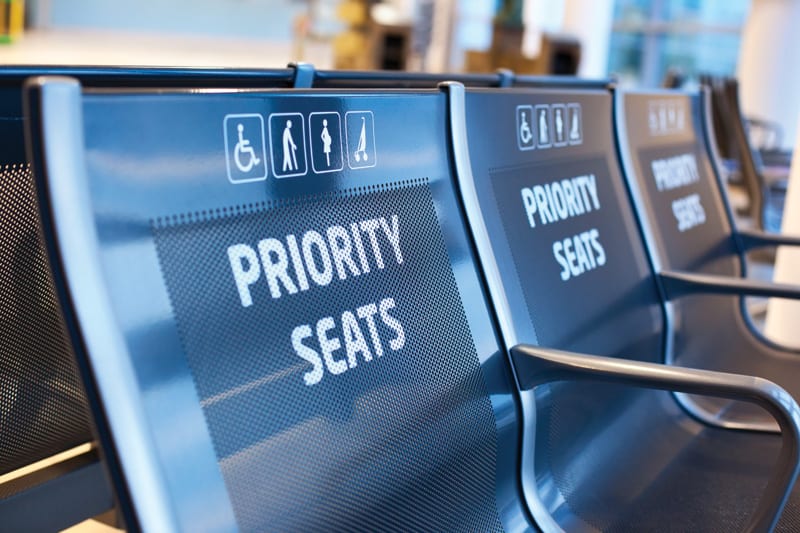 10) If riding for long periods of time is uncomfortable, look for closer alternative sights. North of the old French fur-trapping area of Fort Collins, for example, lies the spectacular Cache la Poudre-North Park scenic byway, which winds north up the Cache la Poudre River Canyon, where we knew we could see bighorn sheep with our binoculars; but we opted for the closer Horsetooth Reservoir drive and its accompanying roads, where we spotted antelope. Flexibility and alternatives always offer bonuses!
Travel is about serendipity: If you can't move around as much as you once did, look for the silver lining, such as bird-watching from the front porch of your accessible cabin.