The Voice Behind the Flying Squirrels
| April 4th, 2017
Jay Burnham's rich, mellow voice calls Richmond baseball games – and more
---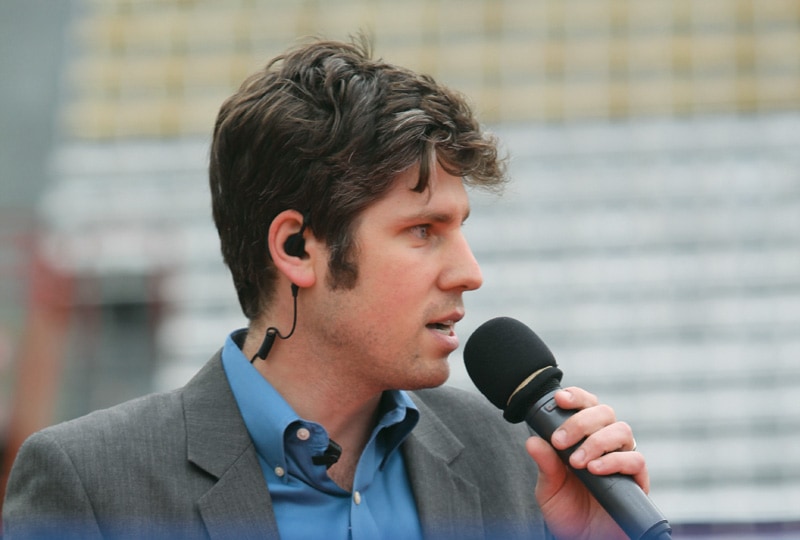 Minor league baseball players have to endure long bus rides.
Ditto for minor league broadcasters. Ask Jay Burnham. He's been there, done that many times during the 14 years he has been the radio voice of teams in Pensacola, Florida; Hagerstown, Maryland; Asheville, North Carolina; Trenton, New Jersey; and now Richmond.
Burnham, beginning his fifth season doing Flying Squirrels games on Fox Sports 910 AM, has some bus-riding yarns. He spun a few to me at The Diamond while we watched the Virginia Commonwealth University baseball team take batting practice from our box seats.
In 2004, when Burnham was calling independent league games for the Pensacola Pelicans, he rode with the team to El Paso, Texas.
"A 24-hour bus ride and no stopping overnight," he said. "It probably was not legal."
The same driver was at the wheel all 1,300 miles. "His name, believe it or not, was James Bond."
The Squirrels' longest bus ride is the 700-mile trip to Maine once a season to play the Portland Sea Dogs. It's a road trip Burnham looks forward to because summer nights in Portland are more pleasant than summer nights in RVA.
Bus trips give Burnham a chance to do some reading.
"I've been trying to catch up on reading classics. I was reading Hemingway's A Farewell to Arms on one trip, and the guys kidded me that it was a baseball book. One said, 'Are you reading about our bullpen?'"
The road to the announcer's booth
Burnham grew up in a Shelburne Falls, a small town in western Massachusetts. His parents were schoolteachers, and, like most New Englanders, Boston Red Sox fans. "My dad grew up listening to Red Sox games on a transistor radio with a tag line on it saying 'Red Sox games only.'"
After high school, he enrolled at Hawaii Pacific University in Honolulu.
"That's where I started listening to baseball games on the radio. The internet was just coming into its infancy and I could listen to Red Sox games for free."
That experience inspired him to pursue a broadcasting career. After two semesters he transferred to Elon University in North Carolina to major in communications.
His junior year he spent a semester abroad in Japan, living with a host family and learning to speak some Japanese. At one baseball game, a left-handed pitcher for the Hanshin Tigers named Kei Igawa caught his eye.
"I raved about him. Told people you have to see this guy. The Yankees later signed him as the next big thing, but he never panned out."
A few years later, Burnham was broadcasting Trenton Thunder games when the Yankees sent Igawa to Trenton. Burnham told him he had seen him pitch in Japan.
"I tried to speak with him in Japanese, but we had to have an interpreter."
In 2011, while he was in Trenton, Ballpark Digest presented Burnham with the Minor League Broadcaster of the Year award.
A line drive to left field
Like players, Burnham hopes to make it to the major leagues. He knows it's a long shot.
"Major league teams have 40 players on their roster, 25 active and 15 inactive," he said. "A broadcast team is mainly two or three guys who have been there forever. The opportunity is really slim. My thinking is if you are going to work in a smaller market, you might as well work in one you enjoy. That's why my wife, Cheyenne, and I came to Richmond from Trenton (in 2013). She's from Harrisonburg, so we knew Richmond is a great place to live. We really love it here."
Burnham is more than just the radio voice of the Squirrels. He is the team's director of media, broadcasting and marketing. He has several other sports broadcasting gigs, and he is co-host with Lee Graves of the "RVA Beer Show" Fridays at noon on WRIR (97.3 FM).
A new sidekick joins Burnham this season. Sam Ravech, a recent graduate of Pepperdine University in California, replaces Gregg Caserta, now with the Reading Fightin Phils.
The 22-year-old son of ESPN's Karl Ravech, Sam will be the youngest broadcaster in Class AA baseball. He is a rookie with broadcasting experience, however, having done play-by-play announcing at Pepperdine athletic events.
"I see my role as a learning experience," Ravech said. "Jay has been broadcasting professional baseball games for 14 years, and the game is certainly better off for having had him behind the mic. I am going into the season with a sponge mentality. I plan to soak up all the knowledge and tips I can from Jay."
---
Steve Clark is a retired Richmond Times-Dispatch staff writer who has written several sports-related articles for BOOMER.