The Annual Pilgrimage
| September 7th, 2018
Various flights from short to spectacularly long, from sluggish to speedy
---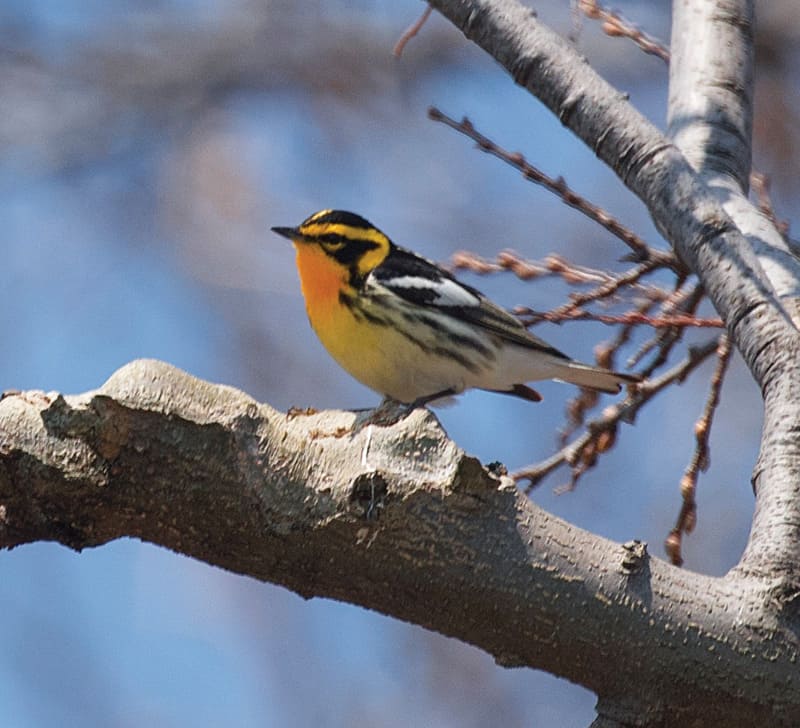 If you don't watch closely, you may miss the silent departure of many of our summer avian species. Those colorful songbirds that we'd welcomed in the spring and that entertained us over the summer will vanish right before our eyes. Actually, they'll quietly disappear with no fanfare, not even a backward glance.
Triggered by waning daylight, cooler temperatures and diminishing food sources, they'll be heading south to wintering grounds. Others that are heading south from breeding grounds far to the north, such as Canada's Maritime Provinces and eastern boreal forests, will soon join our familiar birds.
As they pass through, you may not recognize them with feathers in tatters, dressed in drab, colorless outfits. Birders often have difficulty identifying these "confusing fall warblers."
Migration for some of our common species may be a relatively short distance, often dependent on wherever food sources can be found. You'll find that American robins and blue jays, for instance, move in whatever direction food can be found when snow covers the ground. They may roam throughout wide areas and return as snow melts.
Many songbirds stream southward to find a supply of insects or seeds as winter weather reduces their food source. Some journey south just far enough to escape the winter's cold and others head to the southern tier of the United States.
Weather often determines the trek south. During mild winters, you'll find songbirds in North and South Carolina that normally would travel much farther south to wintering grounds. On a January trip to Santee National Wildlife Refuge in South Carolina, I found species such as gray catbirds and common yellowthroat warblers, long gone from Virginia, calling lustily.
For many species, the winter destination is along the Gulf of Mexico and southern Atlantic Ocean. Songbirds, shorebirds and waders congregate in large numbers along the Florida and Texas coastlines, and you'll find some of the best winter birding in coastal refuges and state parks.
AND THE WINNERS ARE …
Long-distance travelers make the most fascinating migratory stories. Distance champs are surely seabirds such as sooty shearwaters and Arctic terns. Sooty shearwaters travel 40,000 miles a year, migrating between the Falkland Islands off the Argentine coast and Arctic breeding grounds. According to the Cornell Lab of Ornithology, Arctic terns cover about 25,000 miles in traveling from their Arctic breeding grounds to Antarctica, while other experts put their annual flight miles at around 56,000 miles per year.
But the most intriguing long-range migrants are songbirds. A number of the long-distance travelers breed as far north as the mountain forests of Canada and northeastern U.S. states. A few breed in Virginia at higher elevations along the Blue Ridge and Appalachian Mountains.
Blackpoll and cerulean warblers are good examples of long-distance migrants that breed in the Virginia highlands. Blackpolls are found as far north as Alaska and Newfoundland, ceruleans in northern Minnesota east into Ontario, Canada. These tiny birds are only about four inches long and weigh less than two AAA batteries.
On their southward journey, both species tend to gather in southeastern states with other songbird species, where some hopscotch south along the Gulf of Mexico coastline and others fly directly over the Gulf of Mexico and Caribbean Sea to their touchdown in Columbia and Venezuela. Their arduous flight covers 1,500 to 2,000 miles with few stops to rest or refuel. After a brief respite, the newcomers fan out southward as far as the Andes Mountains of Peru and Bolivia.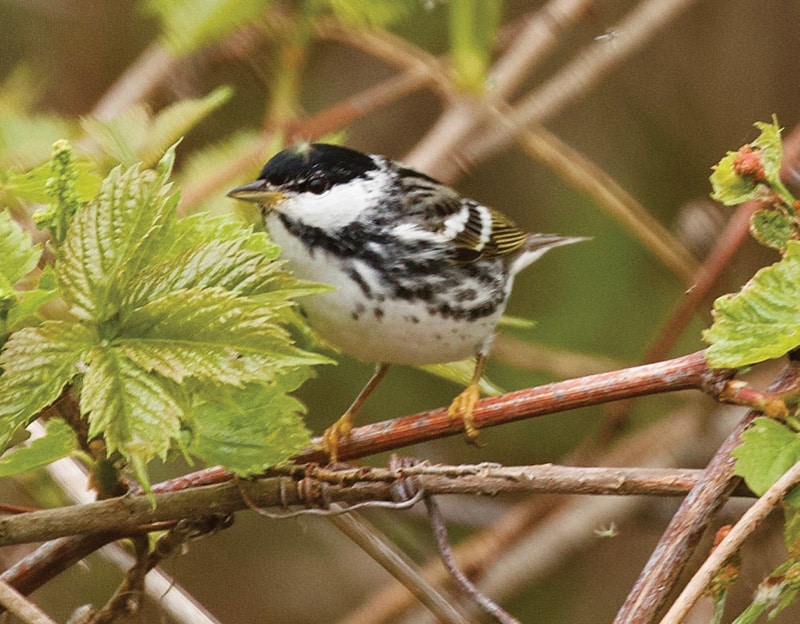 Songbirds' southward trek from North America to Central and South America is much more leisurely compared with the northward advance in the spring. Canadian scientists tracked 20 purple martins and 14 wood thrushes with tiny geo-locators attached to their backs as they flew from breeding to wintering grounds and back. They found that the birds flew north up to six times faster than the southward journey. One purple martin took 43 days to reach Brazil, but only 13 days to return to its North American colony.
Upon reaching their Central and South American wintering grounds, songbirds mix and mingle with local residents, which are usually much more colorful than the new arrivals. The difference between the two can be stunning.
A few years ago on a trip to Ecuador, our eco-lodge had built a spiral staircase around a huge tree leading to a treetop platform. One morning after sunrise, feeding flocks slowly meandered among nearby trees at eye-level, and it was enthralling to see dozens of unfamiliar brightly colored birds almost at arm's length.
Suddenly, a smaller bird with a pale orange throat and faint white wing stripe appeared on a branch a few feet away. I was so busy watching the parade of superstars that I didn't recognize an old friend that may have passed through our favorite birding haunts along the James River. A Blackburnian warbler, and later a Canada warbler, had to be pointed out and identified for me among the torrent of birds that I was seeing for the first time.
The two warblers accompanied a mixed group of tanagers and seedeaters that grazed through the treetops each morning and afternoon. While the high-spirited birds foraged and chased each other, the warblers quietly searched for insects and worms among the leaves. In their non-breeding plumage, they were far drabber than the tanagers; and while the feeding flock sang loudly to each other, the warblers seemed somber. The Blackburnian and Canada warblers soon moved up the hillside with the flock out of sight.
Our migratory songbirds will loll about until mid-March or early April, when, once again, they'll race northward full of hormones and bravado to claim prime territory in their familiar breeding grounds.
---
For 20 years, Jerry Uhlman has been writing about birding and travel. Besides his "Flyways & Byways" column in the Richmond Times-Dispatch, his stories have appeared in a variety of national publications, including Bird Watcher's Digest, Living Bird and National Geographic's Bird Watcher. His book, A Birder's Guide to Metropolitan Richmond, is available at Lewis Ginter Botanical Garden, Wild Birds Unlimited, Yardbirds, Wild Bird Center of Midlothian and Bird Watchers. Flyways@verizon.net