Ask Angi
| May 22nd, 2018
How can I organize my garage for spring?
---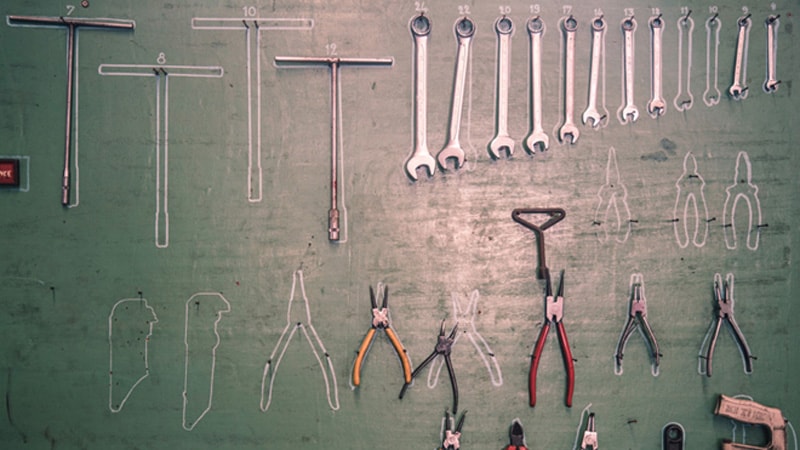 With all that winter stuff cluttering up your garage, it's time to think about bringing order to your space. These tips will help you keep your garage organized for good.
THINK LIKE AN ORGANIZER
The right mindset is the most important tool you'll use in organizing your garage. Before you create a new storage system, go through your belongings and decide what you want and need to keep. Are you storing old paint you'll never use again? Electronics that you thought you'd eventually repair? Be honest with yourself and ruthlessly pare down what you don't need. Decluttering is a liberating process. And you'll be surprised by the amount of space it will free.
PRIORITIZE BY SIZE
The biggest stuff should receive the most consideration. Freezer, secondary refrigerator, lawn tractor – these items take up the most space and are hardest to move. Determine where the big stuff goes and work around it from there.
MAXIMIZE WALL SPACE
Hang trimmers, extension cords, long-handled tools and even bikes on simple hooks to free floor space and assign each item a dedicated place. Mount a peg board on the wall to neatly store tools. (It helps to draw an outline of each tool so you can easily see where it belongs when it's time to put it back.) Take care to mount these hooks on wall studs to ensure they're secure.
RAISE THE ROOF
Use overhead storage to make the most of otherwise wasted space. Many garages have built-in attics or high-pitched roofs that lend themselves perfectly to skyward storage. If you don't have a second level for storage in your garage, consider installing a ceiling-mounted storage unit or hanging shelves or building an entire overhead loft, complete with ladder access. Many off-the-shelf storage solutions can stash your entire family's bicycle collection, camping gear or holiday decorations all above your parking space.
SPRING FOR SHELVES
Deep shelves are a must – whether they're in custom-built cabinets or a simple stand-alone rack. Ideally, garage shelves should be at least 24 inches deep and strong enough to hold the weight of your stored belongings and more. Keep the items you use infrequently in the back and the tools and equipment you use most frequently in the front for easy access.
PUT SAFETY FIRST
Store hazardous items like engine oil, paints and household cleaners safely and out of reach of little hands. And when you decide to get rid of them, be sure to dispose of them properly. Follow the instructions on chemical containers for safe disposal, and check with your local municipality regarding rules for potentially toxic waste.
HIRE A PROFESSIONAL ORGANIZER
If organizing your garage sounds like too overwhelming a task to tackle on your own, consider hiring a professional organizer. A pro can help you with everything from purging your belongings to creating a multi-solution organization system that will help you make the most of your space for years to come.
---
Paul F.P. Pogue is a reporter for Angi, a trusted provider of local consumer reviews and an online marketplace of services from top-rated providers. Visit Angi.com.
© 2018 Ask Angie's List. Distributed by Tribune Content Agency, LLC.