Autumn in Shenandoah
| October 4th, 2015
BOOMER's annual Fall Issue provides you everything you need for a Valley Getaway.
---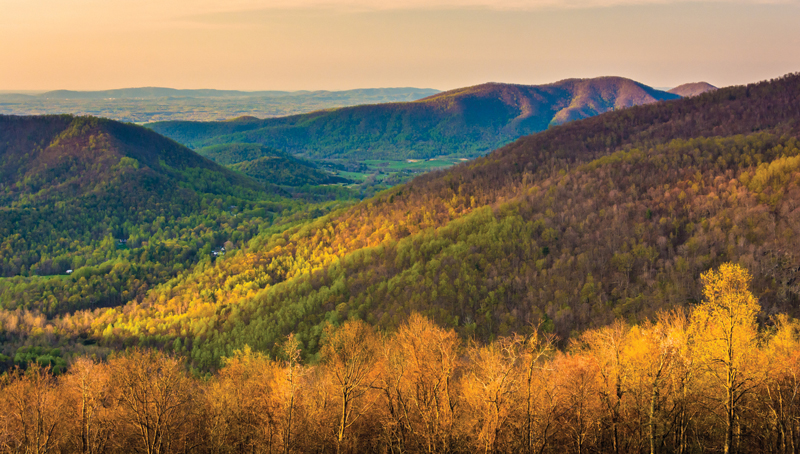 Lying between the Blue Ridge Mountains to the east and the Allegheny Mountains to the west, the Shenandoah Valley shines with natural splendor all year long.
But the autumn season is the best time to see the "Daughter of the Stars" at its most vibrant and sublime. The valley, stretching 170 miles from just north of Roanoke to Winchester, is sprinkled with quaint towns, pristine pasture and stunning mountain peaks.
Here are some tips for your visit to the Shenandoah Valley.
DINING
Five Nearby restaurants: The Butcher Station: restaurant using local, fresh and organic produce (3107 Valley Ave., Winchester, 540-662-2433), The Shack: Southern home cooking (105 S. Coalter St., Staunton, 540-490-1961), The Red Hen: farm-to-table restaurant (11 E. Washington St., Lexington, 540-464-4401), Pink Cadillac Diner: nostalgia-themed eatery serving American comfort food (4347 S. Lee Highway, Natural Bridge, 540-291-2378), The Homeplace Restaurant: Southern classics served family-style (4968 Catawba Valley Drive, Catawba, 540-384-7252).
ACCOMODATIONS
Five nearby lodges and resorts: Big Meadows Lodge (Skyline Drive Milepost 51, Appalachian Trail, Stanley, 540-999-2221), Peaks of Otter Lodge (Blue Ridge Parkway Milepost 86, Bedford, 866-387-9905), The Greenbrier Resort (300 W. Main St., White Sulphur Springs, W.Va., 844-837-2466), The Omni Homestead Resort (1766 Homestead Drive, Hot Springs, 540-839-1766), Skyland Resort (Skyline Drive Milepost 41.7-42.5, 855-584-5292).
Five nearby bed and breakfasts/inns: South Fork Inn Bed and Breakfast (403. E. Rockingham St., Elkton, 540-383-9948), Bell Hearth Bed and Breakfast (320 S. Wayne Ave., Waynesboro, 540-943-1910), Afton Mountain Bed and Breakfast (10273 Rockfish Valley Highway, Afton, 800-769-6844), Maple Hall Inn (3111 N. Lee Highway, Lexington, 855-463-6693), Inn at Old Virginia (1329 Commerce Road, Staunton, 540-248-4650).
WINERIES AND BREWERIES
Wine: The valley, which boasts some of Virginia's best wine, is home to several wineries and vineyards.
• Five nearby wineries: Virginia Mountain Vineyards (4204 Old Fincastle Road, Fincastle, 540-473-2979), Blue Ridge Vineyard (1027 Shiloh Drive, Eagle Rock, 540-798-7642), Rockbridge Winery (35 Hillview Lane, Raphine, 540-377-6204), Bluestone Vineyard (4828 Spring Creek Road, Bridgewater, 540-828-0099), North Mountain Vineyard & Winery (4374 Swartz Road, Maurertown, 540-436-9463).
• For wineries in and around Shenandoah Valley:
– shenandoahvalleywinetrail.com/wineries
– virginiawine.org/regions/shenandoah-valley
Microbrews: The craft-beer craze exists here, too.
• Five nearby breweries: Devil's Backbone Brewery (200 Mosbys Run, Roseland, 434-361-1001), Blue Mountain Brewery (9519 Critzer Shop Road, Afton, 540-456-8020), Shenandoah Valley Brewing Co. (19 Middlebrook Ave., Staunton, 540-887-2337), Queen City Brewing (834 Springhill Road, Staunton, 540-213-8014), Brothers Craft Brewing (800 N. Main St., Harrisonburg, 540-421-6599).
• For breweries in and around Shenandoah Valley:
– vabeertrail.net
– brewridgetrail.com
NATURAL ATTRACTIONS
Natural Bridge: One of the oldest tourist destinations in the country, the Natural Bridge, at the southern end of the valley, is a National Historic Landmark and worth a stop. (15 Appledore Lane, Natural Bridge, (540) 291-2121).
Caverns (Luray, Shenandoah, Natural Bridge and others): The Shenandoah Valley is home to several stellar underground caverns formed naturally over time.
• For more Virginia caverns: virginia.org/caverns
OTHER ATTRACTIONS
Mountain scenery: 2016 marks the 100th year of the National Park Service, which includes Shenandoah National Park, so 2015 is the year to … escape tourist overload.
• $10 senior lifetime pass for U.S. citizens or permanent residents age 62 or over.
For more: nps.gov/findapark/passes.htm
• Skyline Drive: 105.5-mile road through the Blue Ridge Mountains, running south from Front Royal to Rockfish Gap, near Interstate 64 and U.S. 250.
• Blue Ridge Parkway: 469-mile, two-state parkway that connects with Skyline Drive in the Shenandoah National Park and runs south to the Great Smoky Mountains National Park. (217 miles in Virginia; remaining 252 in North Carolina.)
American Shakespeare Center: Live, year-round Shakespeare performances (20 S. New St., Staunton, 877-682-4263).
Museums: Museum of the Shenandoah Valley (901 Amherst St. Winchester, 540-662-1473), Heritage Museums (382 High St., Dayton, 540-879-2616), Taubman Museum of Art (110 Salem Ave. SE, Roanoke, 540-342-5760), Shenandoah Germanic Heritage Museum (11523 Back Road, Toms Brook, 540-347-1962), The Cyrus McCormick Farm and Workshop (128 Cyrus McCormick Circle, Raphine, 540-377-2255).
Famous houses: Belle Grove Plantation
(336 Belle Grove Road, Middleton, 540-869-2028), Long Branch Plantation (Long Branch Lane, Boyce, 540-837-1856), Patsy Cline Historic House (608 S. Ken St., Winchester, 540-662-5555), Stonewall Jackson House (8. E. Washington St., Lexington, 540-464-7704), Miller-Kite House (310 E. Rockingham St., Elkton, 540-298-5390).
EVENTS
ANNUAL MOUNTAIN DAY STREET FESTIVAL
Oct. 9, 10 a.m.-4 p.m. (Free)
Downtown Buena Vista, between 20th and 22nd streets
lexingtonvirginia.com/events or 540-261-8616
Celebrates region's culture, tradition, history and beauty, with live music, food and family fun.
APPLE HARVEST FESTIVAL
Oct. 10-11 – Saturday, 9 a.m.-5 p.m.; Sunday, 10 a.m.-5 p.m. (prices not shown)
Marker-Miller Orchards, Winchester
markermillerorchards.com/events/festivals or 540-662-1391
Celebrates apple harvest season, with 20 varieties of apples, live music and other activities.
MASSANUTTEN FALL FESTIVAL
Oct. 10, 11:30 a.m.-5:30 p.m.
($15 in advance; $20 at gate)
Massanutten Resort, McGaheysville
massresort.com or 540-289-9941
Celebrates changing of the seasons with food, beer, wine and art, live music and chairlift rides.
SHENANDOAH AUTUMNFEST
Oct. 15, 11 a.m.-5 p.m. ($7; $12 wine tasting)
Shenandoah County Fairgrounds, Woodstock
shenandoahcountyva.us or 540-459-2542
Celebrates changing of the seasons with a barbecue competition, live music, beer, wine tasting, arts and crafts.
TASTE OF SHENANDOAH
Oct. 17, noon-4 p.m. ($25)
Cave Ridge Vineyard, Mount Jackson
virginiawine.org or 540-477-2585
Local farm-to-table food, wine, beer and cider event. Family friendly, live music.  
Daniel Jones is BOOMER's staff writer. Contact him at Daniel@TheBoomerMagazine.com.