'Barkitecture' for the Dogs in Our Homes
| June 23rd, 2023
Pooch-pampering amenities can ease owners' lives, too
---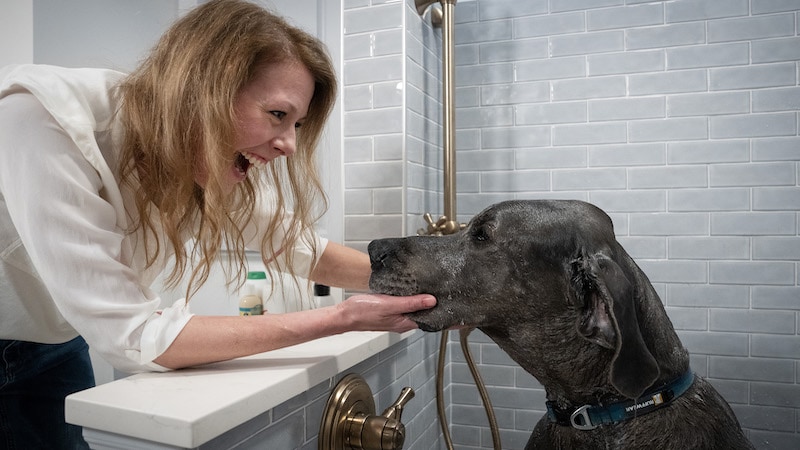 By installing pooch-pampering amenities in our homes – dubbed "barkitecture" – we not only make life easier for our furry friends, but we can ease pet care tasks for ourselves as well. See which pet-friendly designs might work for your home.
---
MINNEAPOLIS — When Kaisa Johnson finished the lower level of her Minneapolis home, the family's Great Danes, Jax and Otto, were top of mind. Johnson had a doggie shower installed.
"It's definitely spoiling them," she admitted. Great Danes are "big, so putting them in a bathtub is not super safe … unless your dogs like taking a bath, which mine don't."
Johnson is one of a growing number of dog owners who are incorporating pet-friendly designs into their homes.
While pampering one's pups has been a longstanding tradition, home design trends are making life posher for pets. Pullout feeding trays, doggie doors and dog runs are getting upgrades. And new design features are finding favor. As a result, barkitecture (a term once used to describe doghouses) is making a comeback in the lexicon.
Fueling the popularity are shows, like Roku's reality series, "Barkitecture," and pet lovers' willingness to share.
"I think a lot of it is social media," added Boyer Building Corporation's John Boyer. "People see it on social media and come back wanting to do something similar in their own homes."
Boyer has noticed an uptick in requests for dog-specific build features in the past five years. These days, his Minnetonka, Minnesota-based company sees three to four requests a year.
Before that, such inquiries would pop up every few years.
Barkitecture, said Boyer, is a way to problem-solve.
Popular requests include tech-savvy dog doors such as ones with a sensor that essentially acts like a key card.
"Now the dog can just go up to the door and it senses the collar and opens the door for the dog," Boyer said. "There have been issues with dog doors where unwanted guests such as raccoons get into the house. And so that's a solution to that."
And a growing number of pet owners are also installing turfgrass to dog runs.
"Before it was a concrete slab or [dirt or grass] 10- by 20-foot area behind the garage," he said. "Turfgrass doesn't take any maintenance and it holds up to all the things that dogs leave behind. You can wash it. And it's always green all year long."
While such amenities come with a price tag, Boyer, who plans to install a doggie shower for his dog Birdie, gets it.
"Dogs have really become a member of the family and there's no limit to how much we like to spend on them," he said.
Design cents
Some architects are embracing the "barkitect" title.
At Christopher Strom Architects in St. Louis Park, Minnesota, designs that factor in Fido have included floor-to-ceiling screen porches with added railings. For some, it's a preventive measure. For one family, it was the result of learning just how powerful their dog's run game was.
"A lesson learned is if your dog is going to see something like a squirrel," said Strom. "Depending on the dog, they could run right through the screen porch."
In a recent remodeling of a St. Paul midcentury, Albertsson Hansen Architecture of Minneapolis included kennels with openings on two sides, one looking out into the mudroom and the other into main gathering spaces such as the kitchen and living room. That way, the owner's dogs Cooper and Peach would have multiple sightlines.
"The reason for the cabinet was to provide the dogs with a comfortable place where they can be both confined but able to be a part of the action, which for these particular dogs worked well," said architect Christine Albertsson.
Creating pet-friendly spaces not only makes for ease of living, but also makes real estate sense. According to a realtor.com and HarrisX study released in December, 82% of U.S. adults with pets will consider pet-friendly features when buying a home. A hefty 43% of pet owners said they would consider moving to accommodate their pets' needs.
Johnson, the third generation to live in her south Minneapolis home, has made several updates to the 1928 Spanish-style house. But it wasn't until she remodeled the lower-level walkout and put in the dog wash that she began thinking of it as her family's forever home.
---
Budget-friendly pet home design ideas
---
Ruff times
For the project, Johnson enlisted Plekkenpol Builders out of Bloomington, which has added everything from lockers (for dog outfits, toys and leashes) to built-in sliding dog gates (think pocket doors) while remodeling mudrooms, kitchens and beyond.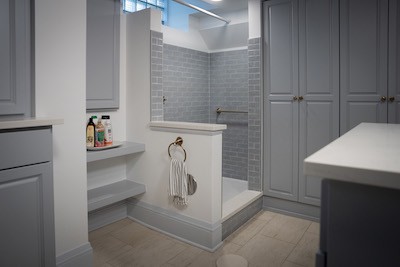 Dog washes located near an entrance have become increasingly popular as a way to minimize tracking dirt inside, and walk-in showers make it easier to give pooches a shampoo.
When coming up with the design for Johnson's dog wash, Plekkenpol's Sarah Maly kept Jax and Otto in mind.
Great Danes are one of the tallest dog breeds, according to the American Kennel Club. So a sizable 4- by 2.5-foot walk-in was created. A tile surround was also key.
"Dogs will shake after a bath and it splashes water all over the place," Maly said. "So we make sure to create a surrounding space with waterproof tiles and features."
Nearby, open shelving holds the dogs' towels and shampoo for easy access. Inside, a removable shower head makes washing breezier, and a towel ring doubles as a device to hook up a leash.
"When they get the opportunity, they might try to escape and run around the house and shake their wet hair and rub their noses all over the carpet," Maly said. "From my personal experience, my Bernedoodle cannot wait to try to get out of the tub and jump all over everything and roll around on our bed and the carpet. It's so cute, but also naughty."
With the laundry room project now complete, Johnson is pleasantly surprised by how much she uses the dog wash — for other things than just washing dogs.
"I use it to clean out garbage cans and hang clothes that are sopping wet. I hose off my shoes after gardening, so I don't track mud everywhere," she said. "It's for the dogs, but it's also a huge wash sink."
And as for Otto and Jax?
"They're still not big fans of taking a bath," Johnson said. "I have to use Kongs with peanut butter to get them in there."
©2023 StarTribune. Visit at startribune.com. Distributed by Tribune Content Agency, LLC.
---
As an Amazon Associate, Boomer Magazine earns from qualifying purchases of linked books and other products.