Tips for Bathroom Love
| December 20th, 2017
Easy ways to make your bathroom look its best
---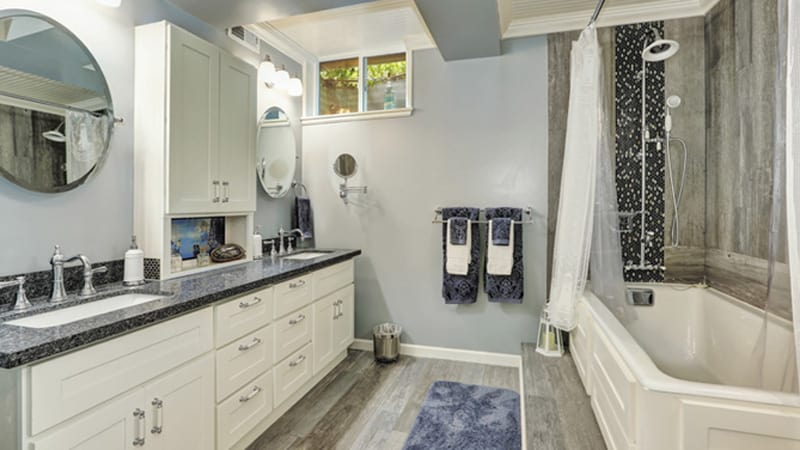 Not everyone can have a sprawling bathroom with floor-to-ceiling marble tiles, extra-wide soaking tubs and roaring fireplaces. But everyone can have a bathroom that feels luxe, no matter how old or small. A bathroom renovation may be out of reach, or your rental may have been renovated in the '70s, but with a few small accents, you can take your space from plain to polished with minimal effort.
Take note from your favorite hotel rooms: All you need is an edited selection of products, a functional space and matching linens. If your products are spreading all over the counter or your bathmat has seen better days, it may be time for a quick refresh.
Wondering what other small details will make your bathroom feel more organized, sophisticated, and grown-up? Count the ways in which your bathroom could use a little love – and step it up with little luxuries that'll make it feel extra special.
A SHOWER CURTAIN – WITH A LINER
It's not enough to have a shower curtain – and a liner alone is a rookie mistake. What you need is a combination of both, and ideally a curtain that falls all the way to the floor for a more sophisticated look.
Step it up: Replace your shower curtain liner every few months to keep it fresh.
SOAP IN A BOTTLE ­– NOT A BAR
No one wants to wash their hands with a sticky soap bar that's been frothing in a grimy puddle by the sink – for obvious reasons. Spend a few extra dollars on bottled hand wash that smells nice and isn't too harsh on the skin.
Step it up: Pair your hand wash with a moisturizer that all visitors will appreciate. 
A BATHMAT THAT ISN'T RATTY
Contrary to popular belief, your bathmat doesn't have to come from the same set as your towels. Elevate your bath with a durable indoor/outdoor 2-by-3-foot rug in a low-maintenance flatweave.
Step it up: Try a vintage kilim style for an elevated look.
A SET OF HAND TOWELS FOR GUESTS
There is nothing more uncomfortable than washing your hands at someone else's house only to realize that the only towel in sight is a used bath towel. Don't be that person. Hang a set of hand towels for guests by the sink.
Step it up: Get a stack of linen guest towels when throwing a dinner party – with a dedicated bin that you can easily throw in the wash the day after.
ENOUGH STORAGE TO HIDE BEAUTY PRODUCTS
No one wants to know what brand of dental floss you use or how many face masks you own. If your beauty products don't all fit in a medicine cabinet, store them in another room – but not in plain sight in your bathroom. Think pretty products only.
Step it up: Get a tray to keep a few luxe products for your guests: hand soap, moisturizer, perfume and fresh mints will be welcomed during a dinner party. 
TOWELS THAT CAME IN A MATCHING SET
If your towels each have a different color or worse, texture, it may be time for an upgrade. Throw out all stained or old ratty towels once a year to keep everything fresh. Classic all-white towels are easy to bleach and even easier to replace – you'll never have to worry about matching colors.
Step it up: Complement your white towels with a set of navy, charcoal or black wash towels for removing makeup – and keep your whites white. 
A TOWEL BAR THAT ACTUALLY GETS USED
Hooks are great, but they don't dry towels evenly. Don't let your towels get moldy – hang them flat to dry after each use. Smelly towels are never a good look.
Step it up: A heated towel bar will speed up the drying process and keep your bath sheets extra fresh.
---
© 2017 Clique Media Inc. All rights reserved. Distributed by Tribune Content Agency, LLC.