Biking Opportunities for All in RVA
| April 28th, 2017
---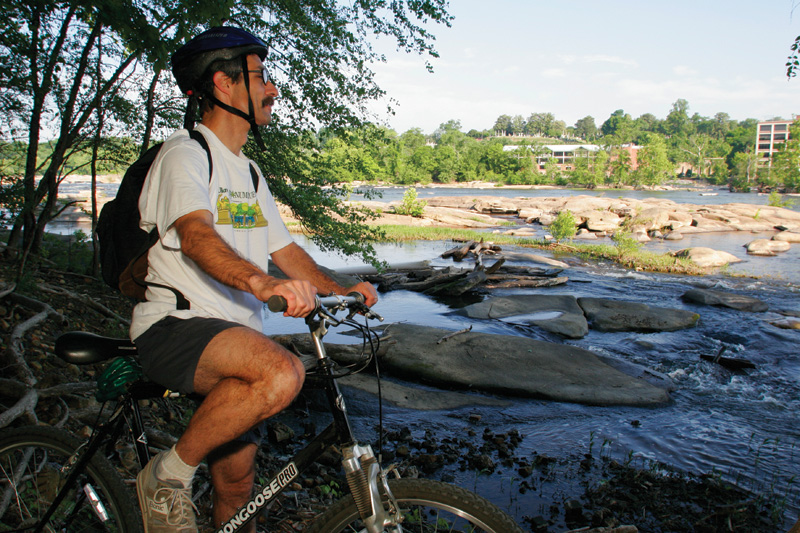 Cycling in RVA can be just about whatever you want to make it.
It can be a 2017 Trek Domane SLR 9 eTap road bike built with 600 series OCLV carbon, selling at Agee's for $10,999. Or a Huffy Cranbrook Cruiser, color gray, on sale at Walmart for $79.97.
It can be cruising along in the Hanover County countryside on a summer evening in a pace line with a bunch of cyclist buddies, tooling around the neighborhood with the kids on a Saturday morning or exploring sections of the wildly popular Virginia Capital Trail.
Or it can be making use of the many miles of mountain biking trails in the city's James River Park System, the new "Poop Loop" around the wastewater treatment plant at Ancarrow's Landing or the vast network of trails at Pocahontas State Park in Chesterfield County.
Whatever your biking pleasure, RVA offers an abundance of options to fit your needs.
"For mountain biking, the city is hard to beat," said Phil Riggan, a transportation planner with the Richmond Regional Planning District Commission who focuses on bike and pedestrian infrastructure.
Riggan, an outdoors type who looks more comfortable on the seat of his Trek road bike than at a desk, commutes to work on a bike about half the year. That takes him 6 miles from his home in Henrico County's Tuckahoe area across the Huguenot Bridge to Bon Air. Some days he'll switch from the Trek to a mountain bike, staying on grassy sections along Ridge Road near the University of Richmond.
For real mountain biking, though, Riggan prefers the James River Park loop, with its North Bank and Buttermilk trails. "All told, including the Boulevard Bridge, it's about an 8-mile loop, and some of it's really hard."
Riggan throws a lot of credit toward Nathan Burrell, manager of the James River Park System, and his staff and volunteers for developing many of the park's bike-oriented upgrades, including the Belle Isle Bike Skills Park. Among the 2,504 volunteers who helped in the park last year were many from the mountain biking group rvaMORE and the Richmond Area Bicycling Association (RABA).
One recent addition to the James River riverfront that has become popular with cyclists and pedestrians alike is the T. Tyler Potterfield Bridge, a 0.3-mile metal bridge that links Manchester on the south side of the river and Brown's Island on the north. The bridge is lighted, handicapped-accessible and open 24 hours a day. It offers a majestic view of downtown Richmond.
Another new biking attraction is the "Poop Loop," fittingly named for a trail that circles the city's wastewater treatment plant on the south bank of the James just east of Interstate 95.
But the big attention-getter nationwide is the Virginia Capital Trail, a 52-mile multiuse trail that extends from Great Shiplock Park in downtown Richmond to Jamestown, the English settlers' first seat of government in Virginia. For cyclists who used to brave traffic along state Route 5 through Varina, Charles City and James City counties, the Capital Trail is an answer to many prayers.
"The amazing thing about the Capital Trail is the safety aspect of it," Riggan said, stressing the comfort of not having to worry about cars and trucks. "It has lots of history, and not too many huge hill climbs. Even the novices love it."
That was proven on a record-breaking-warm Sunday in mid-February when hundreds of cyclists flocked to the trail. One of them was 3-year-old Sage Fritz, who was sporting a bright blue helmet and a new plum-colored Avigo two-wheeler with training wheels. She took a breather on the trail near Dock Street with her mother, Heather, as the temperature neared 80.
Minutes later, her brother Cannon and dad, Glenn Fritz, came riding back with bad news – Cannon had popped a chain and they were without a tool kit. Had it been a couple of months later, the family from Midlothian would have been in luck. They were standing right in front of The Kickstand Bicycle Rental Sales and Service shop. It was closed.
About 20 miles away, in Pocahontas State Park, trail work was being done in preparation for the following weekend's Monster Cross mountain bike race, an event that featured races of 10, 25 and 50 miles on the park's trails.
Perhaps more significant long term at Pocahontas is the development of the Richmond Regional Ride Center. "Ride Center" is a designation given by the International Mountain Biking Association for a large scale of mountain bike trails that offer recreational opportunities for all skill levels.
RRRC's goal is to rehabilitate 15 miles of existing mountain bike trail and build 20 additional miles. The ride center at Pocahontas State Park will be the first to have facilities catering to people with disabilities. Part of the trail system will be designed to accommodate handcycles.
Chesterfield County itself is looking ahead toward increasing its bike-friendly infrastructure. Already the county has marked bike lanes on parts of Iron Bridge Road and Courthouse Road, and a Bikeways and Trails plan has been adopted.
Henrico County recently marked bike lanes on a residential street in Wellesley, south of Short Pump Town Center, the first designated bike lanes in the county. The city has a number of marked bike routes – among them Floyd Avenue, Leigh Street and the Manchester and Martin Luther King bridges.
And cyclists for years have used the roads in Goochland's West Creek Business Park as a weekend and after-hours haven, when there is little vehicular traffic. That's good for exercise, Riggan said, but for "people like me, I want to go somewhere. I want to go see stuff. I've [ridden] out to the Varina library – it's a beautiful library – just to see it."
Going for country rides is one of the passions of the Richmond Area Bicycling Association. The group's website features scores of routes throughout metro Richmond.
"Probably the majority of our rides are out in Hanover," safety chairman Eric Martin said one Saturday morning as he and others gathered at Laurel Park Shopping Center in northern Henrico for a midday ride to Ashland. "Then there are rides that start like this – they start in Henrico and the majority of the ride will be in Hanover."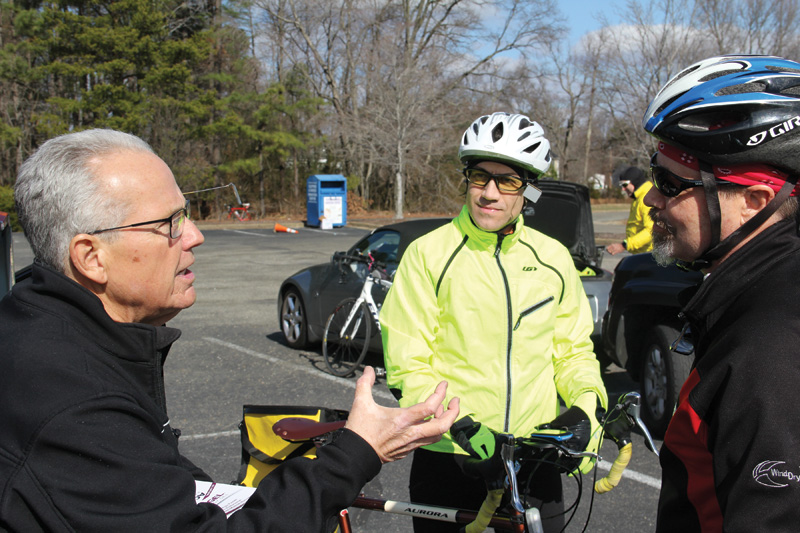 RABA has been around since 1967. It offers regularly scheduled on- and off-road rides on weekdays and weekends, presenters who speak on topics of interest to the cycling public, medical insurance for injuries sustained while on club rides and the chance to socialize.
The club welcomes newcomers with what's called a "new riders ride," club president Andrew Mann said. "It's the first Saturday of every month spring and summer; we have ride pacers who break it up into different paces so we don't have them stringing out too far. We match them up with ride pacers so they get a chance to meet people and can ride their pace."
Safety is paramount, Mann and Martin said. Among the top safety rules are control your bike, obey the rules of the road, choose proper positioning and learn how to avoid hazards. Part of hazard avoidance is communicating with other riders when you spot a pothole or other hazard, they said.
Mann said one of RABA's key attractions is the chance to socialize with people who have similar interests.
He should know. That's how he met his wife.
WHAT DOES IT MEAN TO SHARE THE ROAD?
Bicyclists and motorists have the same rights and responsibilities – both have the right to use the road and the responsibility to follow the laws and share the road safely with others. On narrow streets, roads with low shoulders, city streets with parked cars and other roads without dedicated bike lanes, bikes and motor vehicles may both be taking significant space in the same lane.
Laws for motorists
Pass bicyclists at a reasonable speed and with at least 3 feet between car and bicycle.
To pass bicyclists, motorists may cross double yellow traffic lines when safe to do so.
Look before opening doors of parked cars. Virginia's dooring law holds drivers responsible if doors hit bicyclists.
Bicycle safety tips
Protect your head. Wear a helmet when riding. Always.
Make sure your bike is ready for the road or trail. Check the functioning of your brakes and gears.
Ride wisely. Learn and follow the rules of the road.
Be predictable. Act like the driver of a vehicle.
Drive defensively. Use hand signals before making a turn.
Be visible. See and be seen at all times. Wear bright, reflective clothing and lights, especially at dawn, dusk and night.
On city streets, ride far enough away from parked cars to avoid the "door zone."
Learn how to avoid potholes. When riding in groups, alert others of upcoming road hazards.
Yell out or use a bell before passing on a trail.
Stay focused. Stay alert.
From National Park Service/Richmond Area Bicycling Association
More helpful links
Adventures in RVA bike rental
Cap Trail Bike Shuttle, transporting riders and their bikes along the Capital Trail. Opening this spring.
Basket and Bike, rentals and tours, including the Upper Shirley Vineyards bike tour. Facebook.com/basketandbike
MapMyRide says it has more than 70 million bicycle routes from which to choose.
TrailLink, provided by the Washington, D.C.-based Rails to Trails Conversancy, offers comprehensive trail guides with descriptions, photos and reviews to help plan your bike trail adventures.