Book Excerpt: Ray McAllister's "Hatteras Island: Keeper of the Outer Banks"
| June 3rd, 2014
The book and the Outer Banks island
---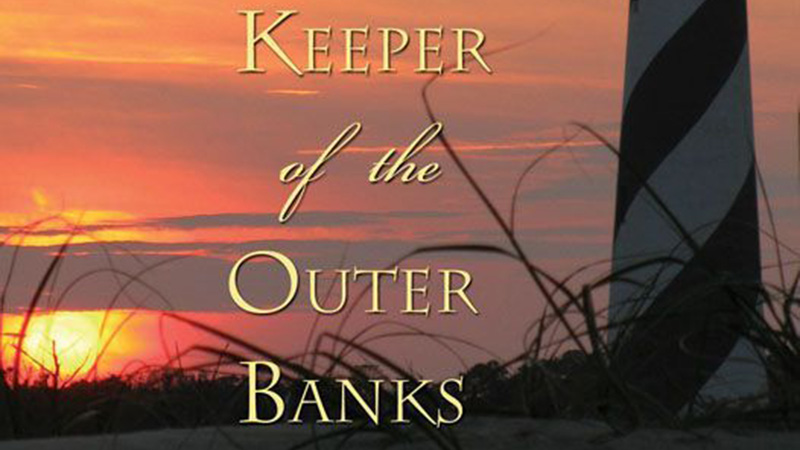 EXCERPTED FROM HATTERAS ISLAND: KEEPER OF THE OUTER BANKS
The summer day is comfortably warm, and tourists line up to buy tickets and take their turns. The 268 steps to the top are steeper than one might think, but how can one not climb the Cape Hatteras Lighthouse?
The country boasts few more recognizable symbols than Hatteras Light — with its black and white spiral stripes, standing atop a red-brick and granite base.
What the day's climbers are tackling is the second structure to be called the Cape Hatteras Lighthouse. This one is at its second location, as well, moved at the end of the 20th century to avoid the approaching sea. The now-stabilized lighthouse is open for climbing from mid-spring through mid-fall. The double keepers' quarters are open year-round as a visitor center and museum.
Its imposing size is part of Hatteras Light's magic. At 208 feet or thereabouts, it is the nation's tallest brick lighthouse.
The magic of this graceful structure is also tied to its history and its mission. For more than two centuries, a light has stood at the cape to warn sailors of danger.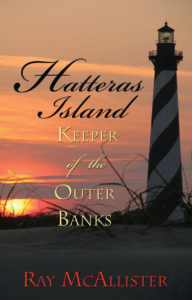 The first documented shipwreck here was in 1585, and countless others followed. The shoals, winds and currents at Hatteras formed a deadly conspiracy. Even when vessels attempted to handle them wisely, the Gulf Stream and southwest winds often proved too much.
Hatteras' first lighthouse was built in 1802-3. But the light proved too low to be seen beyond the shoals — something that might better have been considered before the lighthouse was built. Moreover, ship captains complained about its dimness and low visibility. As if that wasn't enough, storms often broke the windows and the lamp.
Congress eventually appropriated $15,000 to elevate the structure to 150 feet and to outfit it with a new Fresnel lens. Work was completed in 1854.
Just seven years later, however, it was out of commission. Confederates wanted to destroy the lighthouse to deprive federal vessels of their guide. Though they failed in that effort, they did take the lens in 1861. The Union replaced it.
Problems with the dilapidated lighthouse were such that Congress planned a new one after the war. It would be 600 feet northeast of the old one — meaning some 1,600 feet from the Atlantic Ocean. It would also be much higher.
And it would be grand.
The $150,000-plus replacement lighthouse included a foundation of yellow pine timber, topped by a granite foundation, then by granite and brick, then finally by the lighthouse itself. Some 1.25 million bricks were used.
The second Cape Hatteras Lighthouse was first illuminated on Dec.16, 1870, using a new lamp and Fresnel lens. Electricity now rotates the beacon — which is actually two 1,000-watt lamps — and a photo cell turns it on and off. The rotating beam is visible for 20 miles in clear weather. Actually, it has been seen at sea from as far away as 51 miles.
The lighthouse proved to have a role not only for ships but in the community, both as a point of pride and as a gathering place. Picnics and horse races were often held near its base.
All was not fun and games. The forces of nature, as always, were at work. The lighthouse had been built nearly one-third of a mile from the sea in 1870. But those 1,600 feet were disappearing steadily, the sea gobbling up about 20 feet a year. By 1920, just 50 years after the light was built, the distance was 300 feet. Groins, dunes, rock, sandbags and even synthetic seaweed were tried. None was a match for the ocean and winds.
Though sandbags were used in the 1980s, the sea was only 120 feet away by 1987.
Contractors moved the lighthouse 2,900 feet — or slightly more than a half-mile — to the south-southwest in 1999, leaving it once again 1,600 feet from the sea. Outbuildings, including the keepers' quarters, also were moved.
Hatteras Light remains the very definition of an American lighthouse, the stuff of photographs and paintings, of poems and songs, and even of marketing plans short on imagination. Somehow, the graceful tower has come to be a salesman for everything from banks to saltwater taffy. It has been reproduced for snow globes, music boxes, beer steins and even lawn decorations.
Excitement always attaches to the Cape Hatteras Lighthouse.
The climbers this summer day wait eagerly. Once the assault is under way, there is anticipation — and even apprehension — about the 268 steps of that tightly enclosed spiral staircase leading ever upward. Climbing Hatteras Light, after all, is not for those with breathing difficulties, let alone acrophobia or even claustrophobia. It seems remarkable that lighthouse keepers used to make this walk at least twice a day.
As they near the top, everyone scurries up the final steps and out onto the landing.
Here, the view is majestic up and down the length of Hatteras Island, over to the mainland, out to sea. It is a time for smiles and excited chatter and, of course, family photographs. It is a time to rest and gaze a little longer, to reflect, to breathe.
There will be plenty of time to go back down.
For information on climbing Cape Hatteras Lighthouse, visit nps.gov/caha/planyourvisit/lighthouseclimbs.htm 
---
---
As an Amazon Associate, Boomer Magazine earns from qualifying purchases from linked book titles.