Time to Release the Kickstand
May 17th, 2018
Breakaway RVA gives locals a new reason to pull the bike out of hibernation
---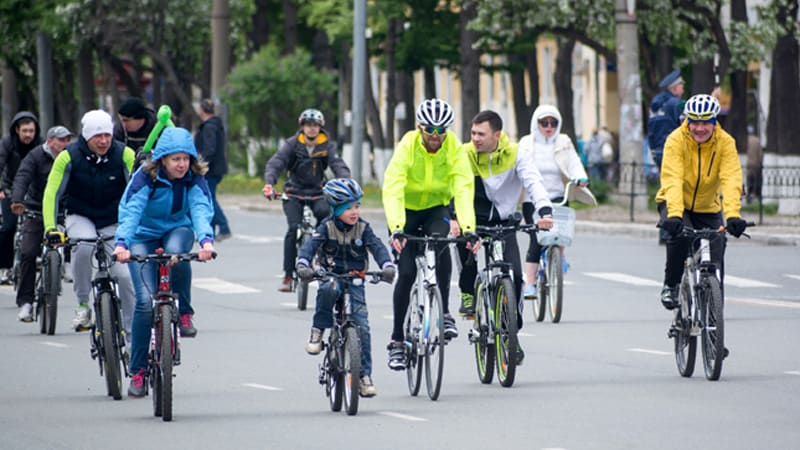 Richmond has a different kind of biker gang roaming its streets these days. Some may be sporting tattoos, facial hair and bandanas, but they come in peace.
In fact, they want you to join them.
Each month, starting midspring and lasting through October, a local bike meet-up group, Breakaway RVA, hosts a ride around the city for bikers of all ages and skill levels. With each new month comes a different route, but here's the twist: the course and destination remain a mystery to all participants. Even the meeting spot isn't revealed until a few hours before the event begins. Bikers are told only the neighborhood in which they'll meet, the mileage to expect and the ride's level of difficulty.
So, along with a helmet and water bottle, riders should bring a sense of spontaneity.
Breakaway RVA began in 2016, aspiring to "build community through biking and build biking through community." Their goal is to connect cyclists throughout Richmond and to show support for a more bike-approachable city.
Each ride makes two stops along the way. The first leads bikers to a local landmark, complete with a speaker to give information on the area's significance to Richmond history. Afterward, the excursion wraps up at a destination complete with food, beer or live music – or sometimes all three – guaranteed to make it worth the workout.
In previous years, destinations have included the Virginia War Memorial, Ardent Craft Ales, Legend Brewing Co. and even the Executive Mansion.
All rides are anywhere from 5 to 15 miles and about 30 to 40 minutes of biking total. Bikers of all ages – from kiddos to, yes, boomers! – come out for the event. Plus, joining a ride is completely free. Breakaway RVA leaders just request that all participants register so they can prepare accordingly.
Whether you're looking to meet fellow locals, learn how to better navigate the city on two wheels or take advantage of this unique cardio opportunity, Breakaway RVA provides an inimitable outlet for all these desires.
Intrigued? Hop on for their first ride of the year on Thursday, May 24!
Just don't forget your helmet.