The Magic of Bungalow Parks
| May 18th, 2018
Peaceful settings, reasonable rates, European accommodations – what's not to love?
---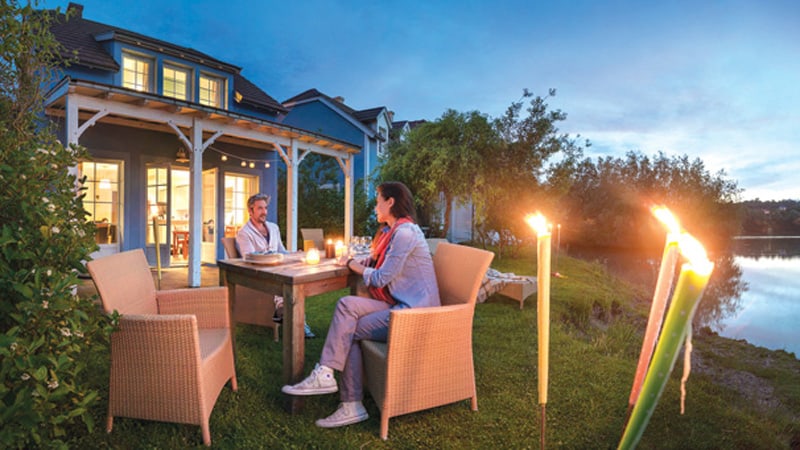 A tangerine sky reflects in the tranquil waters of an infinity pool as the autumn sun disappears behind tall pines. Immersed in warm, silky water, my husband, Peter, and I are watching the sky change colors, enjoying this magic moment all by ourselves.
But only a few yards away, on the other side of a glass wall, kids are plummeting down waterslides in Aqua Mundo, a tropical swim paradise under a huge dome. It's just one of the many amenities at Lac D'Aillette, a bungalow park near Reims, France.
SHH! DON'T TELL ANYONE!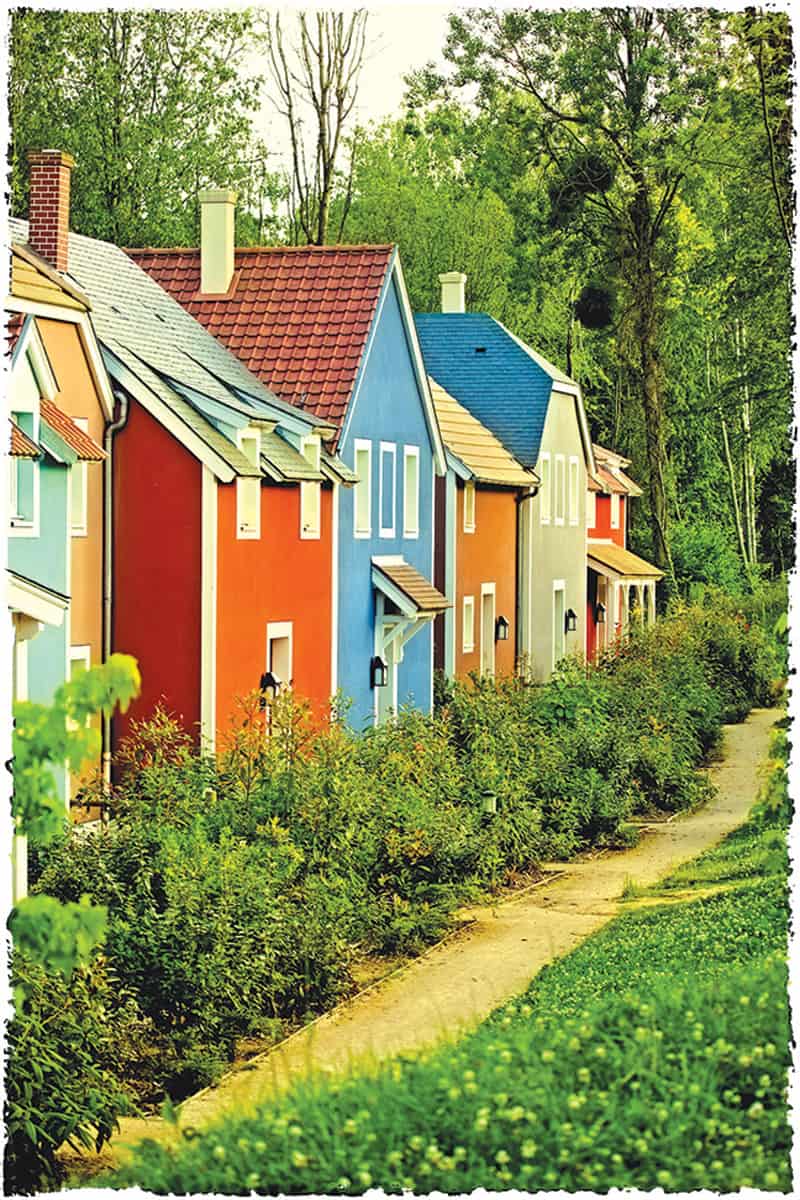 Bungalow parks are Europe's hidden secret, and surprisingly few Americans know about this accommodation option. Sprinkled across Europe, bungalow parks, or vacation villages, are similar to campgrounds in layout and ambience, but way nicer. Guests stay in storybook homes or apartments with stylish, modern décor – think IKEA ­– and fully equipped kitchens. Some even have saunas!
I discovered this vacation option years ago, thanks to Peter, who's Dutch. The concept began in the Netherlands in the '50s as a way of encouraging residents to vacation in their own country. Two companies – Landal GreenParks and Center Parcs – currently manage most parks, which can be found in 10 countries from the U.K. to Hungary. The parks offer unique lodgings for travelers who want to spend a week or two leisurely exploring a favorite European city or region from a cozy home base.
Peter and I have vacationed in half a dozen parks over the years, first with our kids in tow. Now that they're grown, we still love staying in bungalow parks when we visit Europe. They're cute as a button, clean and a great value, especially in the shoulder or low season.
For example, at Landgoed Aerwinkel, a Landal park in the Netherlands close to Germany, a three-bedroom chalet-style bungalow costs 500 euros (about $625) for a week in mid-May – a real value compared with European hotel rooms in both cost and size. During the low season, prices are even more affordable, dropping to as low as 366 euros ($450) per week. Most parks offer long weekend and midweek stays as well.
Bungalow parks provide much more than roominess and value. They promise peaceful settings with lots to do, especially for extended families. Activities vary from park to park, but most offer indoor swimming pools, bike rentals and planned activities. Newer parks offer climbing walls, ropes courses, ziplining, adventure golf, spas and more. But the amenities are optional. Accommodations are set away from activity centers, so if you want to have peace and quiet, no problem!
You can save a lot on eating expenses by cooking meals in your bungalow, and learning about regional food is part of the fun! I love shopping in the local markets for vegetables, flavorful cheeses and fresh baked goods. For those nights you don't feel like cooking, many bungalow parks have on-site restaurants.
It's hard to say what appeals to me most about staying in these parks: the European ambience, affordable rates or tranquil settings. Then again, maybe it's the opportunity to savor the little things ­– like watching a swan swim by on a glassy lake or biking through the countryside. You can choose to do as much or as little as you like, and when the day is done, you can relax in your own private bungalow.
NUTS AND BOLTS
Here's a sampling of bungalow parks we've visited that are part of Center Parcs' chain:
Bispinger Heide is in Germany about an hour south of Hamburg. Our one-story bungalow, surrounded by trees, featured a fireplace and a sauna. You can also book a stay in a houseboat or treehouse.
De Eemhof is located an hour east of Amsterdam, the Netherlands – perfect for exploring the region. We stayed in a spacious apartment with a terrace overlooking a lake. An indoor waterpark is fun for kids of all ages.
Le Lac d'Aillette, an hour west of Reims, France, is situated in a pastoral area, where forests and meadows offer hiking and biking opportunities. Some of the world's finest champagne is made in the region, so plan to enjoy a little bubbly during your stay.
Center Parcs recently unveiled a new destination called Villages Nature Paris near Disneyland Paris. It features one of the largest indoor water parks in Europe, heated using geothermal energy. There's even a spa with a relaxation trail that includes a salt cabin, steam room, sauna and herbal tearoom. I'm putting this park on my bucket list!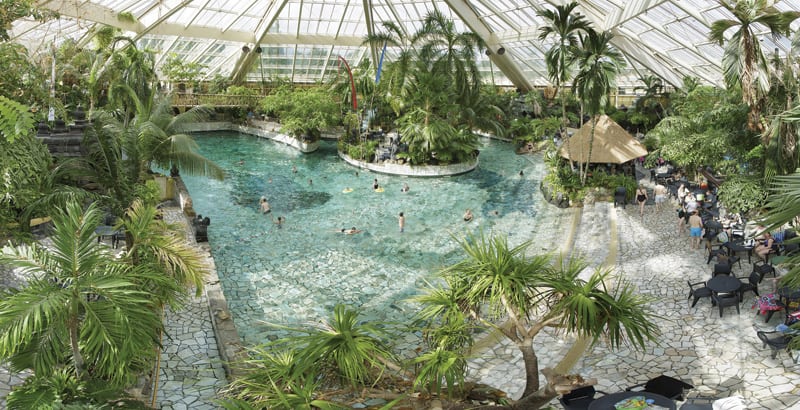 ---
TIPS
When you book, pay attention to the size of the bungalow. We've found that 100 square meters is comfortable for four to five people.
Depending on the unit you choose, you may need to rent linen packs, which include sheets, bath towels and kitchen towels.
Ask about early booking discounts and special rates for 55+ and for families with young children.
Plan your visit in the low or shoulder season for the best rates. Spring and fall are wonderful times to visit Europe and allow you to take advantage of lower airfares as well.
FOR MORE INFORMATION
Landal GreenParks, an affiliate of Wyndham Vacation Rentals, has villages in Austria, Belgium, Czech Republic, Denmark, Germany, Hungary, the Netherlands, Switzerland, and the U.K. Visit Landal.com.
Center Parcs has locations in Belgium, France, Germany, and the Netherlands. Visit CenterParcs.com.
---
Peggy Sijswerda writes about travel, wellness, and gastronomy. She's currently planning a trip to Chile this spring. Check out her travel memoir, Still Life with Sierra, available from Amazon.