Capitol Square Monuments to Honor Women and Native Americans
| May 16th, 2017
---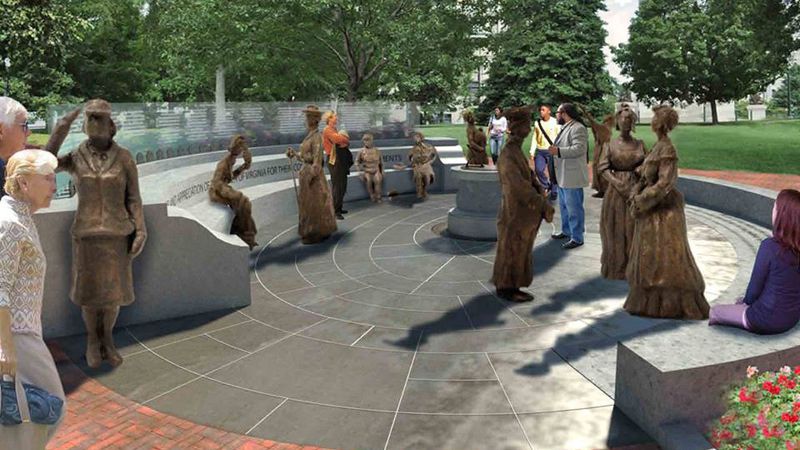 Anne Burras Laydon was one of the first two female settlers to arrive in Jamestown in 1608. Fourteen-year-old Laydon arrived on the Mary and Margaret and served as a seamstress in the colony.
Laydon is one of the women who will be depicted in a monument, Voices from the Garden, on Richmond's Capitol Square, honoring women from 400 years of Virginia history. The project's organizers hope to break ground on the plaza this summer, depending on the progress of fundraising – $3.7 million total is needed to build the monument and the surrounding plaza.
The monument will recognize a variety of Virginia women's achievements. Statues will represent Maggie L. Walker, the first female to charter a bank in the U.S., Martha Dandridge Custis Washington, the first woman to hold the position of U.S. First Lady, and others. The statues will be situated inside an oval-shaped garden, which will be surrounded by a glass panel etched with the names of other noteworthy Virginia females.
Another tribute on Capitol Square is planned to honor Virginia Indians. The Virginia Indian Commemorative Commission is working to secure funds to build the monument, which will be surrounded by a 5-foot-wide winding path in a spiral shape. A stone wall, which will double as a bench, will line the path, with wildflowers and other native plants adding to the effect.
At the center of the spiral will be an area meant for meditation featuring a small pool that resembles pottery of Virginia tribes. Life-size images of corn, squash, beans, oyster shells and objects significant to the region are pictured on the sculpture. This monument is also in the fundraising phrase.
Help build the monuments by making a simple donation or, for the Voices monument, by paying for a memorial or tribute brick, inscribed with the name of a woman to be honored. The Women's Monument Legacy Project also provides the opportunity to purchase cards that will be sent directly to those women you choose to honor.
Voices from the Garden will be the first American monument to recognize more than 400 years of women's history, inspiring current and future generations of women to emulate and surpass the achievements of the past.
For more information and donation opportunities, visit VirginiaCapitol.gov and IndianTribute.virginia.gov.