Steve Bassett in 'Legends on Grace'
So sorry, this contest ended on May 5, 2023.
---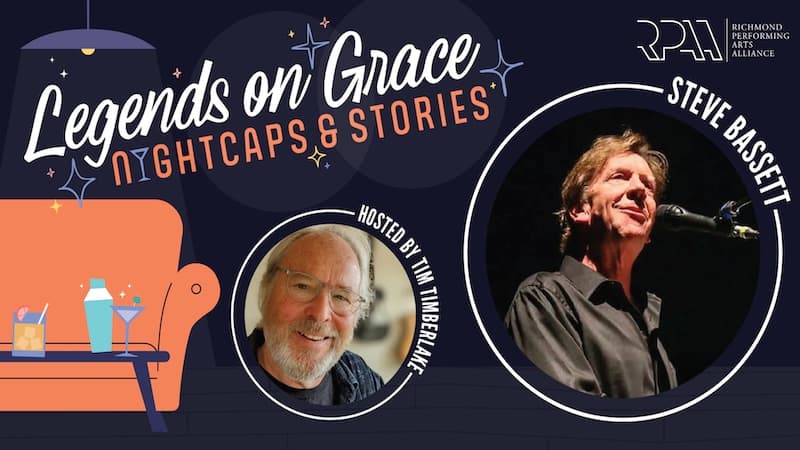 In another fabulous installment of "Legends on Grace: Nightcaps & Stories," the Richmond Performing Arts Alliance brings us iconic musician Steve Bassett. The 90-minute, up-close-and-personal event features this accomplished Richmond legend in a one-on-one conversation with another local personality, music producer Tim Timberlake.
A native of Richmond, Virginia, Steve Bassett blends American roots music, blues, R&B, gospel, and rock 'n' roll. He co-authored "Sweet Virginia Breeze" with Robbin Thompson, and it's now the official popular Virginia state song. Even when performing a concert, Bassett blends his warm personality with his musical talent to make the audience feel like he's chatting with them. Imagine how much more engaging the "Legends on Grace" discussion will seem!
Purchase tickets for the event here.
For your chance to win a pair of tickets, fill out the form below.
Thanks to all who entered! Sign up for our newsletter for weekly opportunities to win!
Other Chances to Win
Be the first to know about all of our contests and special offers on Facebook& Twitter .
Our contests are open to residents in and around the metro Richmond area. Prizes are from local sponsors.
Upon entering, you are now eligible to receive a weekly newsletter featuring exclusive articles, contests, and happiness. If that's not really your thing, though, we will provide the opportunity to opt out.