Crispy Carrot Fries
| April 5th, 2023
Sweet, crunchy, tasty strips of a healthy vegetable
---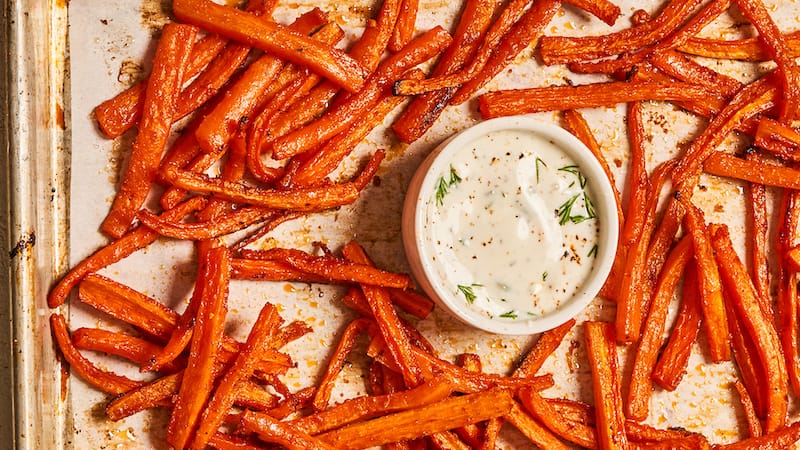 These extra-crispy carrot fries are an easy way to eat more vegetables, for a change of pace or for the veggie averse.
---
Never had a carrot fry before? I hadn't either, until a recent trip to my in-laws' for the holidays. At a family dinner out with my three little nephews and niece, the kids were given carrots fries with their chicken tenders and were none the wiser — they loved the sweetness and crunch!
These baked carrots fries are a playful alternative to potato fries or sweet potato fries, and are an easy way to add a vegetable to your family's plate. They're crispy on the outside, tender on the inside, and just begging for your favorite dipping sauce.
How to make crispy carrot fries extra crispy
Unlike potatoes, carrots aren't inherently starchy — that means they'll have a little trouble getting crispy in the oven without some help. Tossing the carrot fries with cornstarch (before tossing them with oil) creates a starchy barrier on the exterior of each fry, which absorbs moisture while concurrently creating a crispy coating.
Ways to season carrot fries
While I've made the smoked paprika optional, I love how its smokiness offsets the sweetness of the carrots. If that's not your thing, there are countless ways to season besides just salt and pepper. You can try lemon pepper seasoning, garam masala, za'atar, Cajun seasoning, or chili powder — this recipe is definitely one you can raid your spice cabinet for. If any of the spice blends you decide to use contain salt, just reduce the salt in the recipe to one-half teaspoon to account for this.
Good sauces to pair with carrot fries
Carrot fries have a similar sweetness to sweet potato fries, so while they can be dunked in ketchup, I like to pair them with a more savory or spicy dip to counter the sweetness. A few of my favorites include the following:
Dijonnaise
Spicy Mayo
Tahini Buttermilk Ranch
Green Goddess Pesto Sauce
Toum (Lebanese Garlic Sauce)
Crispy Carrot Fries
Serves 4 to 6
Ingredients:
2 pounds carrots
1 tablespoon cornstarch
1 teaspoon smoked paprika (optional)
1 teaspoon kosher salt
1/4 teaspoon freshly ground black pepper
2 tablespoons olive oil
Directions:
Arrange two racks to divide the oven into thirds and heat the oven to 425 F. Line two rimmed baking sheets with parchment paper.
Peel and trim 2 pounds carrots. Cut crosswise into pieces about 3-inches long. Cut each piece lengthwise into planks about 1/3-inch thick. Stack a few planks and cut lengthwise again into 1/3-inch thick sticks. Place in a large bowl.
Add 1 tablespoon cornstarch, 1 teaspoon smoked paprika if desired, 1 teaspoon kosher salt, and 1/4 teaspoon black pepper, and toss until evenly coated. Drizzle with 2 tablespoons olive oil and toss to coat. Divide the carrots between the baking sheets. Spread into a single, even layer, leaving space around each fry.
Roast 15 minutes. Remove the baking sheets from the oven. Using a flat spatula or turner, flip the carrots. Return to the oven, switching the sheets between racks, and continue to roast until the carrots are tender and the edges are charred and crispy, 15 to 20 minutes more.
Recipe note: These carrot fries are best eaten the day they are made, but leftovers can be refrigerated in an airtight container for up to five days.
---
Sheela Prakash is senior contributing food editor for TheKitchn.com, a nationally known blog for people who love food and home cooking. Submit any comments or questions to editorial@thekitchn.com.
©2023 Apartment Therapy. Distributed by Tribune Content AGency, LLC.