A Mother-Daughter Culinary Trip to Budapest
| May 4th, 2017
Exploring new takes on old flavors from Mum's Hungarian roots
---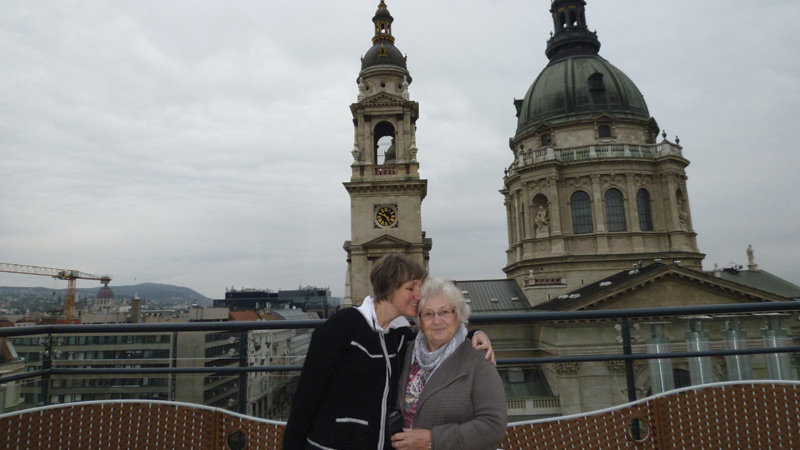 Inside a lustrous palace fit for royalty along the banks of the Danube in Budapest, the food and drink universes met. Two foodies – Mum and I – clinked our fluted crystal glasses to Hungary's answer of Champagne: a clean, fresh extra brut Sauska Tokaj. Swept away by the sparkling wine with its soft raisin undertones in an Old meets New World moment, we began our waltz together into the Magyar konyha, "Hungarian kitchen."
Born in Budapest, Mum likes to elaborate in her Zsa-Zsa-like accent on exactly where it was she spent her preadolescence. "We lived on the hilly Buda side, not on the flat, noisy Pest side." Her family's harrowing escape during the 1956 Hungarian Revolution, which saw bloody Soviet tanks invade the capital, has a plot line worthy of a Hollywood film.
Now in her golden years, Mum has a new lease on life. She and the love of her life did everything together. Dad and Mum enjoyed traveling and were inseparable. He was her Fred Astaire. They waltzed and danced the Hungarian csardas dance and the jitterbug. Mum and Dad, who was also Hungarian-born, took trips to visit family in Hungary.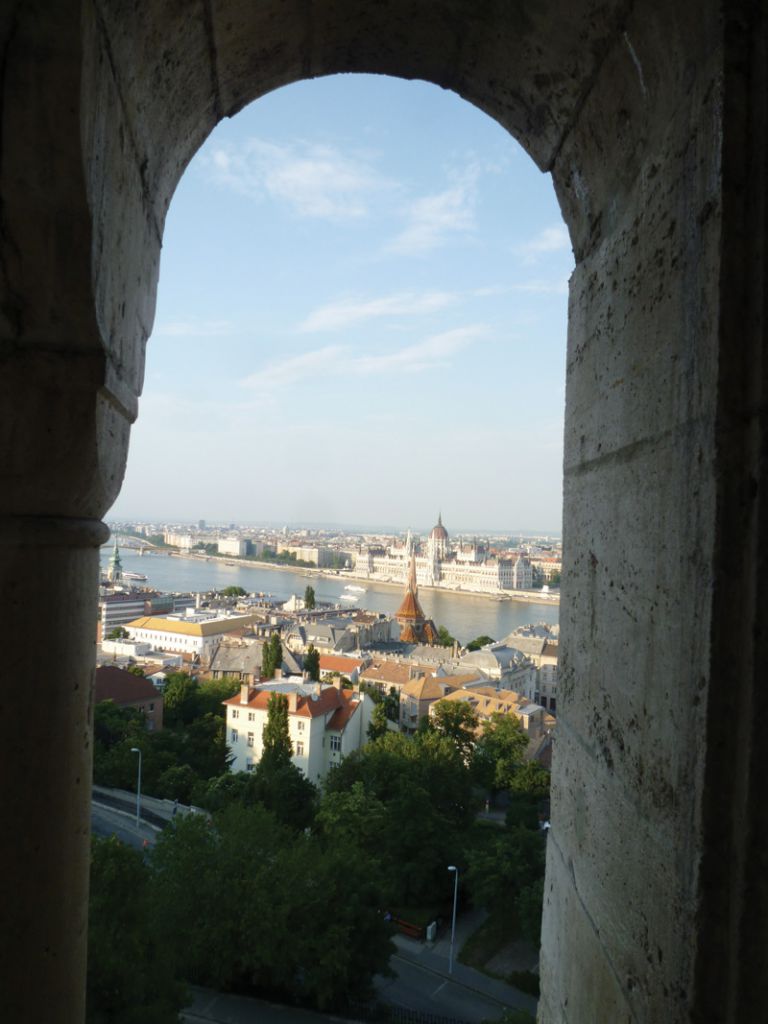 But since his passing in 2014, Mum's interests have opened a new chapter. She and I embarked on a foodie trip because Hungarian cuisine has always been our family staple. Mum likes to point out the seasoning pillars in Hungarian Magyar cooking: paprika, onions and garlic with either marjoram or caraway seed.
Traditions and re-inventions
So on our latest visit last fall, we discovered that traditional Hungarian cuisine is managing to nicely reboot itself to the tastes of the 21st-century palate. Classical Magyar notes can indeed be infused in the latest culinary trends without losing themselves.
We had arrived in the land of paprika, sausages and rich, cream-filled desserts where diners regularly wash back the fatty carbs with a shot of Pálinka followed by sips of Tokaji Aszú after dinner.
But it was by the lobby lounge of the Four Seasons Gresham Palace, which gleamed in Zsolnay porcelain tiles as a pianist performed Mum's favorite tunes, where the typical Hungarian traditions unfolded. We enjoyed a high-tea afternoon like no other. The porcelain on offer was conceived by Herend, the legendary porcelain manufacturer so renowned that English royalty like Queen Victoria had her own unique pattern.
Over motifs of butterflies and purple florettes edged in gold leaf, we cut the heaping clotted cream smearing the surface of the pumpkin scones. We sliced the Flódni Tart – a trio of poppy seed, walnut and apple cream – into an Art Nouvea rendition and raised our pinky to the fine Herendi tea cup from which we sipped the loose-leaf Gresham Palace blend created by Canada's Tealeaves Company in Vancouver. The tasting notes of apricots and pears from the national drink, Pálinka, have been re-created in this exclusive black tea. "So fruity and light, and the color so golden," Mum gushed between sips.
One night after a walking tour of Budapest's mansions and villas, we had worked up quite an appetite. The only thing on our minds was the insanely warm morsels of a Hungarian delicacy that not everyone could master – Pirított libamáj (seared goose liver).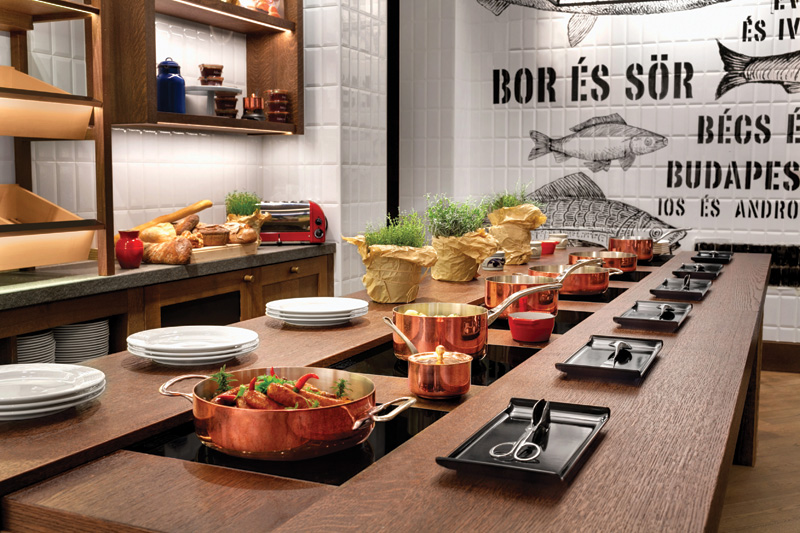 Inside the Kempinski Hotel Corvinus Budapest at ÉS Bisztró, with a brigade of servers rifling by us, we knew what the main course would be – the Hungarian version of the French foie gras. The new upscale French-inspired brasserie (its place name meaning "and"), ÉS is all about food and drink, where sharing plates are popular.
Still, Mum and I ordered our own. Fabulously sinful, a devilish chunk instantly drew rapturous gasps in this melt-in-your-mouth experience. A velvety, goopy texture quickly disappeared to make way for the next delicious bite. Delightfully satiated, we hobbled back home. The next morning as our impromptu schedule was finessed with "what should we do today?" the talk inevitably ended with "where should we eat?"
We explored local farmers markets, stocking up on sweet paprika from Szeged and Kalocsa at the historic Nagycsarnok and fresh meats and peppers at the locally preferred Fény Street Market (Fény utcai piac) veering by temptations at every turn. Soon burdened by bulging shopping bags, we would lighten our load at our apartment to prep for the next outing: lunch.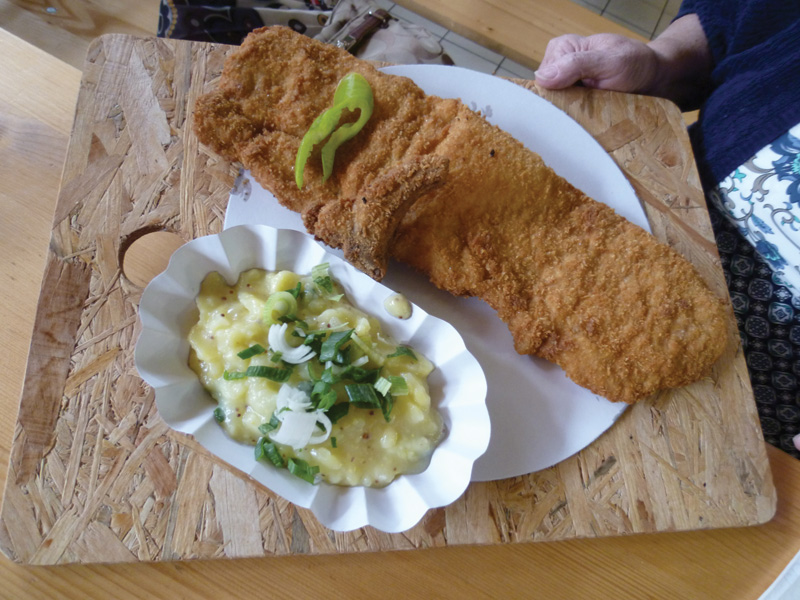 At the restored Hold Utcai Piac, a wooden plate the size of a massive canoe paddle was our serving dish for this pork feast. "Oh, it's heavenly," gushed Mum between bites of her rántott hús at the fabled Buja Disznó(k), a laughable pun on Lush Pig(s). Silence descends in anticipation of our next bite in this bone-in carnivorous encounter. Think a crunchy outside meets a juicy inside. Using only the finest pork, not paper-thin like traditional rántott hús styles, this lunch choice, a signature dish from acclaimed chef Biro Lajos (he's a Gundel Karoly prize winner), is fried twice in fresh rapeseed oil that is skimmed three times daily; then finally it is drip-dried on a hot skillet plate before being brushed in melted butter. The potato salad was the perfect side dish. It helped cut the fried decadence of the diaphanous entrée that resembled a mini-Hungary shape. Undeniably the best breaded pork chop I have ever tasted.
Lighter notes
During another outing, while perusing the shops by St. Stephen's Basilica footsteps from our previous tea afternoon extravaganza, the daily lunch dilemma surfaced again. Calorie-counting is nearly impossible in Hungary, but we were easily able to switch to a salad at the rooftop bar of the Aria Hotel. Subdued, with barely a soul present in our private perch, we scanned the menu, looked at each other and in unison declared, "I know what I'm ordering."
Salads might be underrated and hard to come by in Budapest, but Aria's High Note Sky Bar will make you feel like you hit the perfect pitch. Delicate red leaf lettuce was garnished with yogurt blue cheese dressing; piled on top Hungarian-style was, of course, the meat. This one: a perfectly grilled chicken breast.
Amid symphonic views of turrets, domes and the grand Duna, we had met our own high note. Jó étvágyat! (Good appetite!)
Amazingly, Mum and I did not gain an ounce.
---
Award-winning travel journalist Ilona Kauremszky has been a syndicated travel columnist, co-produces mycompasstv on YouTube and regularly contributes to major publications across North America. Follow her travel pursuits @mycompasstv on Twitter and YouTube.