You Name It: Dave Lipp
| October 22nd, 2018
Doing a lot of a lot throughout his community
---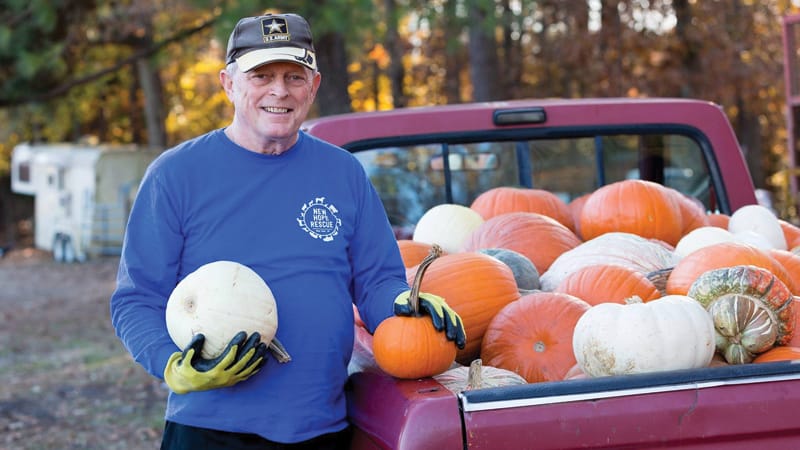 Halloween means far more than ghosts and goblins to the horses, llamas, pigs and goats at New Hope Animal Rescue in New Kent County.
It means that in a few days, Dave Lipp will be arriving with a huge load of pumpkins from Chesterfield County. These animals go hog wild over pumpkins.
Lipp, known to some of his neighbors as the "mayor of Stonehenge," has taken it upon himself to make sure leftover pumpkins in the neighborhood don't go to waste.
"We took a little over 400 last year, and they were all gone by Jan. 1," says Lipp, 73, who is in his fourth year of collecting pumpkins and hauling them to the animal rescue farm.
Cyclist, fitness buff, dog lover, handyman, Dave Lipp is something of a nonprofit charity/rescue squad/chamber of commerce all rolled into one.
He holds a Level II certification from Chesterfield's Community Emergency Response Team (CERT), which he joined in 2011. CERT training provides residents with skills in disaster preparedness, fire safety and suppression, basic emergency medical treatment, search and rescue techniques, emergency communications and disaster psychology. Level II public outreach, a stage of advanced training the county began offering this year, means Lipp is qualified to run an emergency shelter and teach first-aid and other courses.
"He's an amazing volunteer for our CERT program," said Jes Robison, who coordinates the county's program. "He's such a nice guy, such a joker, but he's rock solid. I can depend on him for anything."
Since retiring from International Paper in 2012, Lipp has also graduated from Chesterfield's police Community Academy, Citizens Fire Academy and Government Citizens Academy – all specialized courses designed to broaden residents' knowledge and awareness of county operations.
A frequent volunteer, he has participated in police "active shooter" drills and has worked in fire department programs that check and replace smoke detectors and batteries in low-cost housing.
"One day I think I installed 18 smoke detectors," he said.
A typical day in Lipp's life might go like this:
Shortly after dawn, head with his wife, Susan, to her parents' home a few blocks away, to help out with his ailing father-in-law and walk their dog. He also maintains their lawn.
Between 8 and 9 a.m., drive over to the Midlothian Athletic Club (MAC) for spinning or body pump classes.
Midmorning, stop by a vacationing neighbor's house to let the dog out and change its water; he keeps the keys to roughly 10 neighbors' houses in his car, in case he is needed to help out.
Stop along the way to hand out dog treats to neighborhood dogs out for a walk; Lipp keeps dog biscuits in his mailbox for the same purpose.
Stop by Redeemer Episcopal Church – he is an usher and teller, oversees the memorial garden and helps with the youth mission – to see what needs to be done.
On some days, take his bike and head for the Virginia Capital Trail, where he is a trail ambassador. "He is truly the real deal when it comes to volunteers," says Beth Weisbrod, former executive director of the Virginia Capital Trail Foundation.
Check in at the county government complex to help out in one of his citizen-volunteer positions there.
About 9 p.m., head back with his wife to her parents' house to walk their dog again and tend to their medical needs.
"I don't consider it a good day unless I've done at least one act of kindness," Lipp says. "I'd much rather wear out than rust out."
---
Ed Kelleher is a retired journalist and member of ROMEO (Retired Old Men Eating Out), where Dave Lipp is president.