Family Finances: Tips for Decluttering
| July 7th, 2017
---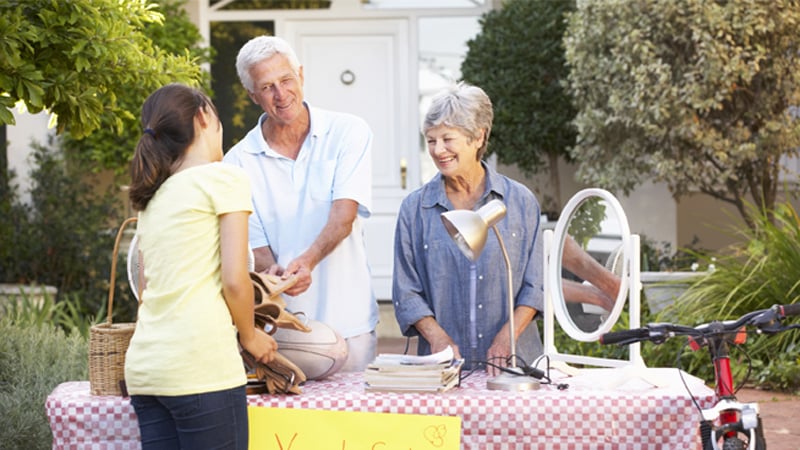 If you're really ready to clean house, we can help. First, don't assume you'll be able to sell things fast online yourself; it takes more time and effort than most people expect. However, you could try to sell at least some stuff yourself.
Put it on Craigslist
You can list items free on one of its 415 local sites in the U.S. Or use a neighborhood listserv, if you have one.
Auction it online
On eBay.com, you can list up to 50 items a month free and pay 30 cents per item thereafter (unless you have an eBay store). When you get paid, eBay takes a 10-percent cut of the sale (up to a maximum of $750 per sale), and PayPal takes 2.9 percent plus 30 cents per domestic transaction to process payments. You can print eBay labels with shipping discounts of up to 24 percent on Priority Mail and up to 37 percent off FedEx rates.
To simplify your life, enlist eBay Valet to sell your items for you. Mail them to the Valet with a postage-paid label, or drop off your stuff at a FedEx location. The greater the sale price, the more you earn, from 25 percent of the sale for items that go for less than $25 to 80 percent for items that sell for $500 or more. If an item doesn't sell within 60 days, the Valet will return it to you, free.
Consign it
Consignment shops often specialize in a certain type of merchandise, such as clothing, furniture, electronics or sporting goods. Call ahead to verify that a shop wants what you have. For example, it may not accept clothing or holiday decorations out of season. Ask if you can e-mail or text a photo of items, or if you need to schedule an appointment.
Resale shops like to advertise "nearly new or barely used," says Adele Meyer, executive director of NARTS, the Association of Resale Professionals (www.narts.org). The faster you make up your mind to sell something you will never wear again (such as a mother-of-the-bride dress), the more money you're likely to make on it, says Bonnie Kallenberg, owner of Finders Keepers Consignments, in suburban Atlanta.
Shops typically allow a total of 45 to 60 days for an item to sell and begin to mark down the price after 30 days to keep merchandise from getting stale, says Meyer. They typically take a 50-percent to 60-percent commission from the final sale price. They'll ask you to pick up your unsold items at the end of the term, or they'll donate them.
---
Patricia Mertz Esswein is an associate editor at Kiplinger's Personal Finance magazine. Send your questions and comments to moneypower@kiplinger.com. And for more on this and similar money topics, visit Kiplinger.com.
(c) 2017 Kiplinger's Personal Finance; Distributed by Tribune Content Agency, LLC.