Destinations in the Stockholm Archipelago
| October 24th, 2023
Making your way through the idyllic collection of islands
---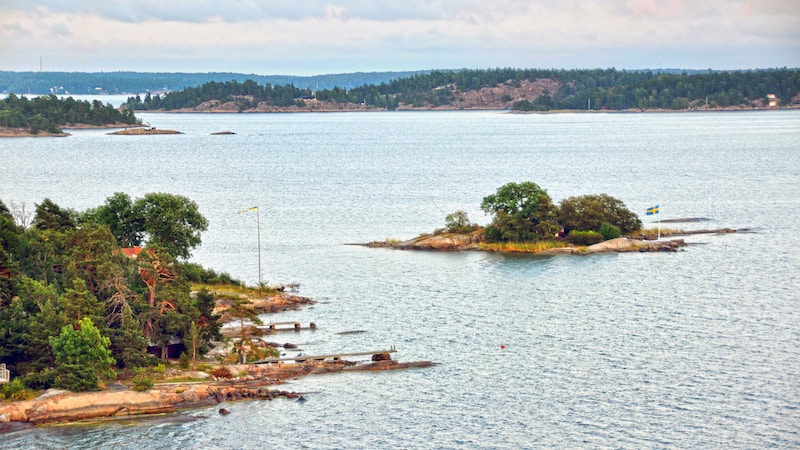 From "Skärgården" – literally "garden of skerries," unforested rocks sticking up from the sea – to larger islands, populated with trees and people, the Stockholm archipelago offers an idyllic land-and-seascape. Travel writer Rick Steves offers suggestions for exploring it.
---
For years I'd flown over the famed Stockholm archipelago, or glided by it on a big cruise ship heading for Helsinki. When I finally dived into the 80 miles of scenic islands that stretch out from downtown Stockholm, I wondered why I'd waited so long.
It's hard to put a number on just how extensive the archipelago is. Locals brag that it has 34,000 islands – but they must be counting mossy little rocks, so I don't use that figure. I can tell you that about a hundred of them are served by ferries, providing Stockholmers with the ideal island escape.
The local name for this area is "Skärgården" – literally "garden of skerries," unforested rocks sticking up from the sea. That stone is granite, carved out and deposited by glaciers. The archipelago closer to Stockholm is rockier, with bigger islands and more trees. Farther out (such as around Sandhamn), the glaciers lingered longer, slowly grinding the granite into sand and creating smaller islands.
One of the joys of an archipelago boat trip is to grab a perch on the breezy sundeck with the Swedes as they enjoy their island wonderland. Even if your island isn't an official stop, ferries will dock on request … or to plop down the day's mail.
Two major companies run public ferries from downtown Stockholm to the archipelago. Waxholmsbolaget's big ships depart across from Stockholm's Grand Hotel, at the stop called Stromkäjen. The smaller Cinderella Båtarna ships – generally faster, more comfortable, and a little pricier than their rival's – leave from near Stockholm's Nybroplan. Because the routes and schedules can be confusing, it's smart to review and confirm your plans in advance, ideally at a tourist information office.
Your archipelago options are endless in this idyllic land-and-seascape. For a quick look, consider one of the many half- or full-day package boat trips from downtown Stockholm. For more flexibility, freedom, and a better dose of the local vacation scene, do it on your own. Overnighting on an island really lets you get away from it all and enjoy the island ambience. Don't struggle too hard with the "which island?" decision, although nature lovers might want to travel well beyond the island of Vaxholm, where the scenery gets more striking.
Steves' recommended destinations in the Stockholm Archipelago
Here are four possible island destinations in the Stockholm archipelago, listed in order starting from Stockholm and sailing toward Finland:
The self-proclaimed gateway to the archipelago, Vaxholm is more developed and less charming than the other islands. Connected by bridge to Stockholm, it's practically a suburb. But it also has an illustrious history as the anchor of Stockholm's naval defense network. Its main attraction is its "new" fortress, dating from the mid-19th century, when an older castle was torn down and replaced with this imposing granite behemoth.
The rustic, traffic-free isle of Grinda – half retreat, half resort – combines back-to-nature archipelago remoteness with easy proximity to Stockholm. The island is a tasteful gaggle of hotel buildings situated amid rustic charm – walking paths, beaches, trees, and slabs of glacier-carved granite sloping into the sea.
The remote and lesser-known isle of Svartsö (Black Island), a short hop beyond Grinda, is the "Back Door" option of the bunch. Unlike Grinda, Svartsö is home to a real community; islanders have their own school and library – but only 80 year-round residents. While the island is less trampled than others (just one hotel and a great restaurant), it is reasonably well served by ferries. It's perfect for those who want to slow down and immerse themselves in the great outdoors.
Out on the distant fringe of the archipelago – the last stop before Finland – sits the proud village of Sandhamn on the island of Sandön. Literally "Sand Harbor," the town has a long history as an important and posh place – Sweden's answer to Nantucket. It is an extremely popular stop for boaters – from wealthy yachties to sailboat racers – as well as visitors simply seeking a break from the big city.
Sandhamn has two halves: In the shadow of the iconic yacht clubhouse is a ritzy resort/party zone throbbing with big-money nautical types. But just a few steps away, around the harbor, is an old town of colorfully painted, shiplap cottages tucked between tranquil pine groves. While most tourists come here for the resort, the quieter part of Sandhamn holds the real appeal.
No matter which island you plan to explore, the best way to experience the magic of the Stockholm's archipelago is simply stretching out comfortably on the top deck of your ferry. Enjoy the charm of the lovingly painted cabins as you glide by, your lounge chair positioned to catch just the right view and sun, the steady rhythm of the ferries lacing this world together, and people savoring quality time with each other and nature. The journey truly is the destination.
---
PHOTO CAPTION, ABOVE: The Stockholm archipelago, comprising thousands of glacier-carved islands of all sizes, offers locals and tourists a relaxing getaway right on the Swedish capital's doorstep. CREDIT: Rick Steves.
Rick Steves (www.ricksteves.com) writes European guidebooks, hosts travel shows on public TV and radio, and organizes European tours. This column revisits some of Rick's favorite places over the past two decades. Read more European adventures in his book, For the Love of Europe. Other books include numerous destination-specific travel guides and Travel As a Political Act. You can email Rick at rick@ricksteves.com and follow his blog on Facebook.
Explore more of Rick Steves' Europe in Boomer
©2023 RICK STEVES
As an Amazon Associate, Boomer Magazine earns from qualifying purchases of linked books and other products.