Eating at Milk Bars in Poland
| March 21st, 2023
The humble experience provides a picture of the past
---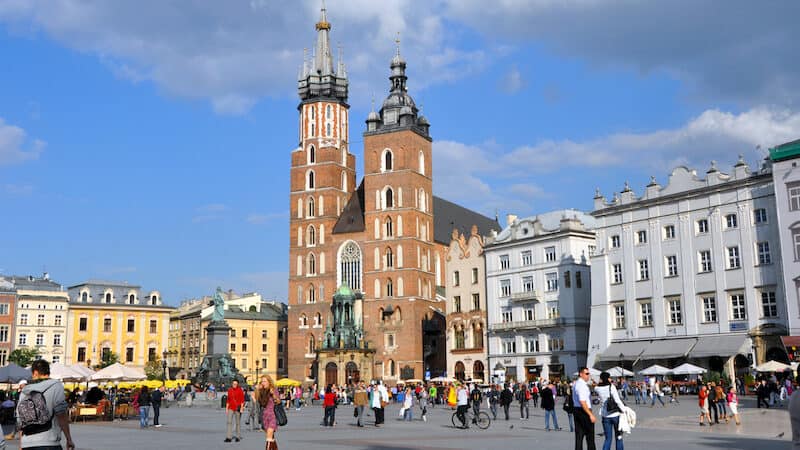 While the vibrant, rejuvenated city of Krakow offers many splashy ways to enjoy modern life, travel writer Rick Steves has an affinity for eating at a milk bar in Poland.
---
I remember a bleak time in Poland when the economy was so maddeningly out of touch with the needs of its people that anyone lucky enough to own a car would remove their windshield wipers at night and take them inside. In their command economy – oblivious to the laws of supply and demand – some official forgot to order wipers and consequently, they weren't for sale anywhere. Inspired by a hungry black market, thieves would work late into the night snapping them up.
Many Americans remember Poland as bleak and run-down – full of rusting factories and smoggy cities. I remember a time when the air was so polluted it turned my hanky black the day I entered the country. Glum locals used to stand patiently in line to sip a drink from the same tin cup tethered to a soda stand by a rusty little chain.
Of course, those days are long gone now, and many American visitors are stunned speechless when they step into Krakow's vibrant main square, Gdansk's lively streets, or Warsaw's colorful Old Town.
While a new affluence has arrived, visitors can still see a variety of Polands: Lively and cosmopolitan urban centers; breathtaking medieval cities showing off a dynamic history; grimy industrial zones still cleaning up the mess left by the Soviets; and hundreds of traditional farm villages in the countryside.
As I'm more nostalgic for the humble old days than most locals, I'm sure to venture into the countryside. City dwellers often talk about the "simple people" of Poland – those descended from generations of farmers, working the same plots for centuries and living an uncomplicated, traditional lifestyle. Spending time with this large contingent of old-fashioned, down-to-earth folks can be a great way to get a true sense of Poland's story.
Rick Steves' choice: a 'bar mleczny'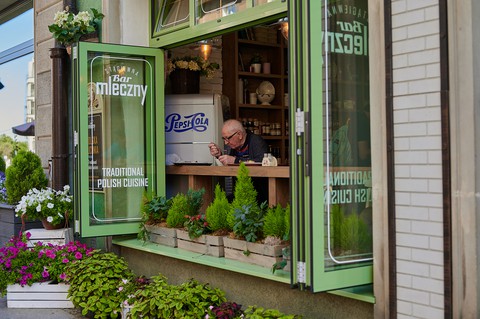 Sometimes my nostalgia for the old times confounds my Polish hosts. In Krakow, my friend, Kasia, wanted to treat me to a fine dinner and asked where I'd like to eat. I said a "milk bar." Kasia said her mother would never forgive her if I took her American friend to one of these bleak government-subsidized workers' diners. I begged, promising I'd never tell, and Kasia agreed.
For me, eating at a "bar mleczny" – or "milk bar" – is an essential Polish sightseeing experience. These cafeterias, which you'll see all over the country, are a dirt-cheap way to get a meal … and, with the right attitude, a fun cultural adventure.
In the communist era, the government subsidized the food at milk bars. The idea: to allow lowly workers to afford a meal out. The tradition continues, and today Poland still foots the bill for most of your milk-bar meal. Prices remain astoundingly low – my bill usually comes to about $5 – and, while communist-era fare was less than lively, today's milk-bar cuisine is tastier.
Milk bars offer many of Poland's traditional favorites. Common items are delicious soups, a variety of cabbage-based salads, fried pork chops, pierogi (ravioli with various fillings), and pancakes. At the milk bar, you'll often see glasses of watery juice and – of course – milk, but most milk bars also stock bottles of water and Coke. Try a Polish pastry, especially the classic pączki, glazed jelly doughnuts typically filled with a wild-rose jam.
At milk bars, the service is aimed at locals. You're unlikely to find an English menu. If the milk-bar lady asks you any questions, you have three options: nod happily until she just gives you something; repeat one of the things she just said (assuming she's asked you to choose between two options, such as meat or cheese in your pierogi); or hope that a kindly English-speaking person in line will leap to your rescue. If nothing else, ordering at a milk bar is a fiesta of gestures. Smiling seems to slightly extend the patience of milk-bar staffers.
Every milk bar is a little different, but here's the general procedure: Head to the counter, wait to be acknowledged, and point to what you want. Two handy words are "to" (sounds like "toe" and means "this") and "i" (pronounced "ee" and means "and").
My milk-bar dialogue usually goes like this: Milk Bar lady says "Prosze?" (Can I help you, please?). I say "to" (while pointing) … "i to" (pointing again) … "i to" (pointing once more). It means, "This … and this … and this." It's not pretty, but it gets the job done.
Chowing down with the locals you'll marvel at how you can still eat lunch for $5 as you experience a little bit of nostalgia from Poland's communist days.
---
PHOTO CAPTION, ABOVE: Krakow's main square offers a vibrant slice of modern Polish life — and it's just steps away from a cheap and cheerful meal at a milk bar in Poland. CREDIT: Rick Steves.
Rick Steves (www.ricksteves.com) writes European guidebooks, hosts travel shows on public TV and radio, and organizes European tours. This column revisits some of Rick's favorite places over the past two decades. Read more European adventures in his book, For the Love of Europe. Other books include numerous destination-specific travel guides and Travel As a Political Act. You can email Rick at rick@ricksteves.com and follow his blog on Facebook.
Explore more of Rick Steves' Europe in Boomer
©2023 RICK STEVES
As an Amazon Associate, Boomer Magazine earns from qualifying purchases of linked books and other products.