Aging Safely: Protecting Yourself Against Identity Theft and Senior Scams
| August 30th, 2017
---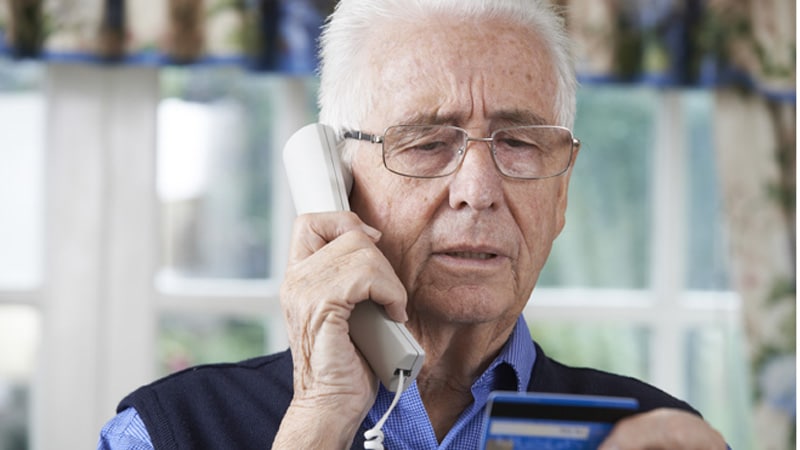 There are many things we do in order to age safely – from exercising regularly and staying active to eating healthy, then making time for our friends and family. One area to also be mindful of is protecting the lives we've worked so hard to build. One of the biggest threats we should all be aware of is identity theft: thieves stealing our personal identity and using it fraudulently. 

Identity theft means someone is using your information to make purchases, open new accounts, get medical care at your expense, commit crimes in your name and so on. It's a federal offense; in fact, every one in 16 U.S. adults were victims of identity theft in 2016, and the senior population can often be easier targets. According to the Federal Trade Commission, 55 percent of the fraud complaints it received in 2016 were for consumers age 50 and older; those in the 60-69 age group were the largest percentage.
In today's society, identity theft has infiltrated into every area of our lives. Thieves have found a way to take advantage of social media and mobile phones with new techniques like phishing, skimming and smishing. But, even for a generation that isn't often as concerned with social media as the millennials, you can be at risk from everyday activities that require you to share personal information. The information can be as simple as a phone numbers, a home address or email address.  And, of course sharing social security numbers, birth date, medical records, tax returns, bank accounts, and credit card numbers create even more opportunities for identity thieves to pounce.
Those of us in our boomer years also are at greater risk because we've simply accumulated more as we've gone through life. Most of us have retirement accounts, life insurance policies, wills and other legal documents and Medicare accounts – not to mention other IDs, financial accounts and loans.
Seniors can additionally be more trusting and more susceptible to scams, which are growing in number every year. The US Senate Special Committee on Aging issued a list of the top scams targeted at seniors in 2016. The top three: IRS Impersonations, Sweepstake scams, and robocalling scams, which uses caller-ID spoofing to target victims with a pre-recorded message saying you've won something or qualify for a special offer.
The good news is, there are steps you can take to protect yourself from identity theft and scams.  Of course, the first thing is to be aware and vigilant of how and with whom you are sharing your personal information.
Here are ten important tips to get you started:
When a caller asks for money, it's a red flag. They may say that if you wire the money it will be refunded later, or claim a relative needs money, or even a lottery official asking for your bank account number so that he or she may deposit your winnings. Take their name and number and tell them you will call back. Hang up and check the name and phone number, and don't act unless you can verify it is legitimate.
Enable security updates on your computer
Make sure you are browsing safely. Take time to verify that your computer's software is updated, security/antivirus software is installed, routine backups are scheduled, and that you have anti-phishing and key logging software installed.
Be mindful of mobile in public
If you must use public Wi-Fi for sensitive transactions using your mobile phone, use a Virtual Private Network (VPN); this encrypts your transmissions.
Older people are unfortunately targets for having wallets or purses stolen. Make sure you only carry what is absolutely necessary. Don't carry your social security card, extra keys, or any information with passwords or PINs. Leave them at home.
Monitor your bank accounts and credit card statements
If you haven't already, sign up for text/email alerts for all of your banking and credit card transactions so you know what is happening with your accounts.
It's never a good idea to leave bank statements lying around. These documents can be taken by thieves and used to access personal information. Buy an inexpensive shredder to use at home.
Tell friends and family about scams
Share recent news stories about a phone or email scam that's currently circulating. Start a discussion about all of the different scams you've heard about and how they like to target older people. And, don't feel embarrassed if you did fall for a scam. Warn others. After all, knowledge is power.
Eliminate unnecessary offers from financial companies
Try OptOutPrescreen.com, the official consumer credit reporting industry website that handles requests to opt out of offers for insurance or credit. Through this website, you can be removed from unsolicited email lists.
Ensure you can trust your caregiver
There are times with the aging population that someone you know will need a caregiver – either for themselves or spouse. With access to your home and personal items, it is important to ensure you can trust this individual.  Store important financial information and important mail away from prying eyes and potentially sticky fingers.

Take control of your identity
Credit card monitoring isn't nearly enough. Being alerted of a fraudulent transaction by your credit card company isn't going to tell you how a thief may have already applied your personal information to commit identity theft – from tax fraud to medical records being compromised to new account takeover fraud. Consider signing up for an identity protection service that will provide you with the peace of mind because your personal information is being monitored 24/7.
---
Steven Bearak is the CEO of IdentityForce, a company commercialized from nearly four decades of in-depth experience around personal identity and security services and products. IdentityForce is a leading provider of proactive identity, privacy, and credit protection for individuals, businesses, and government agencies. In May 2017, IdentityForce introduced a mobile app to help members stay protected anywhere, anytime. For more information, visit www.identityforce.com.