Empty Lots, Fitting Architecture
| July 12th, 2016
Competition fills vacant lots with theoretical modern yet fitting houses.
---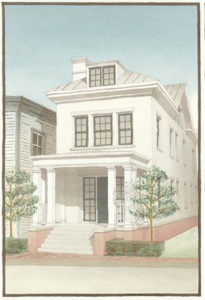 Some of Richmond's vacant lots are getting makeovers, but not in real life.
Drawing on History: Infill Design Competition has encouraged artists to design buildings that could theoretically fill vacant lots that are neglected. Artists were challenged with the task of designing structures that historically fit the surrounding neighborhoods of Union Hill and Jackson Ward. Non-profit Historic Richmond, which aims at preserving Richmond's buildings, and a local architecture and design museum, The Branch Museum, are heading up the effort.
"We recognize the challenge of addressing contemporary needs within neighborhoods that care deeply for the historic character of their buildings and streetscapes," said Cyane Crump, Historic Richmond executive director.
Dr. Craig Reynolds, director of The Branch Museum, said the artists "considered issues including historic context, sustainability, affordability and each neighborhood's unique sense of place."
The purpose of infill design is to protect the history and heritage of neighborhoods while creating interesting structures, Crump explained.
When infill design is used, homes must follow a set of rules, including use of historic materials and scale. Crump said that when architects don't adhere to these, then the houses will "stick out like a sore thumb and risk forever damaging an existing urban neighborhood that has both historic significance and a unique identity."
The competition establishes a dialogue in the community about how to address the city's vacant lots. Crump said cities like Richmond are also being troubled with new homes being incompatible with neighboring architecture.
"We see this exhibition as the beginning of a conversation about the modern design process and its relevance to the fabric of the historic neighborhoods," Reynolds said.
Submissions in the content often draw on historic architectural elements such as simple colors, often either white or exposed brick, but also tall, large windows. Many designs are of the row house style – long and narrow with at least two floors, like the type of homes you'd see in the Fan or Jackson Ward neighborhoods. Other designers used more modern attributes such as solar panels on top for efficiency or rooftop gardens for flair.
Although most of the entries are floor plans, some also feature mock-up images of the homes or 3-D replicas of the designs to bring the house proposal to life.
The work of the winners is being exhibited for all community members to see now through Sept. 4 at The Branch Museum, 2501 Monument Ave., Richmond. In total, the competition yielded 16 prize winners, who were judged by representatives from Richmond design, architecture and housing community leaders: Sukenya Best of Virginia Union University; Sanford Bond, FAIA of 3north; Helene Combs Dreiling, FAIA of AIA Virginia; Greta Harris of Better Housing Richmond; and Julie Weissend, LEED AP ID +C of Dovetail Construction Company Inc.
Winners were awarded a grand prize, first prize professional, first prize student and design excellence mentions.
Visitors can also vote on their favorite designs.
For more information: historicrichmond.com/infilldesignwinners/
http://branchmuseum.org/