European Artisans, A Waning Breed
| December 1st, 2021
Synthetic conformity is replacing handmade goods and those who make them
---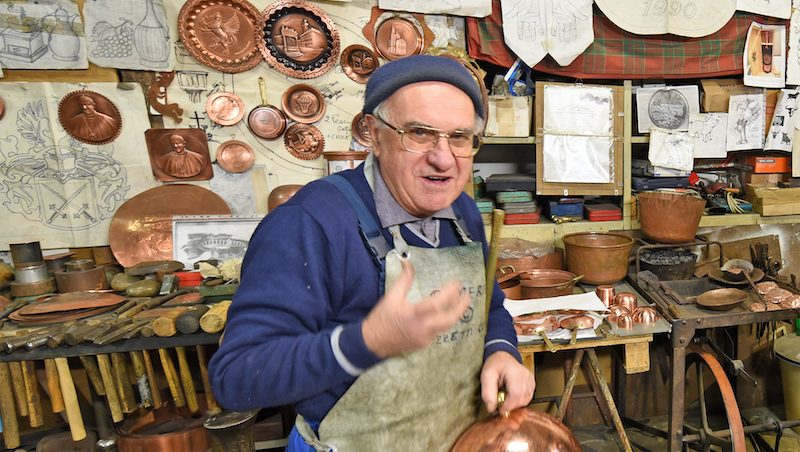 In this installment of Rick Steves' Europe, the traveler bemoans the cookie-cutter chains and mass-made goods that are taking the place of European artisans throughout the continent. And he shares the story of several who are still crafting handmade wares.
---
As we've had to postpone our travels because of the pandemic, I believe a weekly dose of travel dreaming can be good medicine. Here are a few of my favorite European memories of artisans in action – reminders of the fun that awaits us at the other end of this crisis.
When you've traveled in Europe, you see how traditional, local businesses are making way for cookie-cutter chains and synthetic conformity. In historic city centers, as rents go up, longtime residents, families, and craftspeople are pushed out. Small hotels, one-of-a-kind shops, and individual craftspeople simply don't have the scale to compete with the big guys.
In Florence, the end of rent control made costs spike immediately, driving artisans and shops catering to locals out of business – to be replaced by upscale boutiques and trendy eateries. The same thing happened in Barcelona's Gothic Quarter. As landlords evicted long-term renters to make more money off short-term Airbnb rentals, mom-and-pop shops lost their traditional clientele and went out of business. In Istanbul, the city wants to move the iconic gold-and-silver workshops from the Grand Bazaar to a place outside the city center, while "Made in Taiwan" gift shops are able to pay higher rents and take their place, changing the character of the market.
Craftsmen lament that the next generation, drawn to the energy of big cities and lured by the opportunities of big corporations, won't be there to carry on the traditions. The artists who craft handmade guitars in Madrid, the family winemakers of Burgundy, the fishermen who sell shrimp on the Oslo harborfront … they are all at risk. What will become of these rich facets of local culture if the younger generation opts out? Of course, I can't blame the children of artisans for jumping into the modern rat race; I'm not an old-school piano technician like my father. But it's worth considering how the future will look when economic scale and efficiency trump artisan values.
European artisans still making handmade wares
It's a real joy when I stumble upon true artisans who are committed to doing things the traditional way, by hand – and communities that understand the importance of keeping them in business. I urge travelers to seek out and support artisan experiences – before it's too late.
In Rothenburg, Germany, I visited with Peter Leyrer, a printmaker who proudly showed me his etchings. He makes his prints using the copper-plate technique, just as Albrecht Durer did 500 years ago. Peter prints the black-and-white etchings, paints them with watercolors, and sells them in his shop. Peter is getting older and will soon retire. He told me that with no one to take over for him, his 3,000 copper plates will likely end up in a museum. One of his etchings hangs in my office.
In the Tuscan hill town of Montepulciano, my friend Cesare is a proud coppersmith with a spirit as strong as the oak-tree root upon which his grandfather's anvil sits. For Cesare, every day is show-and-tell, as steady streams of travelers drop by to see him at work, fashioning special ornaments for the town cathedral and pounding out fine cookware.
In nearby Orvieto, Federico Badia is a young cobbler who's passionate about preserving the art of traditional shoemaking. After apprenticing at a leather shop in Rome, he set up his own studio, where he patiently crafts fine leather shoes for an appreciative clientele. Federico says that "Made in Italy" doesn't apply to mass-produced factory shoes – it's a label that rightly belongs only to the fine products hand-crafted by artisans like him.
Back in Istanbul's Grand Bazaar, Dikran is a silversmith who uses hand tools to create finely designed, one-of-a-kind pieces. For a decade, he worked as an unpaid apprentice, studying under a master until he himself became one. In the past, a volunteer apprentice had to work hard to persuade a master to accept him. Today, it's a struggle to get young people to enter a field in which training takes years and incomes are limited.
Guiding a tour group through eastern Turkey, I once dropped in on a craftsman who was famous for his wood carving. We gathered around his table to watch him work, appreciating the pride he took in his art. Suddenly, he stopped, held his chisel high into the sky and declared, "A man and his chisel – the greatest factory on Earth!"
I don't have the answers on how to sustain these age-old traditions, but I'm inspired whenever I meet the European artisans who lovingly carry treasured and endangered crafts into the future. And it always feels right to buy a piece of their work.
---
Photo caption, above: A coppersmith in Montepulciano, Italy. CREDIT: Cameron Hewitt, Rick Steves' Europe.
Rick Steves (www.ricksteves.com) writes European guidebooks, hosts travel shows on public TV and radio, and organizes European tours. This article was adapted from his new book, For the Love of Europe. You can email Rick at rick@ricksteves.com and follow his blog on Facebook.
Explore more of Rick Steves' Europe in Boomer
© 2020 RICK STEVES
As an Amazon Associate, Boomer Magazine earns from qualifying purchases of linked books and other products.