Exploring Retirement Options in the Peace Corps
| October 3rd, 2022
Financial considerations and extended volunteer opportunities
---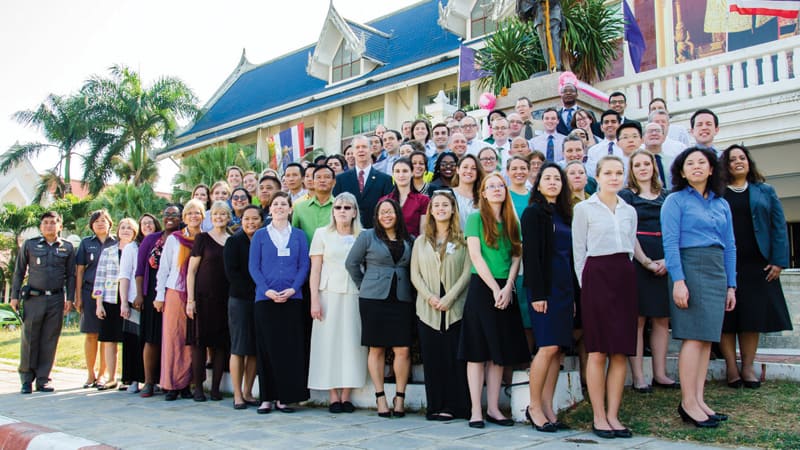 Looking for a way to give back and experience a life-changing adventure in your second act? Joining the Peace Corps may fit the bill.
"Retired Americans can use the life skills and professional experience they gained during their careers to make a lasting impact in communities around the world," says Peace Corps Director Jody Olsen.
About 6 percent of volunteers are age 50 or older. "There is no upper age limit to Peace Corps service," says Olsen. The oldest volunteer is an 83-year-old woman who works at a health clinic in Malawi.
"Flexibility, an open mind and a willingness to learn are strong qualities that make successful volunteers," says Olsen. Depending on the program, service can last from three months to two years.
David and Champa Jarmul met 40 years ago, when he was a Peace Corps volunteer teaching English in Nepal at a school where she taught. The couple always wanted to serve in the Peace Corps together, but careers and children – then grandchildren – kept them busy.
"As we approached our 60s, we got serious about the idea and quietly planned our transition," says David, 65. After he retired three years ago as head of news and communications at Duke University, the couple moved to Moldova – a former Soviet country between Romania and Ukraine – for a two-year Peace Corps stint.
The Jarmuls, who recently completed their service, lived in the small city of Ialoveni on the second floor of their host family's house. David worked in a local library, where he taught classes in computer coding, robotics and English conversation, and he helped create a children's room for families. Champa taught English at a local school and volunteered at a local center for kids with special needs.
The Jarmuls prepared financially for a few years before they joined the Peace Corps. David stayed in his job long enough to qualify for the retirement health plan, which they'll use now that they've returned. They also accelerated their monthly mortgage payments before they left so they could pay off their house, which they rented out while they were gone.
The Peace Corps provides volunteers with housing and a living stipend, as well as medical and dental care, so the couple barely had to touch their retirement savings for two years. "We had no medical premiums, no car insurance, no utility bills, nothing at all except for some travel and personal expenses. We were able to hold off starting Social Security, too," says David.
The program's application process can take several months. "They review your job experience, check references, do a background check and look into every detail of your medical history," says David.
To get started, visit PeaceCorps.gov and speak with a recruiter or returned volunteers to find out more about the experience. Also, review the living conditions and medical considerations of a particular volunteer opportunity before applying.
"Peace Corps is not for everyone," says Champa. "You give up a lot of the luxuries we take for granted in America. But it's also an experience that will open your eyes and change your life."
---
Closer to home: Consider AmeriCorps as a retirement option
---
Kimberly Lankford is a contributing editor to Kiplinger's Personal Finance magazine.
Send your questions and comments to moneypower@kiplinger.com.
Originally published October 2018. Updated October 2022 with links to Peace Corps and AmeriCorps article.