Going for the Digital Gold?
| August 5th, 2021
A 50-year-old federal decision and family news conversations
---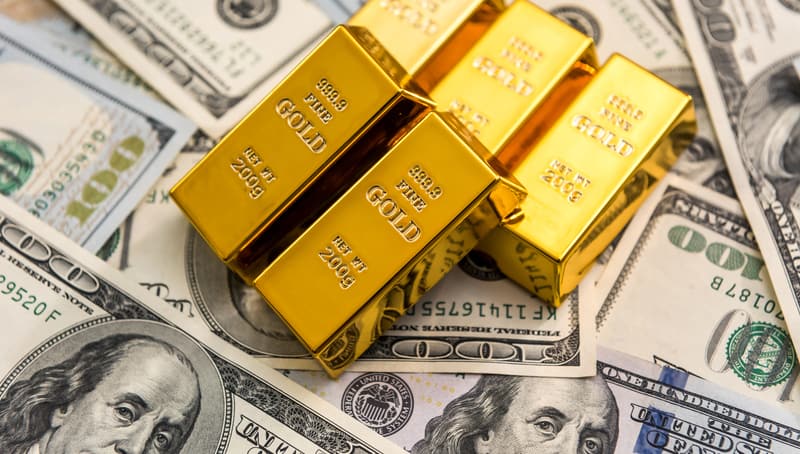 Writer Martha Steger recalls an enlightening family dinnertime discussion in 1971, 50 years ago this month, when the U.S. ended the gold standard. The bullion backing is gone – are illuminating family meal conversations gone, too?
---
If evening dinner has gone the way of floral couches and pine paneling (sorry, Mom), I wonder where family conversations about current news events go. With fond recollections of my father's leading suppertime discussions (sometimes debates) on the news of the day, I'm especially grateful for occasions when adults with opinions different from those of my parents were present for evening-meal conversations.
If we think today's news is complicated and occasionally unfathomable without an interpreter, some news reports from a half-century ago – August 1971 – seem, in hindsight, downright esoteric. So far removed are we from that period and the change taking place then, that at today's dinner table, someone learning about the dropping of the gold standard would undoubtedly ask, "Who cared? Why did it matter?"
A momentous decision
It was Aug. 15, 1971, that the United States made a huge change in its currency by no longer equating its dollar to a specific amount of gold held in reserve (yes, actual gold bars or bullion). My father thought this news event was as important as my mother had thought the coronation of Queen Elizabeth II was at Westminster Abbey on June 2, 1953.
The "gold" announcement came following a secret weekend meeting of President Richard Nixon and his top economic advisers at the presidential Camp David retreat in Maryland. My maternal grandfather – a farmer like my father – said, at our dinner table, the U.S. was "going to hell in a handbasket." The country and its World War II allies had agreed, in 1944, the U.S. dollar would be convertible to gold at a fixed rate ($35 per ounce at that time). Converting every other currency in the world to dollars at that rate had added stability to international trade since the mid-1940s.
My father – without missing a bite of his baked farm-raised chicken – pointed out that keeping the U.S. dollar pegged to gold didn't make sense any longer because the U.S. only had gold reserves totaling 25 percent of the dollars held abroad. Most U.S. political and business leaders thought the link to gold overvalued the dollar, making imports too cheap and exports too expensive. My father did concede, as I listened to what seemed like an academic discussion, that floating exchange rates for the world's currencies could lead to great volatility and a lot of uncertainty in the future.
Through the years
Though we've had our share of volatility in economic and trade markets in the past half-century, I know my father would have pointed to the economists who say the floating currency rates have accommodated competitive pressures from other markets as well as rollercoaster oil prices. Now the torch has been passed to my generation for the discussion of economic news (as well as political news – but we won't go there now) over the dinner table.
As radical as detaching the dollar from gold seemed in 1971, my adult children cause me to wonder whether the global economy isn't again at a time of potential currency change. If interest rates sharply increase, leading to an overvalued U.S. dollar and soaring trade deficit – along with possible disruptions such as new technologies – a younger generation's vision of the dollar's giving way to crypto currency, whether Bitcoin or something else, might not be far down the road.
Our family seldom shares a dinner table these days because of our living one- and two-days' drives away from each other, but I'm not far from the age my grandfather was when he became upset at the thought of not being able to turn in his dollars for gold (as if he would have ever done so). When I visit the table of my grandchildren these days, they're more likely to be talking about the consequences of the pandemic and the complete reopening of the economy than anything else – but the important thing is that the family is talking about the news of the day.
Midlothian-based freelance writer Martha Steger is a Society of American Travel Writers' Marco Polo member and has been a frequent contributor to Boomer. For 25 years, she was public relations director for the Virginia Tourism Corporation.