Farm-to-Table: From a Local Farm to Your Fork
| April 16th, 2020
Fresh, healthy foods on your plate, from acquisition to preparation
---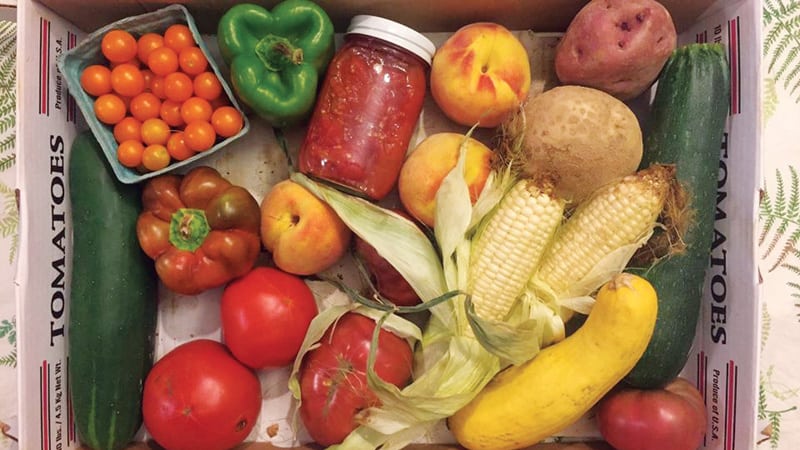 Some of my fondest childhood memories include running through fields of corn and peanuts, playing in a barn and looking at farm animals with my cousins. In summer, we met at an old family farm for a reunion and enjoyed a potluck meal made with local produce. Those meals were my earliest farm-to-table experience.
"Farm-to-table" describes eating foods coming from local farms or growers, often without going through a store or distributor. It's popular now because consumers like supporting local farmers and boosting the local economy. They also want fewer processed foods and to know where their food comes from. You're already eating farm-to-table if you raise chickens, grow your own produce or enjoy your neighbor's homegrown tomatoes.
If you're not blessed with a green thumb, head out to a farmers market. Most days of the week, you'll find a wide variety of farmers markets in Richmond and surrounding counties. Grab your pooch, family or friends and take the ultimate field trip! Enjoy selecting your produce while chatting with the farmer that grew it. Grab lunch or dinner from farmers and food trucks, or indulge in occasional splurges like homemade donuts.
See Boomermagazine.com/rva-area-farmers-markets for a market near you.
FOR MEMBERS ONLY
Join a Community-Support Agriculture (CSA) program to purchase a membership – or "share" – of a farm's seasonally changing harvest. Your share is delivered to local drop-off points for pickup. Memberships vary, with weekly, monthly, seasonal or year-round plans, in various sizes. Spring/summer CSAs have signups through the first week in May or until they're sold out. Here's a taste of a few CSAs serving Central Virginia.
Agriberry Farm, Hanover, sends out fruits such as apples, apricots, a variety of berries, cherries, grapes, melons, nectarines, peaches and pears, plus jams, preserves and fruit sauces. Agriberry.com
Walnut Hill Farm Produce, Colonial Beach, features a smorgasbord of Virginia-grown produce. Enjoy assorted greens, asparagus, beets, Brussels sprouts, cantaloupe, corn, cucumbers, green beans, onions, peaches, peppers, potatoes, tomatoes, squash, strawberries and watermelon. Facebook @Walnut Hill Farm Produce
Meredith Farm, Mineral, offers shares all year long, including meats, chickens, eggs, plus seasonal fruits and vegetables. Choose the full menu share, or opt for fruits and vegetables only. Facebook @Meredith Farm Local Food CSA
Shenandoah Produce, Mount Crawford, is a third-party CSA representing different family farms. They provide fruit or veggie boxes, dairy or meat bags, plus they deliver year-round directly to your doorstep! ShenandoahProduceFarms.com

DO YOU DIG IT?
Tomten Farm, Prince Edward County, has standard CSA shares and work-shares (members commit to helping the farmers, for a reduced fee). TomtenFarm.com
Shalom Farms, Powhatan County, is not a CSA. This 12-acre, nonprofit farm works to increase community access to fresh produce. Thousands of volunteers, ages 6 to retired, working for a few hours or more March-November, serve as the backbone of this farm. Here's your chance to have hands-on experience with sustainable food production by helping with field preparation, planting, weeding and harvesting.
Fresh produce is distributed to underserved areas and food deserts throughout Richmond – corner stores, convenience stores and gas stations. Their "Grown to Go" mobile markets pop up in public housing communities, health clinics and community centers. They also offer nutrition education programs and cooking classes to help increase produce consumption. ShalomFarms.org
FARM-TO-TABLE: WHAT DO I DO WITH THIS?
Because it's direct from the farm and not traveling across the country for days on end, locally grown produce is fresh and full of nutrients. Preparation is key to keeping them that way. Roasting or sautéing vegetables is a simple place to start.
Sautéed vegetables. Prepare a medley of sliced yellow squash and zucchini, or cut other vegetables into bite-size pieces. Heat 1 tablespoon of oil in a nonstick skillet over medium heat. Place cut vegetables in the skillet, adding pepper, garlic and other herbs to taste. Stir until desired tenderness. I love sautéing green beans with diced green peppers, sliced sweet onions, garlic and fresh basil!
Roasted root vegetables. Preheat oven to 400 degrees F. Line a rimmed baking sheet with aluminum foil. Select 2-3 pounds of your favorite root vegetables, such as beets, carrots, onions, potatoes, sweet potatoes, rutabagas or turnips. Cut into similar size, about 1-inches pieces. Place in a large bowl, drizzle with ¼ cup olive oil and sprinkle with a pinch of salt, pepper and favorite herbs to taste. Stir vegetables to coat evenly. Spread in a single layer on the baking sheet and place in the oven. Cook for 30-40 minutes or until tender and starting to brown.
PASS THE MENU, PLEASE!
Richmond has plenty of restaurants that provide a farm-to-table experience, including The Daily and Southbound.
When chef Dallas Miller was preparing the menu for The Daily Kitchen and Bar in Carytown, he hadn't planned it as a farm-to-table restaurant. He wanted a menu where anyone could come by and eat regularly. Miller shared, "As customers began requesting vegan and gluten-free foods, I realized some of our products wouldn't work."
Now they use a wide variety of locally sourced foods: eggs, beef, poultry, salad greens, vegetables, fruits, bread and pastries (regular and gluten-free). During the winter, Miller says, about 50 to 60 percent of their products are local. "There are no rice paddies in Virginia, and avocados, black beans and chickpeas are not Virginia crops," he adds. The percentage goes much higher as warm-weather produce comes in. TheDailyKitchenAndBar.com
Chefs Lee Gregory and Joe Sparatta had separate restaurants in Richmond, but they brought their skills to Southside in their farm-to-table restaurant, Southbound. Sparatta shared, "We've always been firm believers that we should only be working with products that are in season and local. This means our menu will rotate around what's growing, or what local fish are being caught."
While talking with both chefs, their excitement about partnerships with local farmers to promote local foods and more sustainable meals was apparent. Sparatta said, "There's less of an environmental impact, too, when you're not flying food in from all over the country or world." SouthboundRVA.com
So fill your plate with fresh local farm products and satisfy your palate, your health and your conscience.
---
Mary-Jo Sawyer is a registered dietitian with VCU Health, where she provides outpatient nutrition counseling. As a Richmond-Times Dispatch columnist, she wrote the popular "Practical Nutrition" column combining timely nutrition information with recipes.