Fix Minor Repairs Before They Add Up
| January 22nd, 2018
---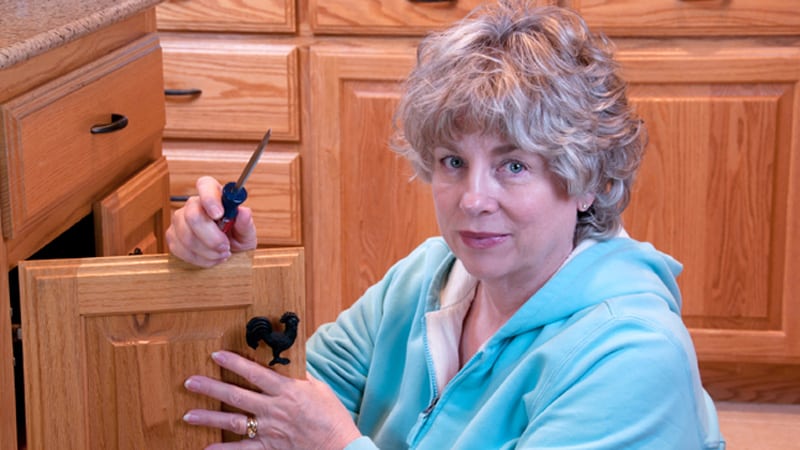 If you are like most people 55 and older, you prefer to "age in place;" to stay in the home you have been in for decades and remain a part of your familiar community, rather than go to a retirement community or an assisted living complex.
NBC News recently carried an Associated Press story about surveys which show that aging in place is the overwhelming preference of middle-aged and older Americans. The only problem with this choice is that as the years pass, minor things in the home will need repair. A faucet may develop a drip. An interior door handle may become loose or harder to turn. A cabinet drawer can start to stick, and can only be pulled open with a hard yank. There may be water stains on furniture surfaces which need to be refinished. Vinyl tile in bathroom or kitchens may begin cracking.
By itself, each one of these things is little more than a nuisance, too minor to bother calling an expensive handyman or contractor to fix. Eventually, you get so used to each one, you no longer notice it. You may even live with a spouse, but neither one of you knows how to repair the problems, so you both just live with it.
The downside of ignoring these minor nuisances is that over time, they collect. That collection of small needed repairs may make your home seem shabby. It can happen so gradually over the years that you don't even notice the encroaching shabbiness.
Some repairs are too extensive or too complicated for a DIY attempt, such as replacing a floor surface or installing a large patch of drywall. But you may be able to easily do other minor repairs, such as fixing a leaky faucet or stopping a toilet from running and wasting water.
The best place to start is online, where you can find instructions on repairing just about anything in your home. For example, if you want to stop a faucet from leaking, search the keywords, "how to fix a leaky faucet." You'll find links like this: https://www.wikihow.com/Fix-a-Leaky-Faucet. But don't look at just one link to instructions, look at several. Some instructions will be more clearly written and easily understood than others. Print out the instructions so that you can have them handy when repairing.
In some cases, using simple keywords like, "how to fix a door that sticks," you'll find a YouTube video that shows you how to do the job, which is great for those who are visual learners. If you're learning how to make repairs by watching a video, watch it several times and take notes; you should also bookmark the website for future reference. There are also books on home repairs for those who would prefer to consult a tangible book than look up information online.
There is one thing I can tell you from personal experience: once you work up the courage to tackle a repair job and finish it, you'll have a wonderful feeling of accomplishment and get a nice boost to your self-esteem.
---
Wina Sturgeon is an active 55+ based in Salt Lake City, who offers news on the science of anti-aging and staying youthful at: adventuresportsweekly.com. She skates, bikes and lifts weights to stay in shape.
(c)2017 Adventure Sports Weekly
Visit Adventure Sports Weekly at www.adventuresportsweekly.com
Distributed by Tribune Content Agency, LLC.