Floating My Stress Away
| December 22nd, 2016
An alternative relaxation method
---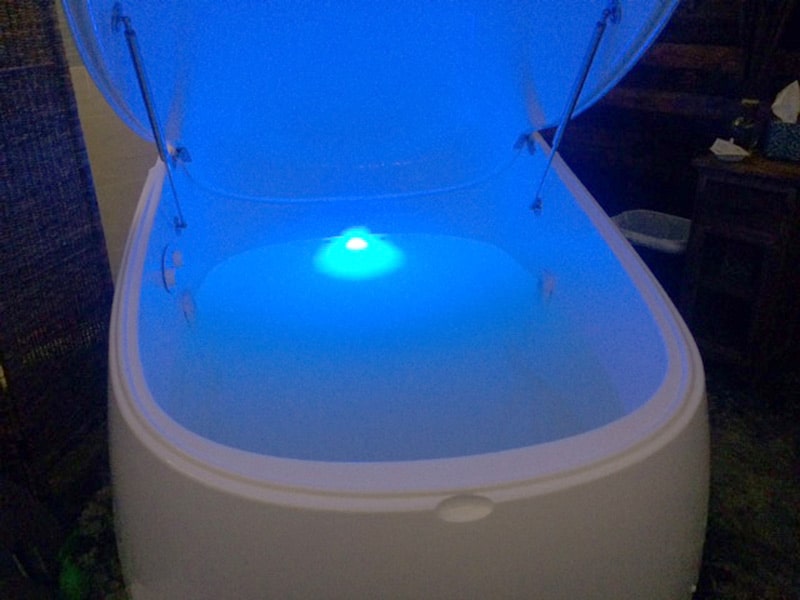 Have you wished you could let everything go and float in the Mediterranean Sea?
I know I have and I had the chance to do that several years ago. But not many get that opportunity. So is it possible to receive the same benefits and enjoyment from a nearby place?
I'm here to tell you it is. At the Vitality Float Spa, you can drift worriless in water filled with thousands of pounds of Epsom salt without leaving the city.
Although the experience is slightly different, I believe it's the closest you can get to floating in the Mediterranean. First off, the ambiance and environment at the spa is one worth talking about. Warm lights and colors fill the room.
Prior to dipping your toes in, you'll prep yourself for the experience by complimentary inserting wax earplugs and then applying to Vitamin A and D to any opens cuts to avoid burning while in the overly salty water. Make sure you also rinse off in the shower inside your room before taking a dip.
You have two options for floating either a pod or a room. I chose the cozy and smaller of the two, the pod, which turned out to be a lot wider and less intimidating than all the pictures I had seen portrayed it.
I must say I was a little nervous before slowly slouching into the warm water, but all of those nerves drifted away almost instantly. I thought, "Oh, I could do this all the time!" as my body and feet started to float above the water. A warm blue glow emitted from the pod as calming music played around me.
At first, I hesitated to close the chamber door so I eased into it. After about 10 minutes or so, it was just my thoughts, the music and I the warm salty water in the closed pod. It's a little daunting and intimidating for many to be alone with only their brain as a source of entertainment. Before floating, I have had some practice with that. Meditation, yoga and acupuncture helped prepare me for this. So, I did what I do in either of those activities – I started to repeat a mantra and then began to turn my brain off. At other points, I let my thoughts flow and take over without trying to monitor or stop them. And I just kept floating.
Occasionally, I'd drift in and out of a zen-like sleep. Sometimes I'd stretch a little bit here and there to fully feel the benefits of the healing salts.
It wasn't until I hopped out that I truly felt the benefits of floating. Not only was I in a post-float daze, but I also felt amazing. Normally I have a persistent and dull back pain, but after my session, my body felt pain free and completely relaxed. It's not often I can reach the state, normally only after a session of acupuncture.
My only complaint is that the water turned cold after awhile. Later I realized I should've closed the pod's door sooner to ensure the warmth would consistently wrap around my body like a blanket.
The sessions are available in 60 minute or 90 minute increments. For me, floating for an hour served as more than enough time. In fact, by the end of it, I didn't know what to with myself and so I ended my float 10 minutes early.
Regardless, the positive experience left an impression on me and you can expect to see my legs up in the salty water at Vitality again soon.
Float on.