Flyways & Byways: A Guide to Outer Banks Bird-Watching
| July 15th, 2019
Birding at the beach
---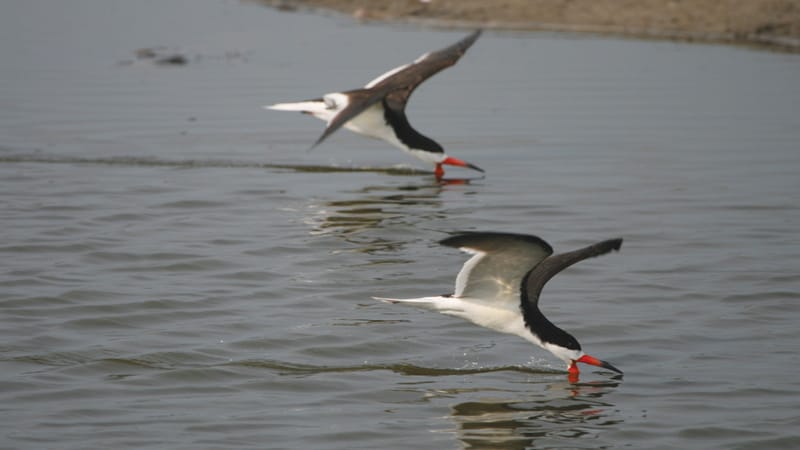 ---
North Carolina's Outer Banks is a popular vacation destination where visitors can enjoy everything from beachcombing to windsurfing. For birdwatchers, the chain of barrier islands between the Atlantic Ocean and the Roanoke Sound is a fascinating destination no matter which season you plan to visit. During springtime you'll likely find waterbirds and colorful songbirds searching for prized breeding sites, and your visit during winter will bring opportunities to see a huge number of waterfowl that flock to the Outer Banks to escape frozen northern waters.
When you visit during the spring and summer, these parks and preserves will bring great morning birding even during hot and humid weather.
Nags Head Woods Preserve – South of Kill Devil Hills on Highway 158 and west on West Oceans Acres Drive toward the Roanoke Sound, this Nature Conservancy preserve is the nesting site of over 50 species, amid dunes, marshes, maritime forest, ponds and wetlands. Watch for warblers, thrushes, flycatchers, woodpeckers and waterbirds.
---
Even more Flyways & Byways!
---
Jockey's Ridge State Park – Only four miles south of Nags Head Woods, Jockey's Ridge brings the excitement of viewing many species of waders and shorebirds along Roanoke Sound. Be sure to take the boardwalk near the visitor center through probably the largest and most impressive coastal dunes in the mid-Atlantic. But for shorebirds and waterbirds, head for Southside Nature Trail where you'll find maritime thickets, grass-covered dunes and rich Roanoke Sound marshes. Watch for ospreys, herons, egrets, pelicans and a variety of shorebirds feeding in the shallow waters. Jockey's Ridge is one of the best summertime birding spots.
Elizabethan Gardens – Located at the northern tip of Roanoke Island, just north of Manteo, the Elizabethan Gardens are a tribute to Sir Walter Raleigh and the historic Lost Colonists. The 10-acre grounds are dotted with American holly, pines and large oaks draped with Spanish moss. Among the thick vegetation, watch for warblers and other songbirds that nest in the gardens; listen for brown-headed nuthatches, often an elusive species on the barrier islands. The gardens are a stop on the North Carolina Birding Trail.
Looking ahead to a winter visit to the Outer Banks, you should plan to visit three areas:
Jennette's Pier – Located on Highway 12 before reaching Highway 64 toward Manteo, Jennette's Pier is the prime oceanfront sight to spy winter seabirds. The pier juts over the water, and with patience you're likely to find an exotic mix, including northern gannets, at least two species of scoters, dovekies, razorbills and long-tailed ducks, as well as common and red-throated loons. It is often very windy and chilly here.
Bodie Island, Cape Hatteras National Seashore and Pea Island National Wildlife Refuge – South of Nags Head, Bodie Island and Pea Island's North Pond, only 10 miles apart, are the best sites for thousands of winter waterfowl: flocks of tundra swans and snow geese and at least a dozen species of ducks. Behind Bodie Island lighthouse, you'll find a boardwalk and observation platform that overlooks a large shallow pond filled with waterfowl and waders. At the Pea Island refuge visitor center, a short trail leads through a maritime forest and skirts one side of North Pond to an observation tower. Waterfowl are often within close photographic range.
There are a number of seabird species that spend nearly their entire lives on or over the ocean. A pelagic trip by fast boat is the only way to find these seabirds near the gulf stream. If you have a yen to find offshore seabirds, you can take the Stormy Petrel II from Hatteras Inlet with ace-seabirder Brian Patteson (Patteson.com).
---
Jerry Uhlman has been writing about birding and travel for 20 years, including the Flyways & Byways column in the Richmond Times-Dispatch and his book, A Birder's Guide to Metropolitan Richmond. Flyways@verizon.net