Fredericksburg: A Tantalizing Twist on Texas
| December 7th, 2020
A German-influenced town mixed with fine wine and topped off with a hearty dose of "howdy y'all"
---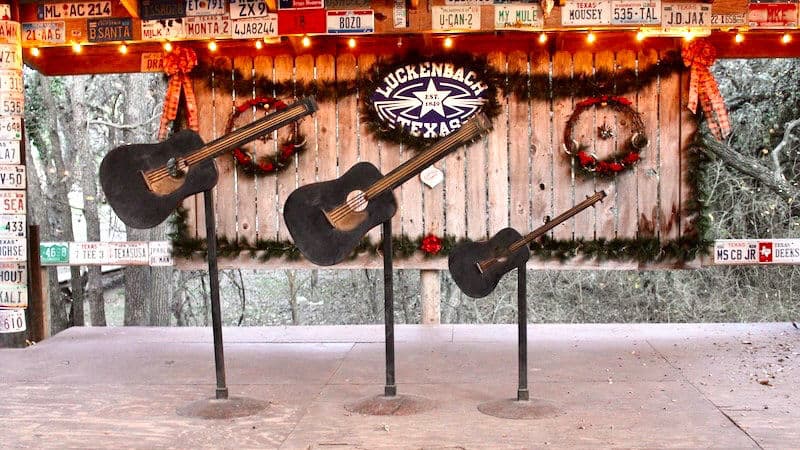 When you think of Texas, I bet you don't think of exquisite grape vineyards, authentic German culture, and boot-scootin' country music (okay, maybe the last one you do).
The town of Fredericksburg, located in the center of the state just 80 miles west of Austin, delights in defying all of the Texas stereotypes. As an area that boasts lush vineyards and German roots, Fredericksburg offers visitors a kind of Texas experience not found anywhere else in the state.
But fear not: the city still has enough Texas in its blood to ensure that no visitor leaves without a hearty dose of southern hospitality.
WILLKOMMEN, Y'ALL!
When it was founded in 1846, Fredericksburg enticed many German immigrants with its promise of 10 acres of farmland and one lot in the center of town.
The area, as a result, began to thrive with German influence, culture, and people. And, much to the benefit of visitors and residents alike, that Germanic culture still remains strong to this day.
Pioneer Museum Complex
To see exactly what those mid-19th-century days of this German colony looked like, take a hyperbolic time jump to the Pioneer Museum Complex.
This is not just a plaque-after-plaque, exhibit-after-exhibit kind of establishment; this historic site offers a view of the world of the freshly immigrated German pioneers – their daily lives, habits, and stories.
The complex sits on three and a half acres; it features thousands of authentic artifacts, plus 10 buildings – four of which are, in fact, in their original spot from the mid-19th century! Buildings include the barber shop, schoolhouse, blacksmith, and even the Sunday house.
The Pioneer Museum Complex works to preserve the stories and history of those heroic German settlers – no DeLorean required.
Opa's Smoked Meats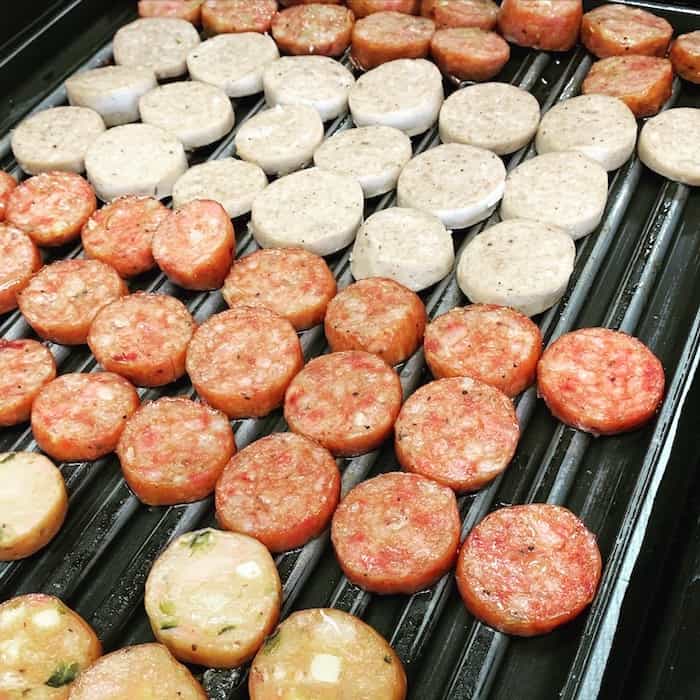 Aside from a new cultural experience, the best thing that the Germans brought with them to Texas is, obviously, an appreciation for hearty meats. After you've experienced their history firsthand, experience their culinary contributions firsthand … and Opa's Smoked Meats has just the thing.
Proudly slinging the finest, most authentic German meats in Fredericksburg since 1947, Opa's promises to make even the most vegetarian of mouths water. Find a huge selection of smoked sausages, jerky, bacon, and much more.
But it's not just the variety that keeps customers coming; Opa's honors Old World heritage with their authentic German recipes and meticulously chosen ingredients.
It may come as no surprise that such a juicy secret is out – they, in fact, sell 2.5 million pounds of meat a year!
Otto's German Bistro
To really (literally) sink your teeth into the local German culture, grab a seat at Otto's German Bistro.
This local eatery features authentic German bites, with swirls of other European influences like French and Austrian. Enjoy fresh selections of bratwurst, German Kassler, duck schnitzel, to name a few; but don't get too attached to anything you may see on the dining list ahead of time: the menu changes regularly!
Not only does Otto's offer authentic tastes hard to find anywhere else (outside of Germany, anyway), chefs also prioritize both fresh and local. In fact, most of the kitchen's ingredients are from organic, local, or sustainable farms and fisheries!
---
For more travel spots for your bucket list, check out our exclusive travel section here!
---
NAPA VALLEY, BORDEAUX … TEXAS?
Calling all wine snobs: please turn your attention over here to – Texas!
The state, boasting fertile soil and idyllic terroir, has been making a name for itself in the wine industry for decades. And in response to this lush, grape-growing climate, vineyards are popping up all around the area to keep its residents and patrons indulged, satiated, and … maybe a little tipsy.
Augusta Vin Winery
Located on 60 sprawling acres just southwest of Fredericksburg, it's hard to believe that Augusta Vin is only six miles from the city's Main Street.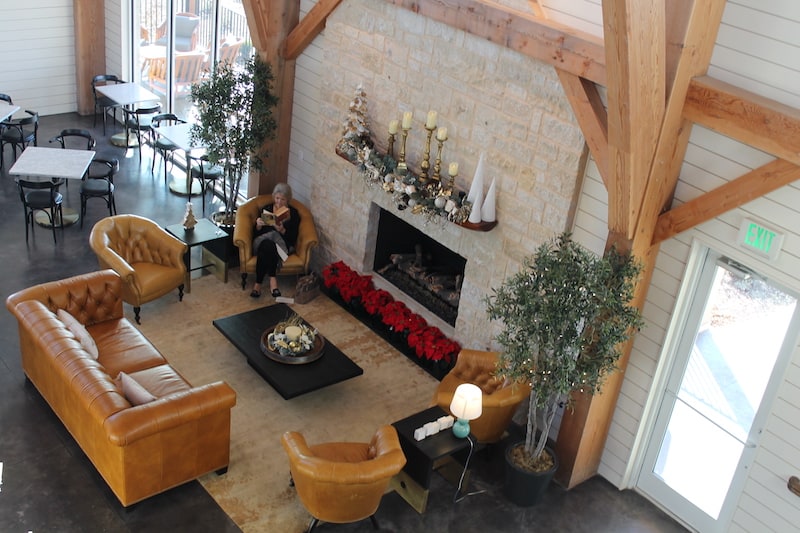 But that's no accident. The owners at Augusta Vin want guests to feel like they're relaxing in a secluded sanctum upon entering the estate winery's broad entrance. It's easy to get lost in the vast rows of vines, located conveniently next to the Pedernales River and even more conveniently under the vast Texas sky.
The view, as it turns out, pairs perfectly with Augusta Vin's selection of wines. Crafted by their own award-winning winemaker are a variety of unique but equally satisfying sips. And although most of them are French varietals, every wine is 100 percent grown and produced right here in Texas.
Heath Sparkling Wines
For anyone who likes a little pizzazz added to their glass – sip and you shall find. Heath Sparkling Wines is the first winery in Texas dedicated specifically to the art of bubbles.
They have four different types of bubbly, each one crisply different from its counterparts. For an even more unique experience, saddle up for one of Heath's iconic multisensory fusion tastings; these feature four different sips paired strategically with bites designed to bring out the flavors of the wines.
But what really makes those bubbles sing? That view, of course: acres and acres of rolling vineyards, only amplified by that iconic Texas sun.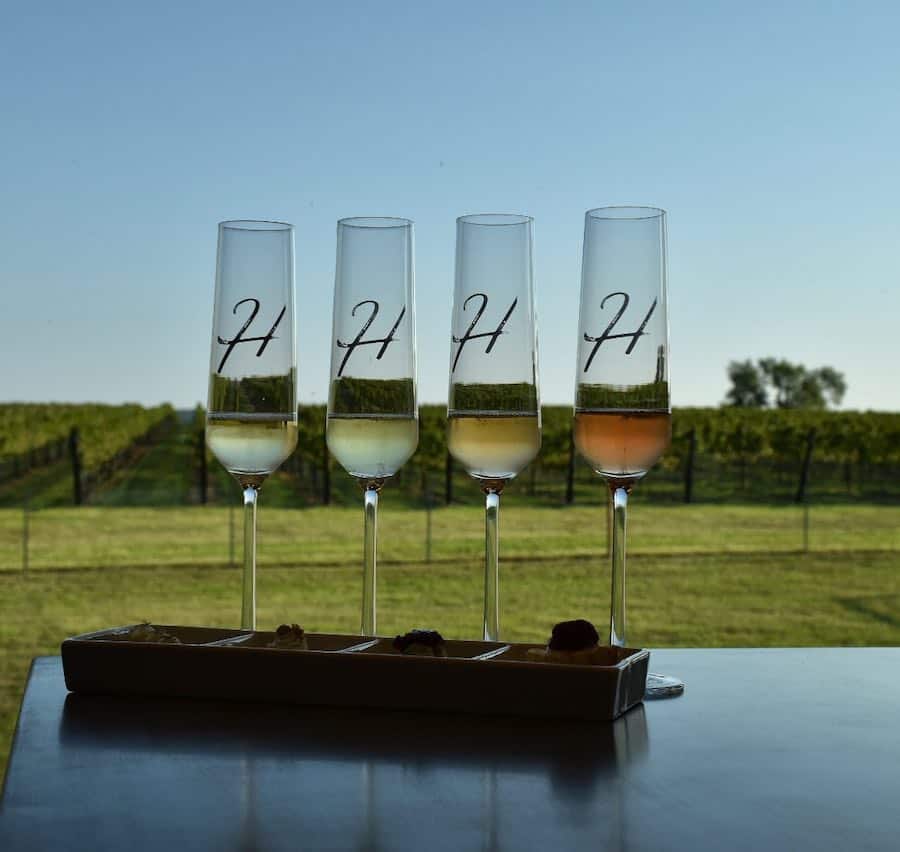 Stout's Trattoria at Grape Creek Vineyards
Everyone knows you shouldn't drink too much wine on an empty stomach; so at some point during your tasting trail, be sure to mosey on over to Stout's Trattoria.
And, oh – how convenient! It's located in a vineyard!
This tasteful trattoria (an Italian-style eatery) is set on 100 acres of romantic Tuscan views; and its menu features upscale and carefully crafted Americana bites like sandwiches, pizzas, burgers, and pastas.
And each dish, of course, pairs perfectly with Grape Creek Vineyards' own tasty varietals.
BUT AT THE END OF THE DAY … IT'S STILL TEXAS
German history and fine wines aside, Fredericksburg is still a good ol' Texas town. And it has plenty of opportunities to help you get a few authentic Texas experiences under your belt (buckle).
Luckenbach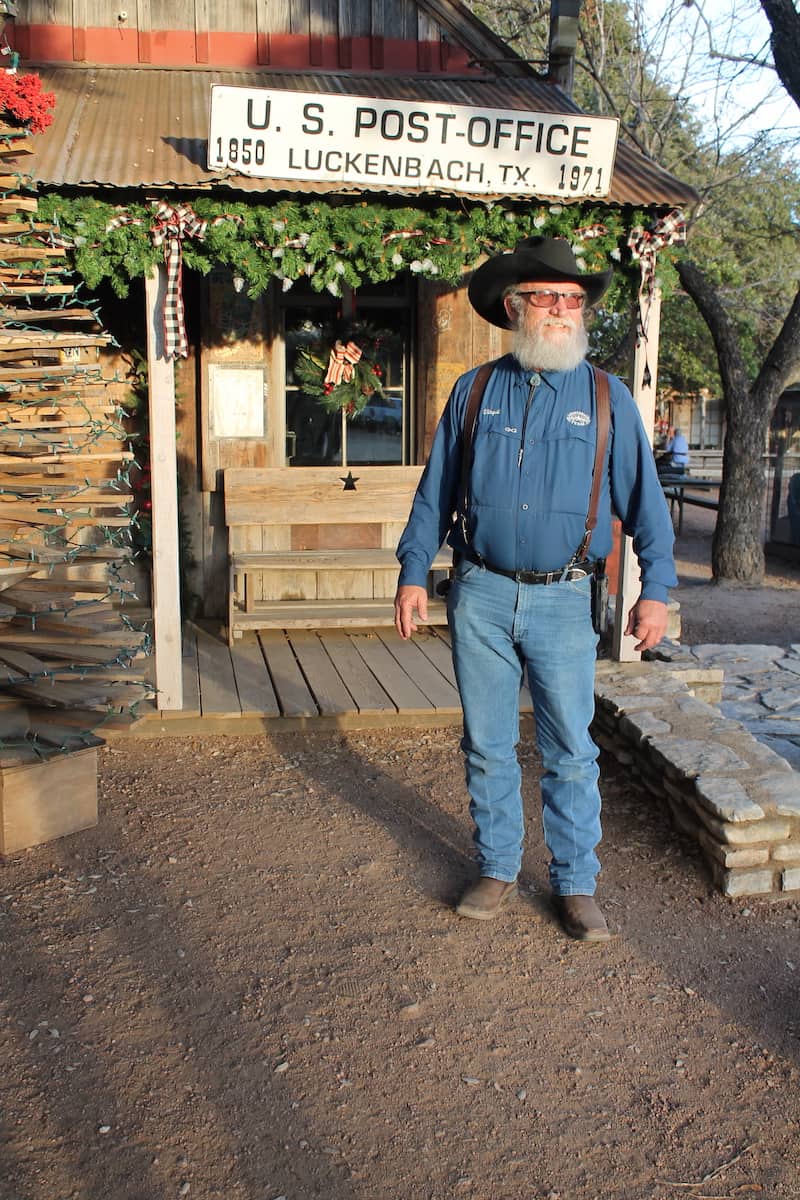 Located just 10 miles outside of Fredericksburg, Luckenbach promises the most Texas of experiences.
Luckenbach was established in 1849 as a trading post and settlement; in 1886, it gained a post office, general store, and beer joint. Since then, it's served as a welcoming small town where "everybody's somebody."
More than a century later, the area remains as a small, welcoming town that's hosted legendary musicians for decades in its acclaimed concert venue. Post up at their bar for a round of cold beers; browse the general store for an array of unique gifts; or pop into their music hall or outdoor stage (almost any day of the week!) for the kind of fun that'll make your boots want to scoot. Even if you're not wearing any.
Settle into a place where – just like the acclaimed Waylon Jennings and Willie Nelson song promises – "there ain't nobody feelin' no pain."
Main Street
Fill your schedule with the eclectic mix that Fredericksburg has to offer; but don't forget to take some time to meander through the town's Main Street!
Sift through its hefty selection of 150 local stores, including antiques, clothing, unique collectibles, and more. Duck into one of its featured cafés or restaurants for a home-fried plate of southern comfort. And simply enjoy the old-fashioned feel of a cozy small-town street.
Just be sure to return all of the smiles and "howdy's" you'll inevitably receive from the locals. They're Texans, after all.