Give Your Bathroom a Little TLC, Get a Little TLC in Return
| June 18th, 2020
Turning a necessity into a destination
---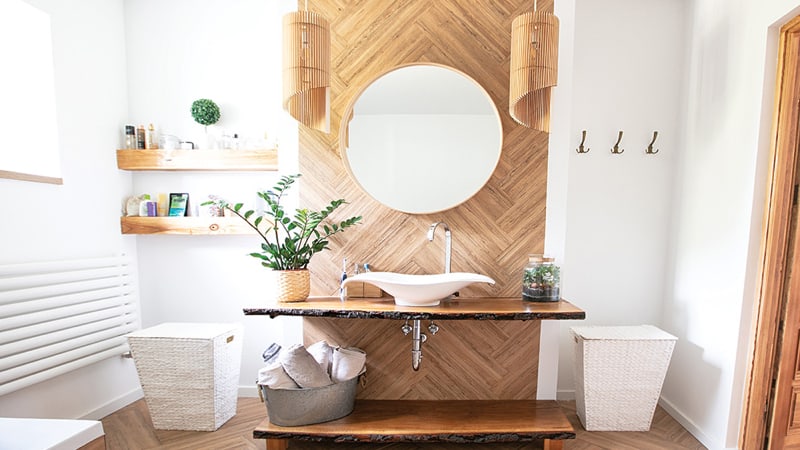 It's a vital part of any residence. Outside of the kitchen (during waking hours), it's the most-used room in the home. And it deserves more than a few towels and a bottle of Febreze.
That's right – I'm talking about your bathroom.
Besides the necessities, the bathroom can be a quiet place for privacy, solace and a space to reset – so why not enhance the experience? And not to mention, when you sell your home, bathroom improvements can add to curb appeal.
There are a variety of ways, short of a complete remodel, for boosting your bathroom setting. Take that obligatory space from a room of function … to a room of serenity.
NATURE CALLS
Cover your great indoors with the great outdoors for ultimate tranquility: studies show that incorporating nature-inspired décor makes a space more peaceful.
"Bringing [natural] things into a space helps you to feel connected to nature," says Clare Yeadon, certified Associate Kitchen and Bath Designer and founder of Designs by Clare. "It's really a part of our evolution … We are calmed by things in nature."
Yeadon emphasizes the beneficial effects of biophilic design – a concept used to create connectivity to the environment with indoor design through both direct and indirect nature.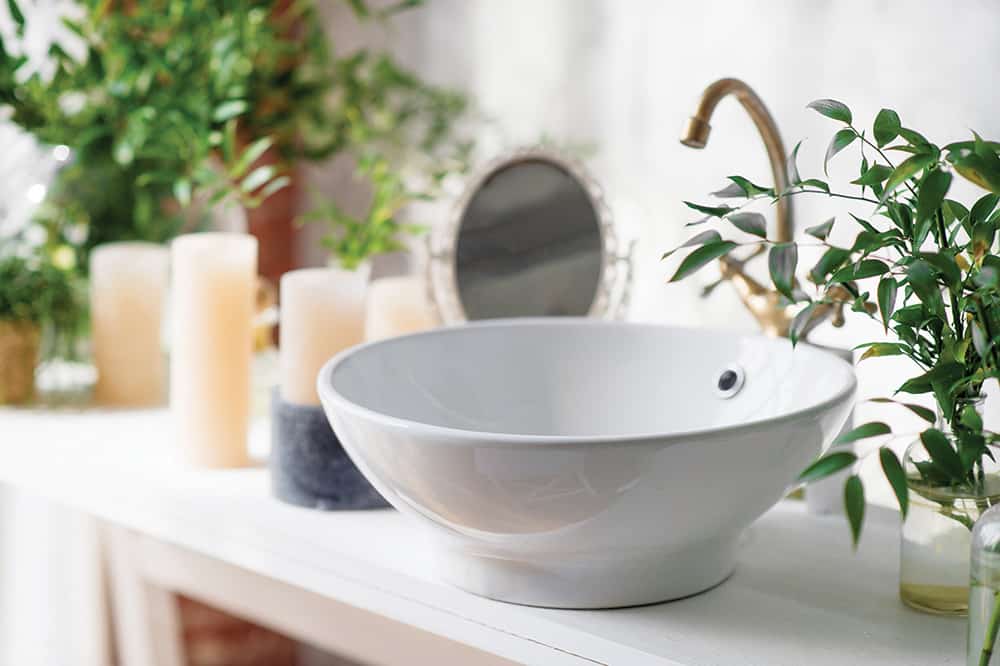 You don't exactly have to plant a tree in the middle of your bathtub to achieve this result (although I'm certainly not advocating against it). Even things that resemble natural elements give our brains that calming sensation. Synthetic wood, for example, can be incorporated into bathroom surfaces, flooring and walls for a boost of rugged aura.
Plants also provide simple environmental tranquility to a space. And yes, there are many that can survive in bathroom settings, thriving on moist conditions and just a little bit of sunlight: philodendrons, ferns and dracaenas, to name a few. But if your green thumb doesn't feel up to the challenge, artificial plants work, too; and they promise never to die on you, no matter how often you forget to water them.
BRING LIFE TO YOUR WALLS
Give special thought to the decorations sprinkled throughout your bathroom: the right embellishments can make a huge difference in the tranquility and comfort of a space.
In fact, the biophilic design principle applies to décor, too. Nature-related pieces – paintings, photography, even vibrant murals – add that sense of calm serenity our souls seek.
As for colors? Like any room, the hues of a bathroom play a huge role in its ambience. Color your towels, bathmats, shower curtains and paints in any variety of blues, greens, purples, and grays – tints that can automatically enhance relaxation. Just try to avoid large swatches of reds, oranges and yellows – colors that create an energized, fast-paced aura.
CLEAR YOUR SPACE, CLEAR YOUR SPIRIT
Whether or not we realize it consciously, a cluttered space can automatically create a feeling of underlying stress. In a bathroom, however, clutter can be difficult to avoid: bottles of essential toiletries lining the shelves, hair dryers and curling irons at the ready, spare rolls of toilet paper – it's easy to let things pile up, particularly in such a small space.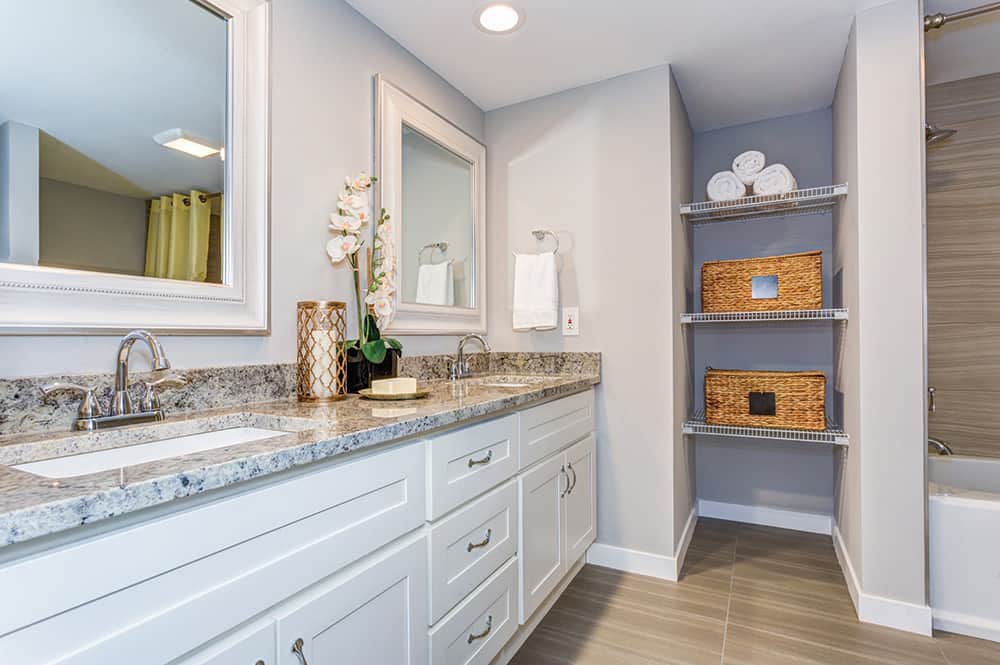 "If it's really cluttered, you're going to feel unpeaceful," says Yeadon. "But not if there's a place for everything; that's where cabinet design comes in."
Adding or enhancing cabinets gives a spot for the necessary bits and pieces, organizing them and taking them out of sight. Clutter comes off of the countertops, for an overall cleaner and neater appearance.
To ensure that these products don't become too "out of sight, out of mind," Yeadon advocates for organizational tricks like cabinet roll trays. These built-in trays pull out (almost like drawers within cabinets), allowing for easy access to objects and helping prevent the buildup of long-forgotten (and long-expired) toiletries.
But neater space doesn't mean just getting rid of clutter. Replacing surfaces with smoother materials – such as granite or marble – can make a big difference to both the conscious and the subconscious eye. "Cultured marble is a man-made product, and it has a gel-coated finish, which means it's nonporous," explains Darla Skinner, owner of Venetian Marble. "As a result, it doesn't absorb moisture and it doesn't absorb stains." And, as she points out, cultured marble "doesn't have a lot of grout like you would with tile," another factor that makes it easier to keep clean.
LOO LA LA!
That special spa treatment doesn't have to be reserved for those rare occasions. Upgrade select parts of your bathroom so you can have spa day – every day.
A minor lighting adjustment, for instance, can make a big difference. Slip your overhead lights into, well, something a little more comfortable, with a dimmer switch. That boost of twilight mood lighting can enhance even the simplest activities. Plus, more subdued brightness helps set the tone while you're getting ready for bed and makes mornings less harsh (especially for you non-morning people).
Use an oil diffuser for regular bouts of freshened air and soothing scents. Upgrade your shower head to one that feels like a warm massage. And a treat for your chilly feet? "Heated floors," says Skinner. "If you're wanting to have a luxurious, really comfy bathroom … there is nothing better."
After all, why should you wait for special occasions to pamper yourself? Your bathroom has been there all along.