Ireland's Starkly Beautiful Aran Islands
| October 11th, 2022
A sleepy town, farming hamlets, weather-beaten charm, and weathered history
---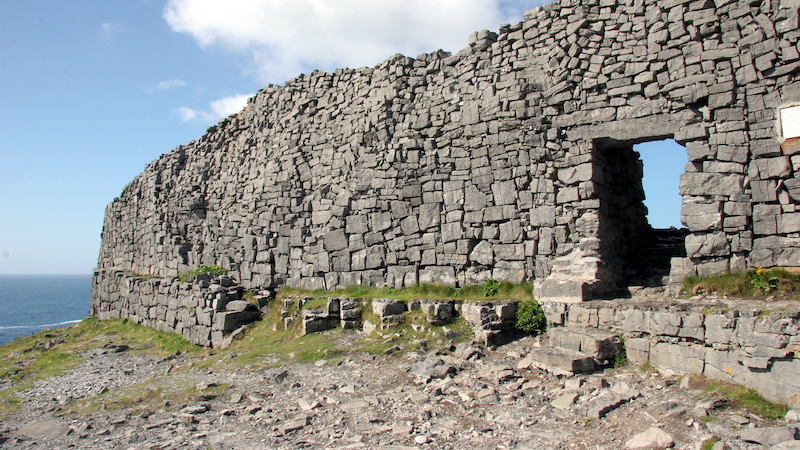 "There's a stark beauty about these blustery islands and the simple lives its inhabitants eke out of a few inches of topsoil and a mean sea," says travel writer Rick Steves of the Aran Islands. Steves takes readers to the islands, the landscape, the people, and the mysterious history, including the famous Iron Age fortress, Dun Aengus, and other gloomy ruins.
---
I spent the day walking on Inishmore. It's one of the weather- and wave-beaten Aran Islands which, on a blustery day, seem to be gulping seawater off the west coast of Ireland. Locals, keenly aware that they're on the west fringe of Europe, are fond of saying, "The next parish over's Boston." An elfish, black-clad farmer, determined to make the most of a break in the clouds, invites me to help him turn his hay. Drying in the breeze, it's destined to become a hearty salad for his cows.
We talk. It's what you do in Ireland. I ask him if he was born here. Thoughtfully and slowly, as if reviewing his many years, he answers, "No, 'twas 'bout five miles down the road." Later I asked him if he had lived here all his life. A smile ignites his weathered face as he says, "Not yet."
The Aran Islands are a 10-minute flight or two-hour ferry ride from Galway, the main town on Ireland's west coast. Three limestone islands make up the Aran Islands: Inishmore, Inishmaan, and Inisheer. The "largest" is Inishmore – nine miles of land with one sleepy town, a few farming hamlets, and a weather-beaten charm.
The other islands, Inishmaan and Inisheer, are smaller, much less populated, and less touristy. For most, the big island is quiet enough. Inishmore – and the Aran Islands as a whole – has only one real town, Kilronan. It's actually more like a village, with groups of backpackers washing ashore with the landing of each ferry.
The community allows no more than 100 vehicles on Inishmore. Many of them seem to be minibuses. A line of buses awaits the ferry's arrival, offering convenient island tours with stops at all the major sights for about $20. Bike shops and a few men in pony carts sop up the remaining tourists, who often return from tours to browse through the few shops and enjoy a pint of Guinness on a picnic table outside a pub.
The landscape of all three of the Aran Islands is harsh: steep, rugged cliffs and windswept, rocky fields divided by stone walls. But there's a stark beauty about these blustery islands and the simple lives its inhabitants eke out of a few inches of topsoil and a mean sea.
Like the rest of Ireland, Inishmore has a mysterious history. The island's famous Iron Age fortress, Dun Aengus, is the most impressive of its kind in all of Europe. Little is known about this 2,000-year-old Celtic fort. The stone fortress hangs spectacularly and precariously on the edge of a cliff 300 feet above the Atlantic. (There's no fence, only a sheer drop-off.) For 20 centuries angry waves have battered away at its black foundation. While the next parish over may indeed be Boston, the crashing waves seem to declare, "This is the end of the world."
Close to the western tip of the island is the "Seven Churches," a historic but visually unimpressive gathering of ruined chapels, monastic houses, and fragments of a high cross dating from the 8th to 11th century. Here, as throughout Inishmore, the land is dotted with reminders of the island's early Christianity. Some honor St. Enda, who established a monastery here and taught great monks who followed in his footsteps. These "Irish apostles" started Ireland's "Age of Saints and Scholars" (ad 500 to 900) – an Irish golden age of learning, literature, and flourishing religious arts. It was during this time that stonemasons created the distinctive and stylistic crosses so iconic of early Ireland, and leaders such as Charlemagne on the nearly illiterate continent of Europe imported Irish monks to be their scribes.
The stones of Inishmore tell this community's story. This tiny island, which looks like alligator skin from the air, is a maze of stone fences. Poor people cleared the stony land to make it arable. Turning my farmer friend's hay, I ponder how, with an unrivaled colonial mix of greed and cleverness, the British required Irish families to divide their land among all their sons. This doomed even the largest estates to fragmentation, shrinking lots to sizes just large enough to starve a family. Ultimately, of course, the land had to be sold, ending up in the possession of British absentee landlords. The tiny rock-fenced lots that carve up the treeless landscape still remind the farmers of the structural poverty that shaped their history.
The islands are still a Gaeltacht, or Gaelic-language, area. While the locals speak Irish among themselves, they happily speak English for their visitors. Many of them have direct, personal connections with America. You feel that, standing with new friends on the edge of their island, as they stare west and whisper, "Aye, the shores of Americay."
---
PHOTO CAPTION, AT TOP: At the prehistoric fortress of Dun Aengus, the dramatic west cliffs of Ireland meet the turbulent sea as Europe comes to an abrupt end. CREDIT: Pat O'Connor, Rick Steves' Europe.
Rick Steves (www.ricksteves.com) writes European guidebooks, hosts travel shows on public TV and radio, and organizes European tours. This article was adapted from his new book, For the Love of Europe. Other books include numerous destination-specific travel guides and Travel As a Political Act. You can email Rick at rick@ricksteves.com and follow his blog on Facebook.
Explore more of Rick Steves' Europe in Boomer
© 2020 RICK STEVES
As an Amazon Associate, Boomer Magazine earns from qualifying purchases of linked books and other products.