Jewel-Box Homes
| February 7th, 2016
Boomers increasingly want smaller but more upscale designs when looking for new homes. So far, Richmond's supply hasn't kept pace.
---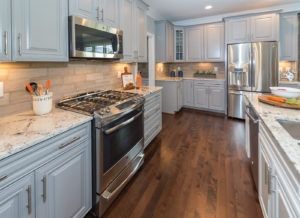 Area boomers looking for new homes may not say they want a "jewel-box" house, per se, yet these maintenance-free homes – small in size but big on style – top their must-have list nonetheless.
Retirees and empty nesters downsizing from larger homes are increasingly deciding to build "Jewel-Box" homes – smaller, sophisticated homes that feature exquisite detailing, custom built-ins and top-quality materials often found in larger homes.
SINGLE-FLOOR LIVING WITH OPEN SPACES
"Typically this age group has more disposable income, so down-sizing means living closer to grandkids and family, entertainment and other conveniences. But they still want the top amenities and the luxurious finishes in their home … they are not downsizing in that way," says Kristen Heckman, marketing manager for Eagle Construction of Virginia.
Some boomers are moving away from the "McMansion" trend, as it no longer supports their less-is-more lifestyle, real estate experts say. Single-floor living with open floor design and outdoor entertaining spaces are in. Having formal rooms and tons of space is out.
"I think the ability to live on one floor is important, even if they have additional space upstairs," says Laura Lafayette, CEO of the Richmond Association of Realtors. Boomers want upstairs bedrooms to accommodate their grandchildren and children when they visit.
An open floor plan is another key.
"These are people who like to entertain and they want to continue to be able to do so," she says. Depending on what they want to put in the house, they tend to upgrade the lighting and kitchen, too. The more active want their houses to be wired like everybody else. And location continues to be a major selling point, Lafayette notes.
Downsizers want grand small spaces with upscale detailing in their appliances, kitchen cabinets, master bathroom and flooring, along with energy efficiency and smart-home technology.
Mature homebuyers will sacrifice space, "but they still want nice countertops, nice cabinetry and nice floors for entertaining," says Craig Toalson, CEO of the Home Building Association of Richmond. "They are not going to sacrifice their master bathroom. It may be smaller, but they still want nice tiles and a big shower."
Downsizers seek these homes in locations with a vibrant community atmosphere. They want walkable communities that include such amenities as a clubhouse, garden and some type of social interaction, he said.
SUPPLY LAGS BEHIND DEMAND
Coveted by a segment of more affluent and active baby boomers, these compact homes are usually close to 2,000 square feet. Prices typically range from $350,000 to $500,000, though depending on location, size and amenities, they can hit $1 million.
These in-demand homes are also in short supply in the metro Richmond area, real estate experts say.
"They can't build them fast enough," says Dawn Bradley, managing broker and vice president at Long and Foster Realtors. "If there were several builders who would get together with a group of boomers in the 55-and-older [range] and talk to them about the considerations of a maintenance-free lifestyle they are looking for, I think there would be a lot more of these neighborhoods going up.
"I am not talking about the 'over-55' neighborhoods – because of the covenants and restrictions [on residents' age] that entails. I think [some boomers] just want that maintenance-free lifestyle without the label," says Bradley, who will serve as the 2016 president of the Richmond Association of Realtors board of directors.
One challenge for prospective buyers is location. "A lot of these homes are farther out than where the current boomer lives," says Toalson. "They typically want to come in [toward the city of Richmond] to be closer to things. They've already gone through the cycle of 'I will move out to live in the suburbs and build myself a house,' " he said.
Communities that are more infill or already established, such as the Villas at Archer Springs or Grayson Hill, are doing well, he says. Many of the homes, which are commonly referred to as "no- maintenance" instead of "jewel-box," are located in communities for 55-plus, Toalson says. Although some boomers are moving to smaller homes in Richmond, most will remain in the counties. "Some boomers do not want to live in downtown Richmond because they still want that outdoor space. They still want to have some sort of backyard, even if they don't have to maintain it." Lafayette agrees.
"There is a demand for single-family, detached homes with no maintenance because some seniors don't want to give up their space," she says.
LIVABILITY, NOT SIZE, MATTERS MOST
Boomers increasingly want a home that supports an active lifestyle that is not totally car-dependent, experts say. The focus is on livability and good design – not size.
"They want the space laid out differently," says Bradley. "I think they are at a place, affordability wise, where they can customize what they want. They want space for family and friends for socializing. I don't necessarily think they want a ranch style either because they want to put kids and other company upstairs. They want custom closets and they even want storage customized, as they are very organized. They like their things in place and in order. We're seeing that, too. They want built-in shelving for specific items they want to display," she says.
"This age group has gotten to a point where they want the finer things in life. They want that walkability. They are very social. They want to be able to scoot over and have breakfast and meet friends. They want to be able to go to the market, pick up fresh food, go to the museum in the afternoon, and do it all on foot," says Bradley.
Mature homebuyers want their homes to allow them to age in place, so universal design – which includes wider doorways to accommodate wheelchairs – is essential. Some homeowners are even "putting reinforcements behind the walls so that one day when they need to put in railings, they can," says Toalson.
Accessibility is important from the start with many homes having JUST one step, if that. "A lot are built on slabs instead of foundations so you walk right in," he says. "They don't want four or five steps to get into the door.
"Another thing I am seeing is that while they are downsizing, they still want storage and at least a one-car garage. They don't want to get rid of everything. They still want to store some things that are important to them, even though they are moving to a smaller house."