Kitchen Remodeling Tips for Aging in Place
February 26th, 2021
Consider safety and style to help you remain in the home you love
---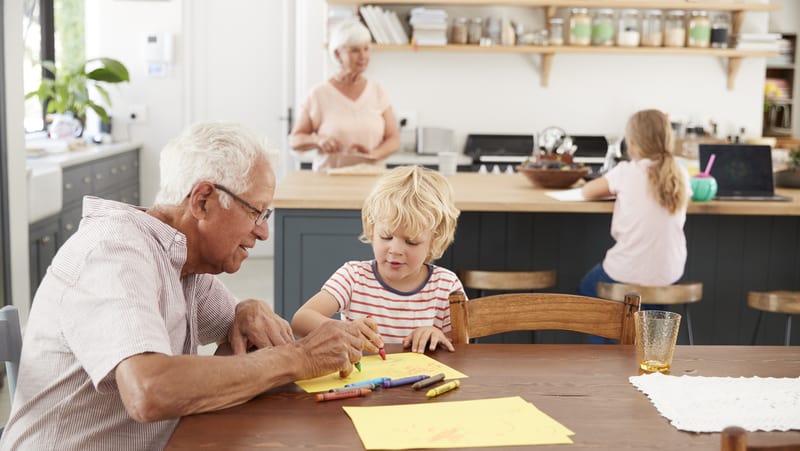 More seniors, those aged 55 and upward, want to age in place, meaning they would like to remain in their homes as they grow older. Rather than moving to a retirement community, nursing home, or assisted living facility, aging in place is for those who are attached to their home.
Aging in place is a personal target for many in the older generations. According to key research, the ideal of aging in place is a policy goal for many governments, too.
This subject as a whole – aging in place – influences both our emotional lives and the communities we inhabit.
For the older generations who are eager to stay in one place as they enter retirement and beyond, being at home can mean a greater sense of independence and ownership of their lives. Many want to remain in their houses as they age because of an emotional connection to home; and others have a sense of pride and ownership.
Staying in place is about preference and freedom, about memories and safety.
Contemporary tips for aging in place
But it's not just about holding onto memories. Aging in place is about balancing out the past and the future, too. As technology fuses into our everyday lives, remodeling our homes and lifestyles to stay where we cherish most – home – becomes more of a possibility.
Kitchens are one of the most dangerous areas of a home. Even though remodels are often associated with other rooms in a house, such as lounges and dining areas, kitchens should be a top priority for achieving aging-at-home goals.
1. Make room for maneuverability
For an even greater feeling of accessibility throughout your home, an aging-in-place residence should ensure plenty of space in all doorways and thoroughfares. This includes clearance space, which refers to the gap between cabinets, walls, doorsills, and appliances. For a kitchen, this helps open up walkway space for extra comfort and mobility.
A kitchen shouldn't be a hazardous space. But without proper planning, it can quickly become one. You can design the use of space in your kitchen to be mindful, especially if accessibility is currently limited in your house.
2. Consider flooring
For the elderly, a high priority will be eliminating slippery surfaces. If untreated, these can cause accidents. This worsens if spills, drips, or incidental leaks invade an already slippery surface. Fortunately, nowadays there are an abundance of non-slip solutions, and these won't hurt the design or layout of your kitchen either. In other words, style doesn't come at the expense of safety.
Traditional woods or tiling options can be easily treated with non-glare slip prevention textures that reduce the likelihood of accidents. Other solutions like low-pile carpets or non-slip tiles are sustainable alternatives. Choices like vinyl or linoleum flooring are popular. For those relying on wheelchair access, hardwood floors are much more accommodating for mobility purposes.
3. Consider lighting fixtures
Lighting solutions are important for attractive and safe kitchen designs. A good-visibility fixture, or one with strong iridescence, will lower the risk of accidents. A kitchen's layout should plan around natural lighting and artificial sources to maximize your illumination.
Try introducing luminance to key points in the kitchen, including:
under the cabinets,
central lighting fixtures,
and other areas that seem to attract shadows.
Light sources, such as light switches, should be planned for ease of use. For the greatest access, consider automatic lighting solutions with a sensor or voice control.
Make sure your kitchen has access to natural lighting, too. This could be through a central feature window that brings in daytime light and floods the kitchen with natural sunlight or through an added skylight.
4. Countertops
For aging-in-place residences, functionality should be prioritized over design. But the two goals can complement one another. Your choice of countertops can influence manoeuvrability and convenience, too.
Design can be a safety-led solution that helps prevent future accidents.
Kitchens can be designed with rounded edges to help limit the likelihood of injury or harm. Another key bonus of a convenient countertop is how practical it can be, such as ease of maintenance or how bespoke solutions can help keep surfaces clean.
5. Heating & Cooling
Make temperatures adjustable in the kitchen area for greatest comfort. Make sure you can get to your thermostat, therefore giving you complete control of regulating the room's temperature.
Another useful tip for regulating kitchen temperatures is to use your window to release trapped steam and heat. This affects how well ventilated your kitchen is.
Remodeling a kitchen around your lifestyle is a personal project. With the rise of bespoke home furnishings, kitchen remodels are quickly becoming popular options for those choosing to age in place.
---
This article was written in collaboration with KNB Ltd., Nottingham's premier kitchen specialists. As inclusive design specialists, KNB knows how to design kitchens that will be useable for a lifetime.
---
Find more inspiration in the story of a woman who turned a life-changing accident into an opportunity to create the "Universal Design Living Laboratory." Kitchen remodeling tips for aging in place and other modifications allowed her to remain in her home despite her disabilities.