"Leaving 1203: Emptying a Home, Filling a Heart"
| November 1st, 2018
By Marietta McCarty
---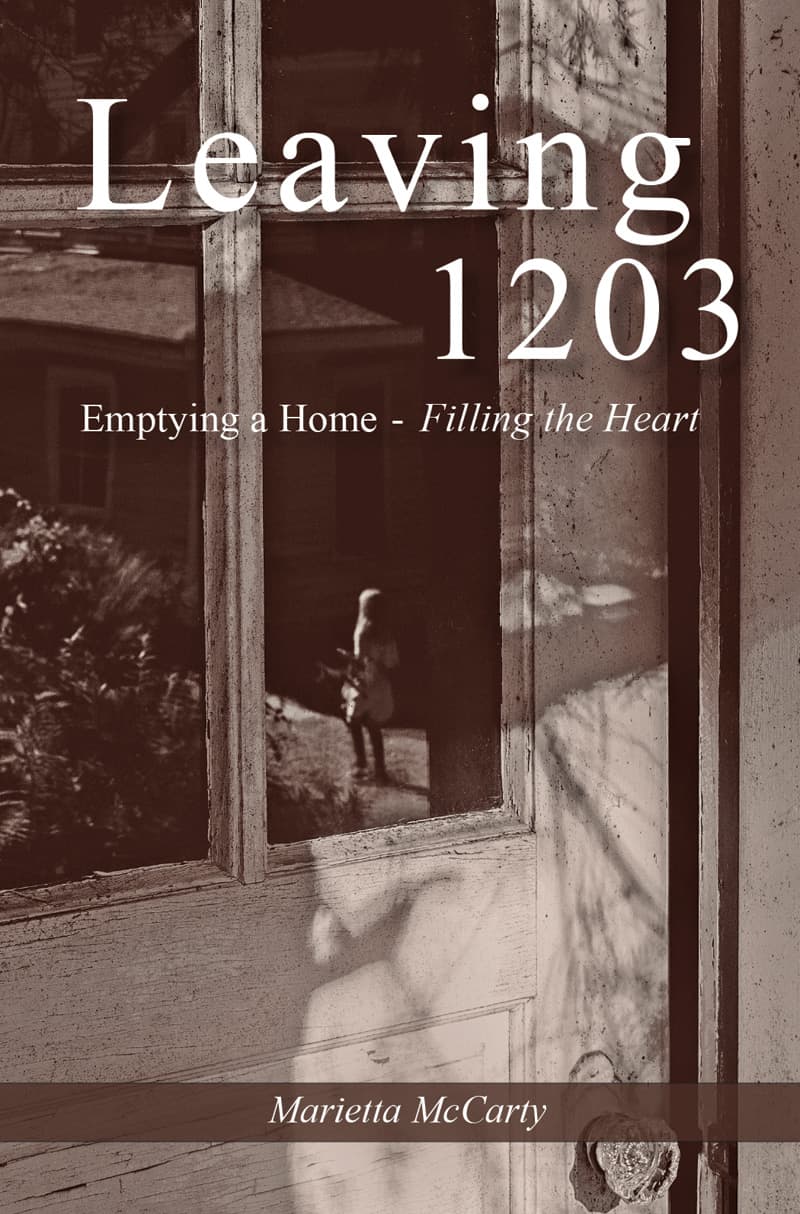 My reactions to the new book by Marietta McCarty, Leaving 1203: Emptying a Home, Filling the Heart
, were both personal and professional. The personal reaction was to rethink my process in cleaning out my parents' home and its three generations of stuff. The writer's reaction was to rethink Thomas Wolfe's words: "You can't go back home … to the escapes of Time and Memory."
We can go home again – if we treat "time and memory" not as "escapes" but as blends of objects and emotions – to find, as McCarty puts it, "what matters most," after a death as well as in life.
Having read an early book by Marietta McCarty, How Philosophy Can Save Your Life: 10 Ideas That Matter Most, I expected Leaving 1203 to be upbeat, to overcome the overwhelming sense of loss and the exhaustion of sorting through five decades of accumulation. I wasn't disappointed. In her philosophical yet pragmatic introduction, she says, "Like the women in my family before me … I put one foot in front of another, trusting in what my heart silently knew."
Her "intense awareness" of each item – from a grill to a baseball bat ("durable goods symbolizing enduring relationship") will resonate with anyone who has cleaned out a loved one's residence and will prepare those who anticipate doing so in the future. Specific memories of extended family members and friends going back to preschool days comprise her "recovery in the midst of loss."
McCarty discovered ways of embracing emotional and physical turmoil through "timeless truths" and "new stirrings of old wisdom." What she refers to as "good living" is much more about these intangible values than about possessions – but the tangible items, from newspaper clippings to cast-iron skillets, offer great assists in linking to universal emotions.
Richmond is a character in the book, too, since McCarty's family home is near the University of Richmond.
I also appreciated McCarty's practical tips in "A Primer on Home Emptying," helpful as I work on retrieving memories while removing clutter from the home I share with my husband, Tom. I can sense the heart-filling experience.
---
Curious to hear from the author herself? We've got an exclusive Boomtown Radio interview here!
---
Find more Boomer book reviews here!
---
As an Amazon Associate, Boomer Magazine earns from qualifying purchases from linked book titles.