Châteaux Hopping in France's Lush Loire Valley
| February 8th, 2023
See how the French one percent lived
---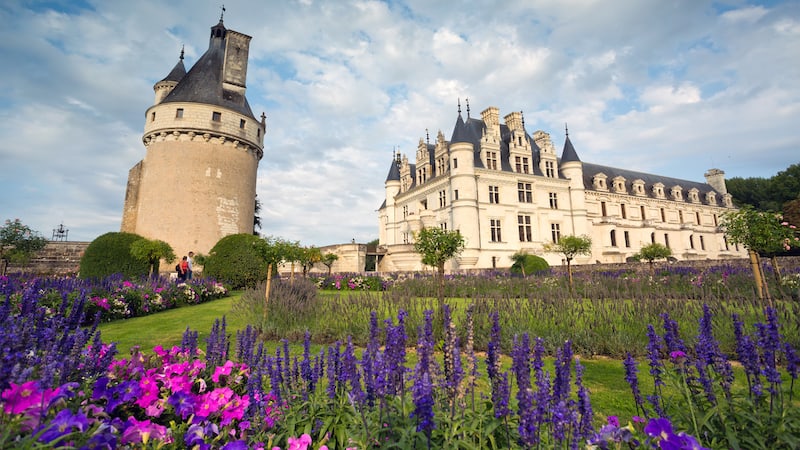 Go castle hopping in France. Travel writer Rick Steves take us to three notable Loire Valley châteaux: Chenonceau, Chambord, and Cheverny.
---
The Loire Valley, about two hours southwest of Paris, offers France's greatest array of château experiences. Wander through sumptuous interiors, cared for by noble families who've lived there for centuries. View packs of carefully bred hounds yelping for red meat as they await their next hunt. Standing on a rooftop the size of a cathedral amid countless chimneys, imagine you're the king's mistress watching proudly as your man's men flush the deer out of the woods and your Louis or Henry or Charles proceeds to shoot them dead. Paddle a canoe under a fairy-tale château that gracefully spans the Cher River. The challenge for any visitor: how to choose among the countless castle thrills of the Loire Valley.
The Loire Valley is carpeted with fertile fields, crisscrossed by rivers, and studded with hundreds of châteaux in all shapes and sizes. Medieval castles are here because the Loire was strategically important during the Hundred Years' War (when France and England battled through the 14th and 15th centuries). During the Renaissance, fortified castles were replaced by pleasure palaces as the Loire became fashionable among the Parisian rich and royal.
The Valley of a Thousand Châteaux is also the home to many good wines. As you travel through the Loire, look for 'Degustation' (tasting) signs. Inquire at tourist centers for winery tour and tasting information. The towns of Vouvray and Chinon have many proud and hospitable family wineries.
While less than a thousand, there seem to be an endless assortment of castles to choose from. Consider visiting the region's three most interesting châteaux: Chenonceau, Chambord, and Cheverny. Don't go overboard on château-hopping. Two châteaux, possibly three, is the recommended daily dosage. These three can be visited in a day by car or local minivan tour.
Three top Loire Valley châteaux
Château de Chenonceau
The toast of the Loire, Chenonceau, is a 15th-century Renaissance palace arching femininely over the Cher River. One look and you know it was designed by women. Katherine Briconnet, wife of original owner Thomas Bohier, made most of the design decisions during construction. Later, Diane de Poitiers added the delightful arched bridge across the river. Diane, the mistress of King Henry II, who enjoyed her lovely retreat until Henry died (pierced in a jousting tournament) and his vengeful wife, Catherine de Medici, who unceremoniously kicked Diane out (and into the Château de Chaumont). Catherine added a three-story structure atop Diane's bridge, giving the château its unique river bridge charm. She turned Chenonceau into the local aristocracy's place to see and be seen. In the 20th century, Chenonceau marked the border between Nazi-controlled France and collaborationist Vichy France in World War II. Dramatic prisoner swaps took place here.
Château de Chambord
The Château de Chambord is huge. Surrounded by a lush park with wild deer and boar, it was originally built as a simple hunting lodge for bored blue bloods. Francois I, using 1,800 workmen over 15 years, made a few modest additions and created this "weekend retreat." (You'll find his signature salamander everywhere.)
Don't miss Chambord's huge double-helix staircase that seems as if it were designed by Leonardo da Vinci. Leonardo spent his last years as part of the French king's court and lived nearby on the Loire in Amboise (where you can tour a fascinating museum in his home).
Other Chambord highlights include its second-floor coffered ceilings, enormous towers on all corners, a pin-cushion roof of spires and chimneys, and a 100-foot- tall lantern tower supported by flying buttresses. To see what happens when you put 365 fireplaces in your house, wander through the forest of chimney spires on the rooftop. Only 80 of the 440 rooms are open to the public–and that's plenty.
Château de Cheverny
Château de Cheverny, a stately hunting palace, is one of the more lavishly furnished Loire châteaux. Built in a short 30 years and completed in 1634, Cheverny has a unique architectural harmony and unity of style. It's been in the same family for nearly seven centuries. Family pride shows in its flawless preservation and intimate feel. The viscount's family still lives on the third floor – you'll see some family photos.
Cheverny was spared by the French Revolution, as the owners were popular then, as today, even among the poorer farmers. Barking dogs remind visitors that the viscount still loves to hunt. The kennel is especially interesting at around lunchtime, when the 100 hounds are fed. The dogs – half English foxhound and half French Poitou – are a hunter's dream come true. The trophy room next door bristles with stag antlers.
When it comes to castle fun, France's Loire – the Valley of a Thousand Châteaux – steals the show.
---
PHOTO CAPTION, ABOVE: : Chenonceau, a 15th-century Renaissance palace, is considered the toast of the Loire Valley. Several powerful women had a hand in its design, creating a magnificent château that was the local aristocracy's place to see and be seen. CREDIT: Dominic Arizona Bonuccelli, Rick Steves' Europe.
Rick Steves (www.ricksteves.com) writes European guidebooks, hosts travel shows on public TV and radio, and organizes European tours. This column revisits some of Rick's favorite places over the past two decades. Read more European adventures in his book, For the Love of Europe. Other books include numerous destination-specific travel guides and Travel As a Political Act. You can email Rick at rick@ricksteves.com and follow his blog on Facebook.
Explore more of Rick Steves' Europe in Boomer
© 2023 RICK STEVES
As an Amazon Associate, Boomer Magazine earns from qualifying purchases of linked books and other products.