Authentically Rich in the Italian Dolomite Mountains
March 22nd, 2022
A high-altitude Germanic eddy in the whirlpool of Italy
---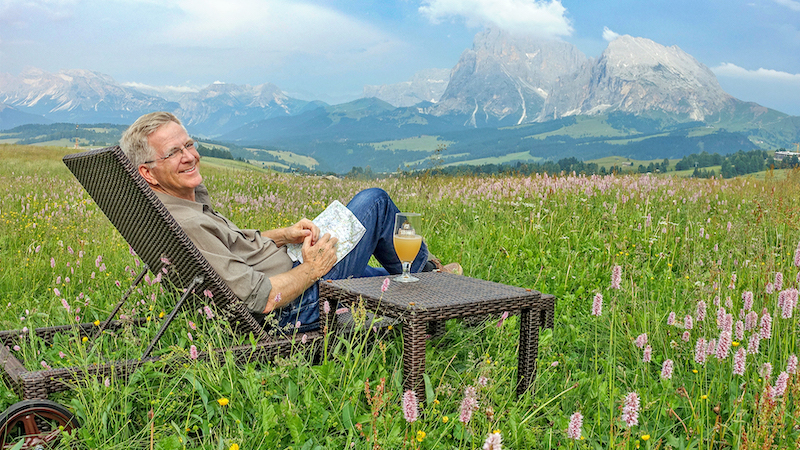 Travel writer Rick Steves transports us to the Italian Alps – the Dolomite Mountains – a treat for hiking, lounging, or soaking in a rich culture.
---
Leaning back in my lounge chair, I enjoy the heat of the sun on my skin. A vibrant sea spreads out before me, but it's a sea of wildflowers. I'm not at the beach – I'm on a farm, looking out on Europe's largest high alpine meadow, manicured by munching goats and cows. In the distance, stark snow-dusted peaks tower boldly against the blue sky. These are Italy's Alps, the Dolomites.
My soundtrack is the happy laughter of Italian children enjoying a petting zoo filled with alpine critters. A few yards away, their parents sip wine on the veranda of their chalet guesthouse – thoroughly enjoying that dolce far niente (sweetness of doing nothing) … like me.
The sky-high meadow called the Alpe di Siusi (or "Seiser Alm" in German) seems to float high above the city of Bolzano, separating two of the most famous Dolomite Mountain ski-resort valleys, Val di Fassa and Val Gardena. Measuring three miles by seven miles, and soaring 6,500 feet high, Alpe di Siusi is dotted with farm huts and happy hikers enjoying gentle trails. These mountains differ from the rest of the Alps because of their dominant rock type – limestone – which forms sheer vertical walls of white, gray, and pale pink rising abruptly from green valleys and meadows.
At the head of the meadow, the Sassolungo mountains provide a storybook Dolomite backdrop. And opposite, Mt. Schlern – a long flat ridge ending in spooky crags – boldly stands gazing into the haze of the Italian peninsula. Not surprisingly, the Schlern gave ancient peoples enough willies to spawn legends of supernatural forces. Fear of the Schlern witch, today's tourist-brochure mascot, was the cause of many a medieval townswoman's fiery death.
As a nature preserve, the alpine meadow cradled by the peaks is virtually car-free. A cable car whisks visitors up to the park from the valley below. Within the park, buses shuttle hikers to and from key points along the tiny road all the way to the foot of the picturesque Sasso peaks. Meadow walks are ideal for wildflower strolls, while chairlifts serve as springboards for more dramatic and demanding hikes. Mountain bikes are easy to rent, welcome on many lifts, and permitted on the meadow's country lanes.
The Alpe di Siusi is my favorite stop in the Dolomites because of its quintessential views, but also its easy accessibility and the variety of walks and hikes. There's also the charm of the neighboring village of Castelrotto, which I use as my home base.
Castelrotto is also a fun dollop of Germanic culture in Italy: There's yogurt and yodeling for breakfast … wiener schnitzel and strudel for dinner. The region has long faced north, first as part of the Holy Roman Empire and then firmly in the Austrian Habsburg realm. After Austria lost World War I, its "Sudtirol" (South Tirol) became Italy's "Alto Adige." Mussolini did what he could to Italianize the region, including giving each town an Italian name (like Castelrotto, also known as Kastelruth).
This hard-fought history has left this northeastern corner of Italy bicultural as well as bilingual. Signs and literature in the autonomous province are in both languages, but there's an emphasis on der Deutsch. It still feels Austrian, culturally as much as geographically. Germanic color survives in a blue-aproned, ruddy-faced, lederhosen-wearing way. Most locals still speak German first, and many feel a closer bond with their Germanic ancestors than with their Italian countrymen. While most have a working knowledge of Italian, they watch German-language TV, read newspapers auf Deutsch, and live in Tirolean-looking villages. The government has wooed cranky German-speaking locals with economic breaks that make this one of Italy's richest areas.
I love coming home to Castelrotto after a hike in the meadow. It was built for farmers rather than skiers, so it has more character than any town around. Popping into the church, I enjoy the choir practicing. Then, stepping outside the church at 3 p.m., the bells peal as I witness the happy parade of parents bringing home their preschoolers. These idyllic moments may seem like cultural cliches, but they're authentic, not performances for tourists. It's moments like these that make it easy to enjoy this high-altitude Germanic eddy in the whirlpool of Italy.
---
PHOTO CAPTION, ABOVE: The Dolomites, ideal for hiking … or thinking about hiking. CREDIT: Rick Steves, Rick Steves' Europe.
Rick Steves (www.ricksteves.com) writes European guidebooks, hosts travel shows on public TV and radio, and organizes European tours. This article was adapted from his new book, For the Love of Europe. You can email Rick at rick@ricksteves.com and follow his blog on Facebook.
Explore more of Rick Steves' Europe in Boomer
© 2020 RICK STEVES
As an Amazon Associate, Boomer Magazine earns from qualifying purchases of linked books and other products.