Magnificent Architecture in Columbus, Indiana
| February 8th, 2017
But worldwide travelers have discovered that the Hoosier city is home to more than 70 buildings and pieces of public art designed by some of the world's greatest architects.
---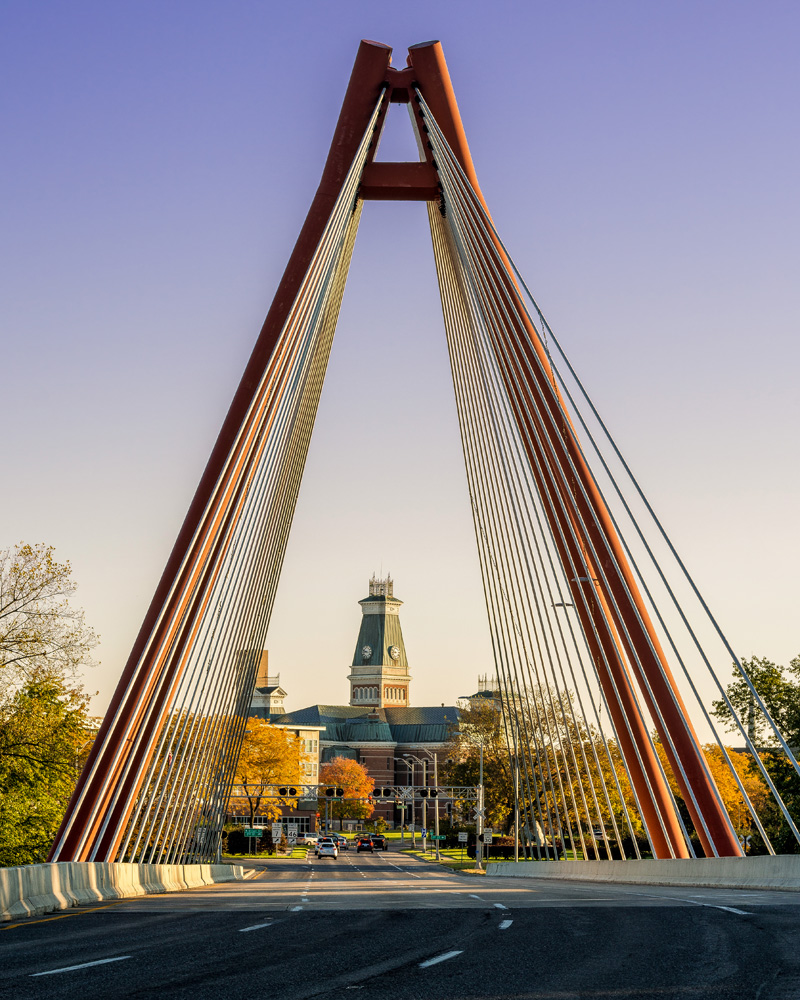 From early travelers who crossed the miles to see the pyramids of Egypt, the ruins of Rome and the grand Taj Mahal in India, tourists have made the search for great architecture a reason to travel. Great architectural structures link aesthetics, art, history, engineering and sometimes even celebrity worship. Although these treasures can be viewed and appreciated in coffee-table books and on websites, there's nothing like seeing the architect's concept in 3-D, as designed for its natural environment.
Some architectural destinations are obvious, such as Chicago's Oak Park neighborhood, Salzburg's medieval and Baroque treasures or D.C.'s historic monuments. Others wait more quietly for the discerning eye of the architectural tourist.
Surrounded by flat Indiana cornfields, Columbus (population 45,775) seems an unlikely place for an architectural treasure trove. But worldwide travelers have discovered that the Hoosier city is home to more than 70 buildings and pieces of public art designed by some of the world's greatest architects. Like the famed explorer for which the city is named, Columbus has dared to reach great heights in its architectural quest.
Smithsonian magazine called Columbus a "veritable museum of modern architecture." Local lore says that the 1990 county jail in downtown Columbus designed by Don M. Hisaka looks so good that a visitor once tried to check in.
Start at the Columbus Area Visitors Center to pick up an architecture map or arrange a tour. Built in 1864, the center had a 1995 expansion designed by Kevin Roche. A neon yellow chandelier by Dale Chihuly hangs in a bay window.
Head to First Christian Church, where Columbus began its unusual love affair with architecture in 1942. When the growing congregation needed a new building, it took a daring move by selecting a modern architect, Eliel Saarinen, to design the first modern-style church in America.
Across from the church is the Cleo Rogers Memorial Library, designed in 1969 by I.M. Pei. An open facility created by Pei to be quiet, dignified and easily accessible, the library lies at the heart of the city. In front of the library is the 1971 "Large Arch" sculpture by Henry Moore, who said the 20-foot-tall sculpture was inspired by a visit to Stonehenge.
A newbie, the Commons, built in 2011, was designed by Boston-based Koetter Kim. A popular community center, the Commons boasts a live performance venue, a 5,000-square-foot indoor playground and a huge quirky Jean Tinguely kinetic sculpture appropriately titled "Chaos."
Down the street, the 1874 Bartholomew County Courthouse by Isaac Hodgson is an impressive sight with its clock tower and nighttime lights. In front of the courthouse is the solemn 1997 Veterans Memorial, by architects Thompson and Rose. The 25 limestone pillars represent soldiers standing guard over their fallen comrades. Interior walls are engraved with names of local soldiers who gave their lives in war, along with excerpts from diaries and last letters home.
L
ocated in a residential neighborhood, the famous Miller Home can be toured only through the Visitors Center. Built in 1957, the 6,838-square-foot home is considered an architectural marvel. Designed by Eliel Saarinen's son, Eero Saarinen, with interiors by Alexander Girard and landscape by Dan Kiley, the home showcases the work of leading 20th-century architects and designers.
The last building designed by Eero Saarinen, North Christian Church, was completed in 1964. With a sloping roof, the low line of the six-sided church is accentuated by a slender 192-foot spire.
Before his death in 1961, Eero Saarinen wrote: "As an architect, when I face St. Peter I (want to be) able to say that out of the buildings I did during my lifetime, one of the best was this little church."
Spend the night in the magnificent Italianate mansion designed by Henry Philips, with landscape inspired by a garden in Pompeii. The 1864 home is now a bed and breakfast, The Inn at Irwin Gardens, with five guestrooms and original furnishings.
Dine in history at Zaharakos, a 1900 ice cream parlor and museum that features a soda fountain from the 1904 World's Fair. The centerpiece of musical machines is a Welte orchestrion, a self-playing organ designed to sound like an orchestra. Order a Gom sandwich, Zaharakos' version of a classic sloppy Joe sandwich, and a cold Green River Float made with lemon-lime soda and ice cream.
---
Jackie Sheckler Finch became a Hoosier when she moved from a Massachusetts newspaper job to an Indiana newspaper job. She likes her Bloomington home and doesn't plan to move again.
Now travel to Quebec City for whale watching adventures.