Conquering the Mürren Via Ferrata in Switzerland
| September 7th, 2021
Dangling from a Swiss cliff with Rick Steves
---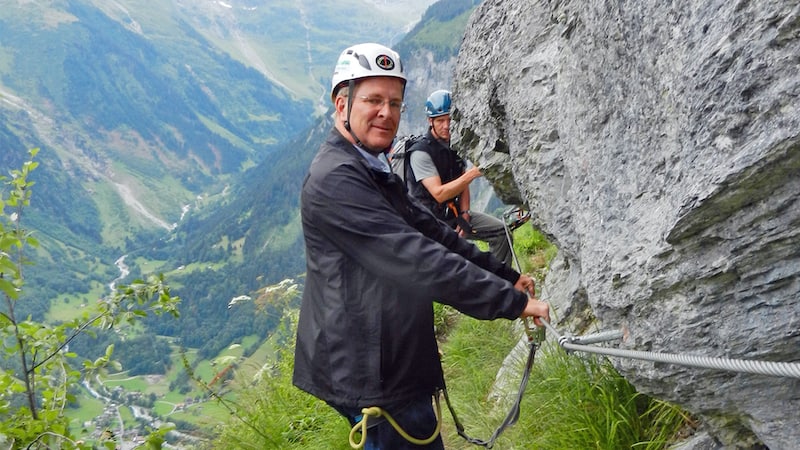 Travel along with Rick Steves' Europe to take on the Mürren via ferrata in Switzerland, dangling from a cliff and recalling other Swiss adventures.
---
As we've had to postpone our travels because of the pandemic, I believe a weekly dose of travel dreaming can be good medicine. Here are a few of my favorite European memories from the Swiss Alps – reminders of the thrills that await us at the other end of this crisis.
Dangling from a sheer cliff a thousand feet above the Lauterbrunnen Valley floor, I pause and look down at my boots, each numbly clinging to a rebar step – which, like giant staples, are tacked across the rock face. Between my legs, like little specks on the valley floor, I see tiny cows doing their part for the Swiss cheese industry. To my left, my mountain guide patiently waits, keeping a wary eye on me. To my right, my Swiss friend Simon laughs, saying, "Hand me your camera."
I know I need a photo to capture this amazing scene. But I don't want to have anything to do with grabbing my camera or posing. I am terrified.
A terrifying new experience
I'm back in my favorite corner of Switzerland: the Berner Oberland. When I arrived, it occurred to me that I'd already ridden the lifts and hiked all the trails in the area. But there was one experience that I had yet to do: traverse the cliffside cableway called the via ferrata. This morning, Simon and I pulled on mountaineering harnesses and clipped our carabiners onto the first stretch of a nearly two-mile-long cable, setting off with a local guide on the "iron way" from Mürren to Gimmelwald.
The route takes us along the very side of the cliff, like tiny window-washers on a geological skyscraper. As I make my way along the "trail," I alternate my two carabiners from segment to segment along the sturdy steel cable. For me, physically, this is the max. I am almost numb with fear. After one particularly harrowing crossing – gingerly taking one rebar step after another – I say to the guide, "OK, now it gets easier?"
"No," he says. "Now comes Die Hammer Ecke!" Translated into English, this means "The Hammer Corner." This name does not calm my fears.
For a couple hundred yards, we creep across a perfectly vertical cliff face – feet gingerly gripping rebar steps, hands tight on the cable. Miniature cows and a rushing river are far below me, the cliff face rockets directly above me, and a follow-the-cable horizontal path bends out of sight in either direction.
Mental diversions of other adventures
As I inch along the cliff, my mind flashes back to some other adventures with Simon over the years. Living high on the peaks of Europe, the Swiss are experts at living with nature – and Simon is always eager to share with me the Alps in all their moods. On recent visits, a new theme has emerged: the clear impact of climate change on their world. To people like Simon, who live so close to nature, the physical changes resulting from strange and changing weather is an increasingly troubling reality. Glaciers are shrinking, ski lifts come with snow-making gear plumbed in, and freak rainstorms – like alpine monsoons – batter flower gardens.
On one of my visits, we rode the early-morning lift to Männlichen, high on the ridge above Grindelwald and Lauterbrunnen, and stepped off and into a visual symphony: Before us towered the mighty Eiger, Mönch, and Jungfrau peaks. Simon, who'd worked at Männlichen's mountaintop restaurant as a kid and still bikes here a couple of nights a week, spoke of the subtle changes he'd noticed here. Walking by a glacial pond, he recalled how, during his childhood, there would be hundreds of frogs singing. Now there are none.
On another hike, as we gazed up at the north face of the Eiger, Simon told me of speed climbers leaving Interlaken on the early train to the base, scaling this Everest of rock faces, and getting back to Interlaken in time for a late-afternoon business meeting. But as the permafrost thaws, there are more falling rocks, and mountain guides are abandoning once-standard ascents that are no longer safe.
With Simon, I've experienced calm, cool mornings giving way to freak afternoon hailstorms. One time, nervous locals scrambled as the sky got dark and then … bam! The road became a river of flowing hail balls, leaves, and petals. Fifteen minutes later, the storm was over: Fabric on chairs was ripped, birds were stripped of their feathers, and car rooftops were blanketed in dents.
Back up on the via ferrata, I reach the end of my terrifying journey. Taking that last step, I triumphantly unclip my carabiner for the last time and hug our guide like a full-body high-five. Vivid experiences like this one are a hallmark of travel in the Swiss Alps. I only hope that future generations can enjoy this glorious landscape, too.
---
Photo caption, above: Arcos, Spain, where locals "see the backs of the birds as they fly." CREDIT: Dominic Arizona Bonuccelli, Rick Steves' Europe.
Rick Steves (www.ricksteves.com) writes European guidebooks, hosts travel shows on public TV and radio, and organizes European tours. This article was adapted from his new book, For the Love of Europe. You can email Rick at rick@ricksteves.com and follow his blog on Facebook.
Explore more of Rick Steves' Europe in Boomer
© 2020 RICK STEVES

As an Amazon Associate, Boomer Magazine earns from qualifying purchases of linked books and other products.