My New (Old) Mentors
December 10th, 2015
Publisher Lori Ross dishes out a bit of wisdom for readers.
---
At my age, I'm expected to be a mentor, yet I still need mentors myself. Some of mine happen to be younger, but recently two elders were added to the list.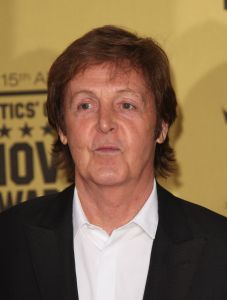 One is the 73-year-old Paul McCartney, whom I had the pleasure of seeing in concert recently. Yes, his was amazing music, fun and all that …
But this is about why Paul is inspirational. He gave a give-it-all-you-got 3 1⁄2-hour performance. True, he probably has good genes and takes care of himself. Those may contribute to why he is so full of lfe and energy. But I think it's more than that. He still operates from loving life and doing what he's been put on this earth to do.
PERFORMING OUR INTENDED LIVES
On another recent night, my son and I attended "Performing Your Life: An Evening with Jeffrey Tambor" at the University of Richmond Modlin Center for the Arts. While his name recognition is not that of McCartney's, many will know Tambor as a prolific character actor of film and TV credits spanning more than four decades. I love him as George Bluth Sr. in Arrested Development, one of my favorites, and one of the funniest shows ever. ("Remember, there's always money in the banana stand.")
At 71, Tambor is taking his one-man performance to college campuses. It's a mixture of college professor, comedian and motivational speaker – part lecture and part audience involvement. His mission: to inspire all of us to "perform" the lives we were meant to live … not the ones our parents, society or someone else has in mind for us. Tambor was passionate. The audience responded with full engagement.
Tambor made a key point. He drew a line with two points on it. He said the span between the two points is the life he was meant to lead. Then he drew a random point on the page, nowhere near the line with the two points. "This is where my life could have gone," he said, indicating the distant point. Alcoholism took him off course, he said, up until 17 years ago, when he took control. He also acknowledged fear of failure had taken him on a different course than acting for a while.
Tambor said he's amazed at how many people end up living lives represented by that random point, nowhere close to what they were meant for, driven astray by the dreams of their parents or by society's expectations or by some other distraction. He spent the rest of his presentation getting the audience to understand how they need to take "authorship" of their own life.
YOURS IF YOU CHOOSE IT
And, my friends, that is the key to why both McCartney and Tambor deserve to be my mentors. They demonstrate that nothing will hold them back from life as they choose it. Certainly, not a little thing like age. They're kicking it full throttle.
Or as my son might say, more simply: YOLO.
Merry Christmas and Happy New Year.