FlyRide and Feel Like You're Soaring
September 1st, 2020
New sensory, immersive ride opens in Branson, Missouri
---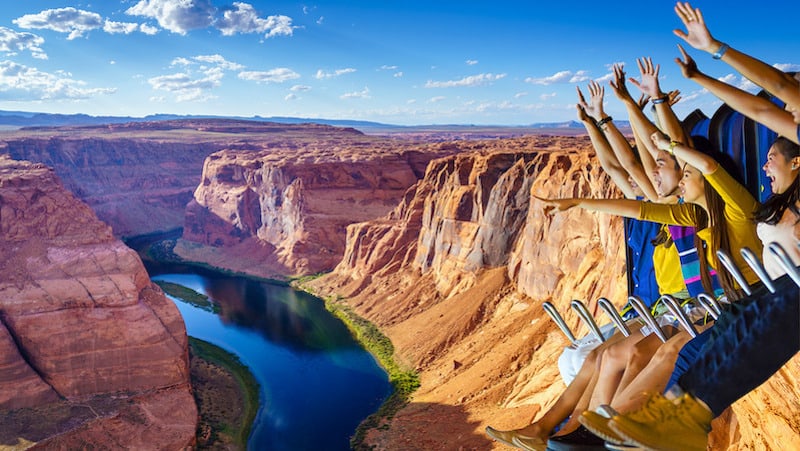 You feel like you're flying without ever leaving the ground. You soar above more than 20 awe-inspiring American landmarks. The full-motion seats dip, turn, and soar, as if your aircraft was dipping, turning, and soaring. The giant four-story curved screen immerses you in the place. You glide over mountaintops, canyons, valleys, lakes, and other wonders, both natural and manmade. And the wind, mist, scents, and other amazing effects transport your mind and senses. This is the new FlyRide virtual flying experience, opening Sept 4, 2020.
The new FlyRide sits behind Beyond the Lens, an interactive entertainment experience for all ages. Both attractions are owned and operated by Frontpage Attractions, LLC. The FlyRide "techno-tainment" experience was created in partnership with SimEx-Iwerks Entertainment and the MacGillivray Freeman Films.
FlyRide promises pandemic safety measures, including physical distancing and enhanced hygiene and sanitation.
Starting in November, FlyRide will present a seasonal experience, "The Polar Express: Journey to the North Pole."
Branson: FlyRide and so much more!
FlyRide and Beyond the Lens are located in Branson, Missouri, a renowned entertainment destination. Its diverse and clean activities make it family-friendly and ideal for multigenerational travel.
Branson is home to Silver Dollar City amusement park, with its newest ride, Mystic River Falls. The city boasts more than 100 live music shows, calling itself the Live Music Show Capital of the world. Other attractions include White Water waterpark, Branson Landing shopping district, Titanic Museum, Hollywood Wax Museum, and Ripley's Believe It or Not!
Located in the Ozarks region, Branson is also surrounded by plenty of scenic beauty and natural fun. Think hiking, motorcycle rides, fishing, biking, zip lining, kayaking, and paddle boarding.
Or let the Showboat Branson Belle pilot you around Table Rock Lake. Take a two-hour cruise complete with singers, dancers, comedians, and magicians – and food.