On the road with a Virginia Beach police officer
| June 3rd, 2019
A ride-along with an officer brings a new respect for these often-unappreciated heroes
---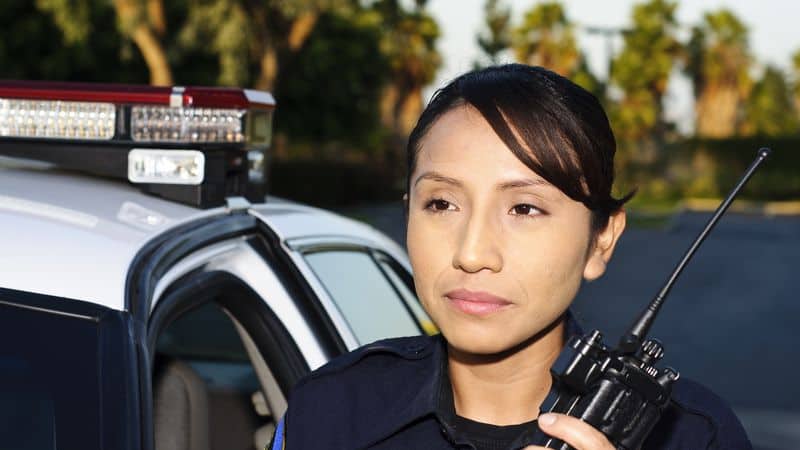 I have always held law enforcement in high regard, but after a ride-along with Virginia Beach police officer, Jennifer Lewis, last spring – and after the actions of Virginia Beach police during the recent shooting in their city, I will be forever in awe of these brave, dedicated public servants who put themselves in harm's way to protect complete strangers.
I've done a few exciting and rewarding things during my 64 years on the planet, but riding along with Officer Lewis on her 2 p.m.-to-midnight shift ranks among the top 10. Jennifer is a young, diminutive, single mother of two toddlers who looks forward to strapping on a Glock-17, a bulky bulletproof vest and spending 10 hours a night to protect and serve the citizens of Virginia Beach.
During my ride, I was amazed at how Officer Lewis patiently answered my questions while monitoring multiple radios, radar read-outs, GPS instructions, a cell phone and a computer screen – all while deftly maneuvering her cruiser through rush-hour traffic and spotting expired tags, inspection stickers and traffic violations. I have trouble chewing gum and remembering to breathe while I'm driving.
More often than not, Lewis would share pleasantries (and even a chuckle) with some of the offenders she pulled over, and a few of them even gave her a friendly wave as they drove off with their citations. Huh? And when she gave verbal warnings, she explained the rationale for each one to me. Common sense and fairness ruled the day.
On one call, I comforted a sobbing great-grandmother while Officer Lewis searched the grounds of an apartment complex for her adult daughter who had wandered off under the influence of prescription medication and alcohol. When Lewis returned with the disoriented woman, she did her best to convince her to seek professional help and provided her with contact numbers.
We stopped for dinner (the only break during our 10-hour shift), and when Lewis protested as I grabbed the check, I jokingly told the waiter that he might have to call the cops. We were barely out the door when we got the next call.
As night fell, the pace picked up dramatically, and I listened as officers were dispatched to assaults, burglaries, suicide attempts, motorcycle accidents and a shirtless, knife-wielding drunk. On one call, we sat outside a local gang member's house, waiting for an individual to arrive who had called the police to let them know he intended to confront one of the residents about some stolen property. Officer Lewis told me that she and other officers had responded to a report of gunfire at the house the previous week and that the interior of the residence was decorated with about 30 bullet holes. I guessed correctly that even felonious gang members have a right to protection from other criminals. But no one showed up, and we went on to the next call.
As Officer Lewis yanked our cruiser through U-turns and safely negotiated crowded intersections en route to urgent calls, I had no doubt that she could give Danica Patrick a run for her money on the NASCAR circuit.
WORKING FROM THE HEART
But the call that affected me most profoundly came not from the dispatcher but from a young girl whom Lewis met during a previous domestic disturbance. Lewis had given the preteen her cell phone number and told her to call any time she needed to talk. That night, the girl was having another heated dispute with her mother. But instead of just talking with the girl on the phone, Jennifer drove to her house where she was waiting for us on her front doorstep – her distraught mother pacing just inside.
I have a master's degree in counseling and over 30 years in human resources, but I was humbled as I watched Officer Lewis orchestrate a civil conversation between mother and daughter. Jennifer, who was on one knee (so she could be at eye-level with the young girl), listened intently to both of them and interrupted only to ask questions and steer the interaction in a positive direction.
After both women had a chance to speak (and admit that they loved each other), Jennifer proceeded to give the girl some of the best advice I've ever heard regarding mother-daughter relationships. I could tell she was speaking from the heart and personal experience, and I was glad we were on a dimly lit patio behind the house, because I wiped away more than one unseen tear. By the time we left, I was certain that I had wasted a great deal of time and money on my counseling degree.
Back at the station, Lewis began filling out more paperwork than I had ever done during any given day as a human resources manager, and it was past midnight when she filed her reports with the precinct Sergeant. I went home and fell into bed, exhausted.
GIVING HEROES THEIR DUE
The next day, I picked up The Virginian-Pilot and read about a Virginia Beach police officer who had been stabbed a few months earlier. His attacker had spit on him and threatened to kill him and his family.
Then I remembered reading about a quarterback who had quit his full-boat college scholarship after just two years so he could join the NFL and eventually make over $130 million over a five-year period. I also recalled listening to people complain about their local taxes. Some of these people owned hundreds of dollars' worth of jerseys and other sports paraphernalia with someone else's name emblazoned on them. And they told me that they would gladly pay a thousand dollars for a couple of football tickets if their team was in the playoffs … and even more if they made it to the Super Bowl.
Then, I wondered: Wouldn't it be something if people bought jerseys displaying the names of police officers, firefighters, social workers, EMS responders and teachers, with the proceeds going to higher salaries, overtime pay and state-of-the-art equipment for the people who keep us safe and educate our kids.
I don't know about anyone else, but my jersey would have "J. LEWIS" on the back … along with a big number "1."
– – –
Mike Spriegel is a retired human resources manager and former Richmond resident who is trying his hand as a writer, inventor and businessman. He currently resides in Virginia Beach and is the owner of Life Bucket LLC, an emergency preparedness supply and home safety company. Read Spriegel's explanation of his own experience with employee violence.