On Love When You Are Dying
| August 18th, 2023
An aunt remembers conversations with her niece
---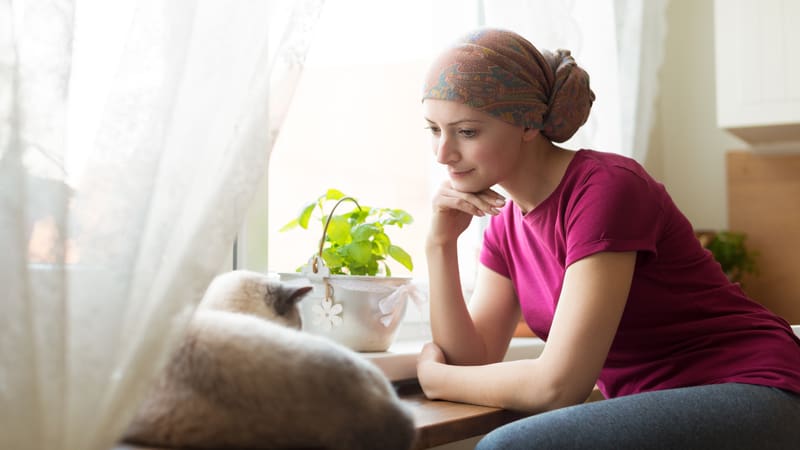 A conversation between an aunt and her niece tackles age-old reflections on love, but with a poignant twist.
---
When your spirit is imprisoned in a single room, and your body can only carry you from the double bed to the couch next to that bed, you are forced to rely on your dreams to transport you far beyond the "Portlandia" and "Cupcake Wars" reruns that mark time.
In that pale yellow room, which my niece Jen painted herself after being forced from her first apartment by the symptoms of melanoma, I watch this beautiful young woman lean back. Her short brown curls are propped up against a pillow encased in a print that matches the heavy comforter warming her often chilled body, a body unable to move unaided, her hand bound by a narrow tube to a pole where the hanging bag drips the most recent poison into her veins.
In that room, on that particular day, Jen wrestles with the age-old philosophical question, why can't I find love? She reviews a past strewn with shallow men incapable of love and dreams of doing better next time.
She asks me, "How do you find a man who will love you?"
So, I perch next to her on the edge of the bed in her yellow cell and we speak that day of love, the struggle, the search for the right one. We converse older woman to younger, Aunt to Niece – only 27 when her life should be in front of her, but the disease perverts it so her life is behind her.
I tell Jen, I knew those shallow men because I once was deceived by what they offered. Once I accepted flash as a sign of love, when I settled for the merest of attentions, when I excused bad behavior as my fault.
I had recognized my niece's last heartbreak as one of them. When she tearfully, fearfully reported Andrew had to visit his old girlfriend because she, the former girlfriend, was upset over their break-up. He deserted Jen, his current upset girlfriend, while her family whispered break-up sex. When he padded his life with alcohol, a problem obvious from the first time we, Jen's family, met him and he rowdily careened through guests at a garden party before passing out on the lawn. When he greeted her devastating diagnosis with anger and petty grievances – "What do you mean you can't come to Chicago for my Coast Guard Auxiliary conference?" – until she had to lock him out of her life and her love.
The only advice I could give was what had worked for me. Accept that love is not always the flash, the empty compliments, even the great sex, although that's fairly important. We both laughed at that. It's the steady one, the one whose eyes shine when they catch sight of you, who are always there to the point that sometimes they're invisible. They're rock solid dependable and maybe even a little boring, but everyday life consists of the boring bits too. It helps if they can make you laugh.
Love yourself and let them love you. Return the love you're given.
For Jen, there would be no future romantic love. There would be no future. There would be only the dashed dreams, futile hopes and final surrender, but for this one day we pretended it wasn't so. Maybe for that moment it wasn't.
And the day we celebrated Jen's life and deeply mourned our loss, a forgiven friend named Andrew apologized to her family for his behavior, as he had promised Jen he would.
---
Janet Hammer is a retired mental health counselor. Since retiring, she has pursued all her loves: painting, reading, hiking, walking, Zumba-ing and serving as president of a non-profit board. Life is too short to focus.
---
Read more childhood memories and other contributions from Boomer readers in our From the Reader department.
Have your own essay on love or other topics, on childhood memories or any other story you'd like to share with our baby boomer audience? View our writers' guidelines and e-mail our editor at Annie@BoomerMagazine.com with the subject line "'From Our Readers' inquiry."